TAKE
5
Conversations
with PEople
Nasra Nimaga
New York City Studio
Nasra Nimaga, who was born in Hong Kong and grew up in Nairobi, is a senior associate with a passion for advocacy and nearly a decade of design experience in
K–12,

higher education, cultural, and civic projects.
BY EMILY BAMFORD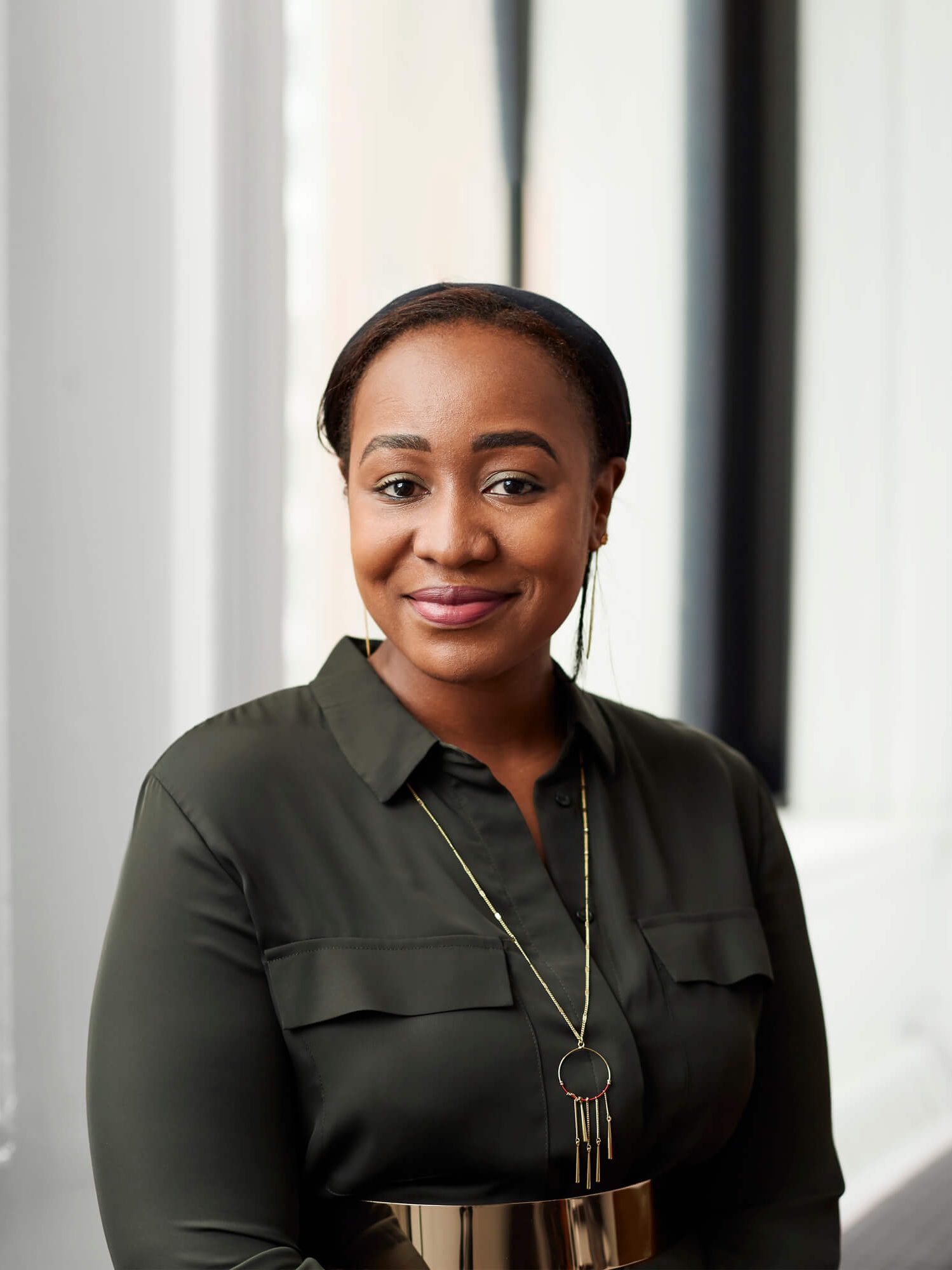 — perspectives
You have played an integral role in Diversity, Equity & Inclusion (DE&I) initiatives at the firm-wide level and in the architectural community. Why do these initiatives mean so much to you?
Advancing equity requires nurturing a sense of belonging and affording access and opportunity to people from different walks of life. The lack of diversity—both in school and, magnified tenfold, in the workplace—is exhausting. It is hard to feel like there is practically no one (who looks) like you in a workplace of hundreds and no one who looks like you in leadership. I strive to do all I can to ensure those who follow me do not feel this way. We often talk about centering equity in our approaches to work, but in order to shape equitable communities, we must foster equity within the profession, our workplaces, and ourselves, and this drives my involvement with DE&I, the National Organization of Minority Architects, and the Association for Learning Environments' Justice, Equity, Diversity, and Inclusion Committee. Furthermore, I grapple with questions about our impact on the environment and the neighborhoods in which we work. My advocacy is shaped by the unswerving belief that architecture can and should improve the lives of people.
In 2021, you completed AIA New York's Civic Leadership Program. What did you learn from the experience?
The program nurtures civic engagement by refining the critical skills necessary to help emerging professionals better represent the people they serve and build for. When I applied, I had a passion for advocacy, but I needed to learn how to use my voice for myself and others. The program afforded me guidance on community engagement, an opportunity to gain leadership skills while engaging in forums of cross collaboration, insights into the bureaucracies of public policy, and a deeper understanding of the connections between design, policy making, and the civic realm.
You've recently taken on leadership of Perkins Eastman Elves Holiday Book Drive for Kids, an annual program started by the late Christine Schlendorf, an architect who worked at the firm for years. What does it mean to you to continue her legacy?
I will forever be inspired by Christine's drive and generosity. I had helped her in previous years and enjoyed it immensely, so it seemed natural for me to take over after her passing. It is an honor to continue her legacy—and to spearhead something so meaningful. And it's great to share holiday cheer while fostering literacy and a love of reading.
You work on projects of various scales and scopes. How has working at Perkins Eastman supported your design goals?
I have been fortunate to work on K–12, cultural, government, and higher education projects both locally and internationally. The breadth of experience, the flexibility to collaborate with numerous practice areas, and the ability to work with different studios has been instrumental in my career growth.
You are a published portrait photographer. Do you feel photography is similar in some way to architecture?
I have enjoyed photography in some capacity most of my life. For me, both architecture and photography center the human experience but in different ways. Architecture is my team sport, whereas photography is an individual endeavor and an art of expression that affords me the opportunity to celebrate the nuances of people's lives.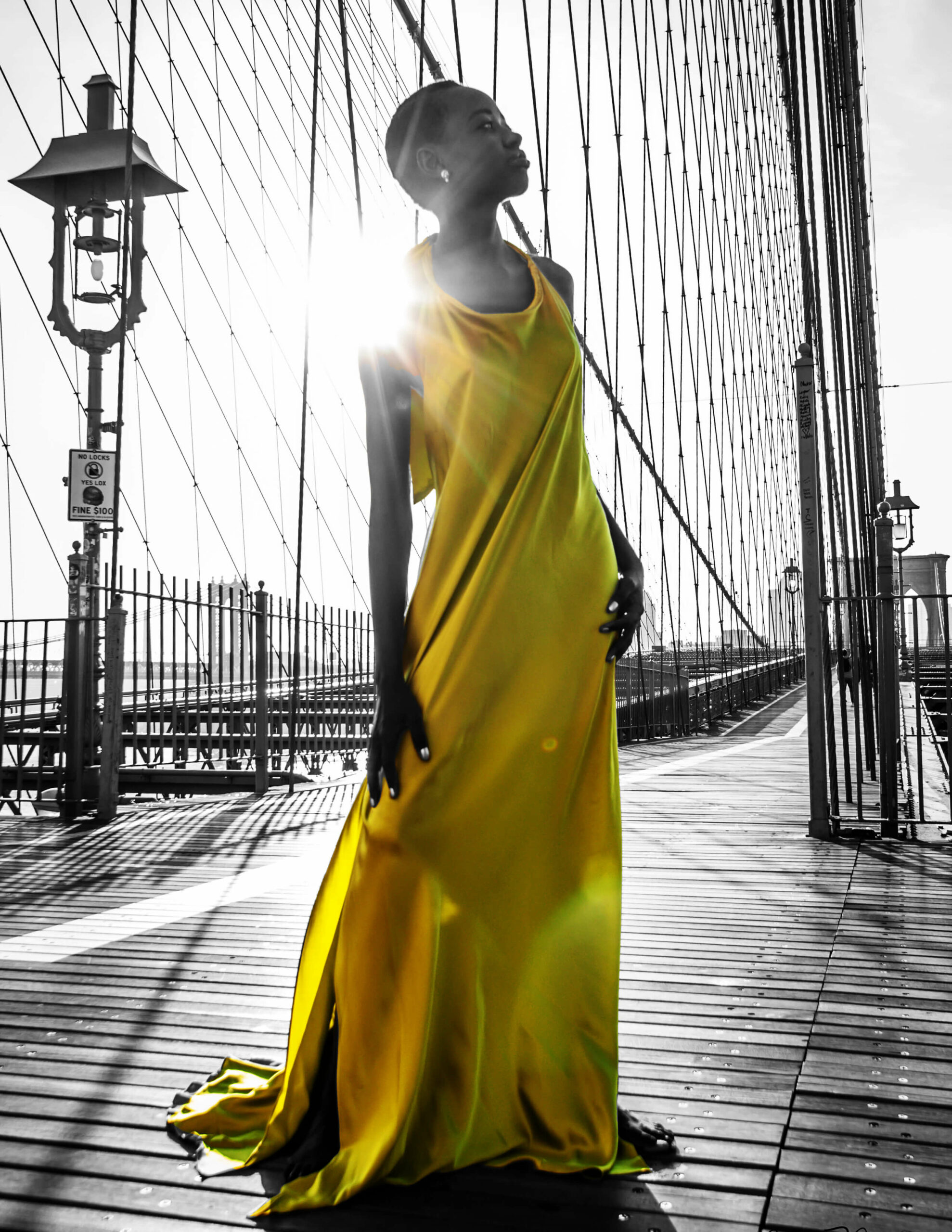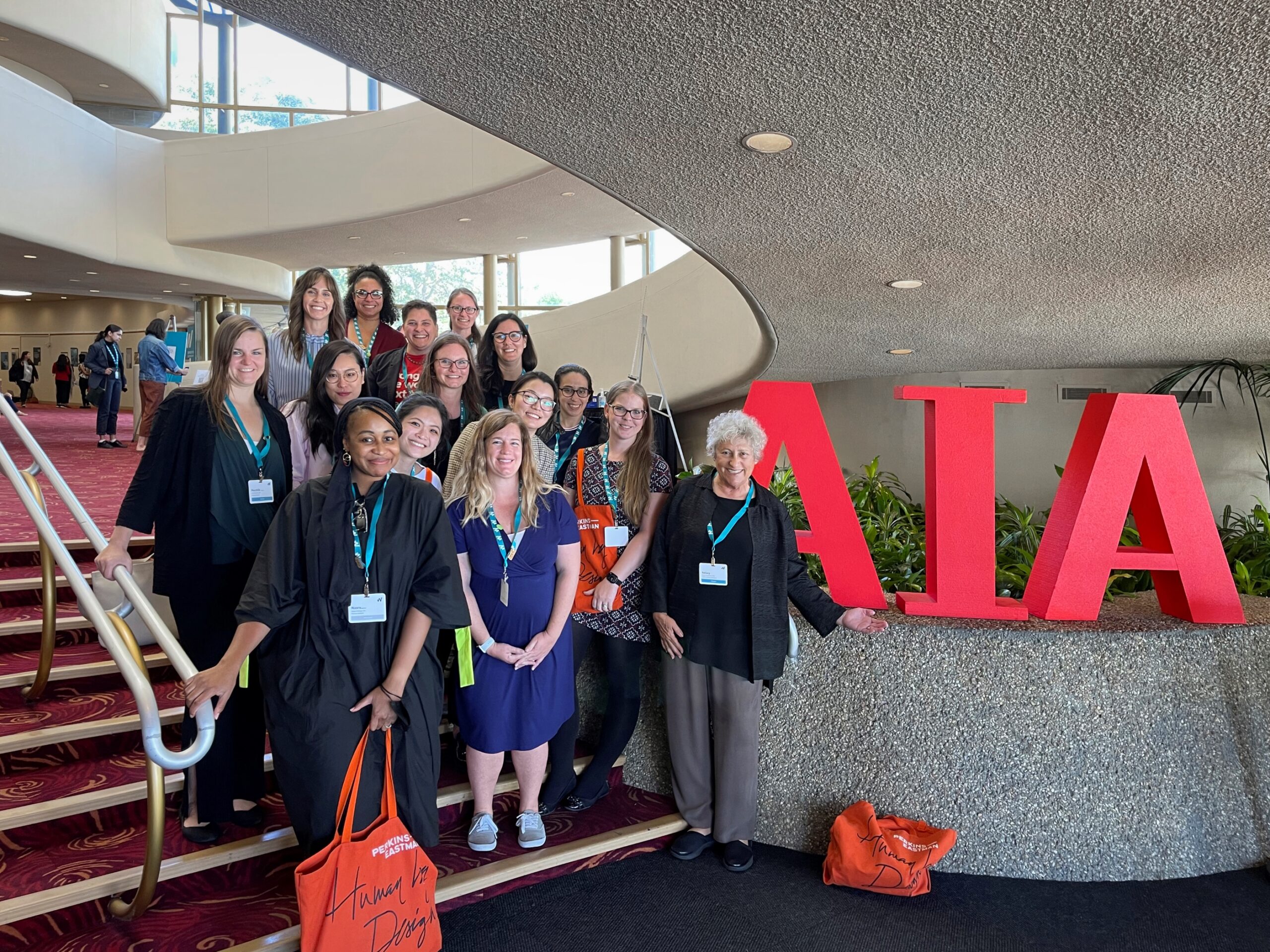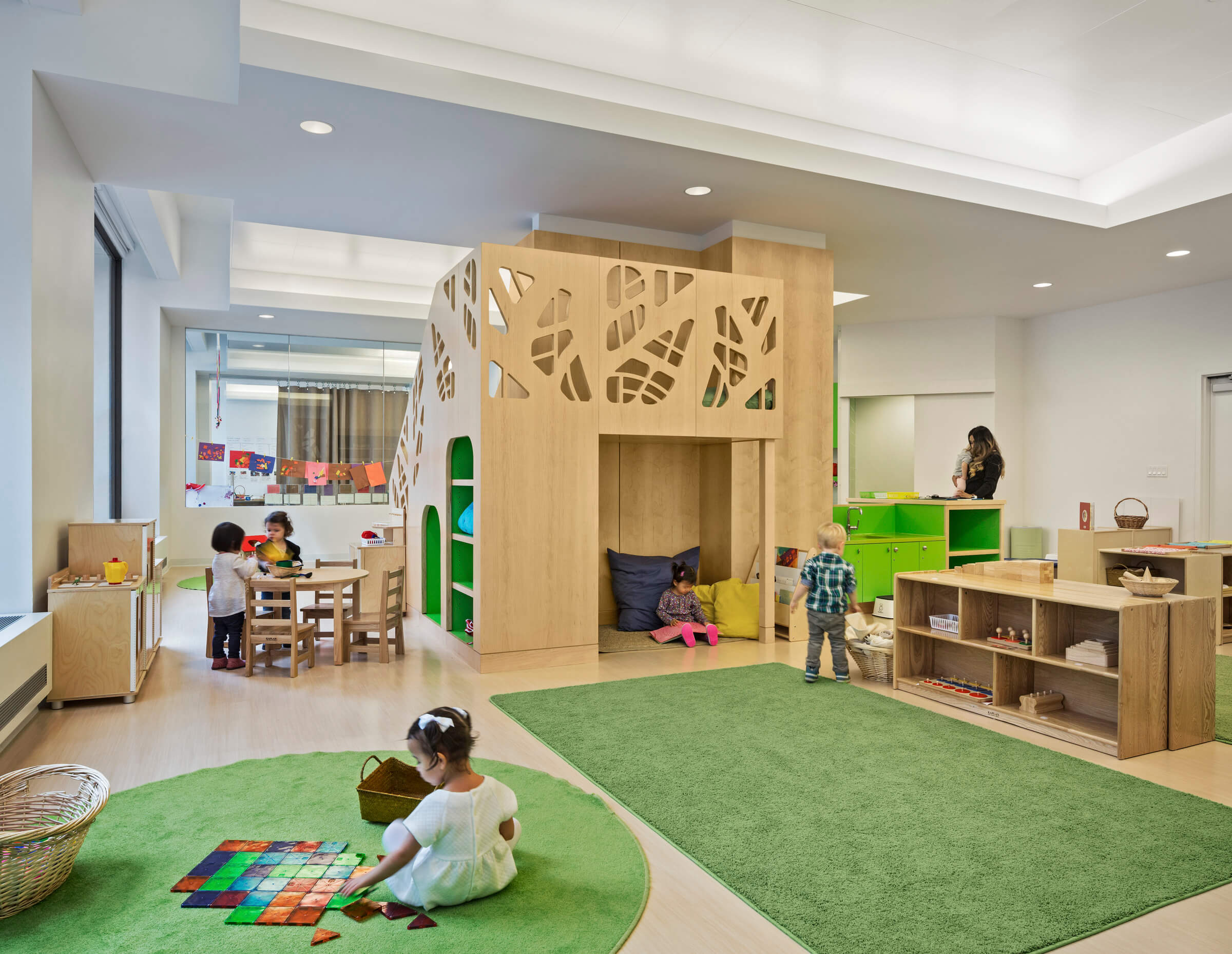 TAKE
5
Juan Guarin
Washington, DC, Studio
A sustainability specialist, Juan Guarin is a member of Perkins Eastman's firm-wide sustainability team with expertise in building performance analysis. He is also a mentor in the New Buildings Institute's Next Gen program, which fosters sustainability and inclusivity in the building industry.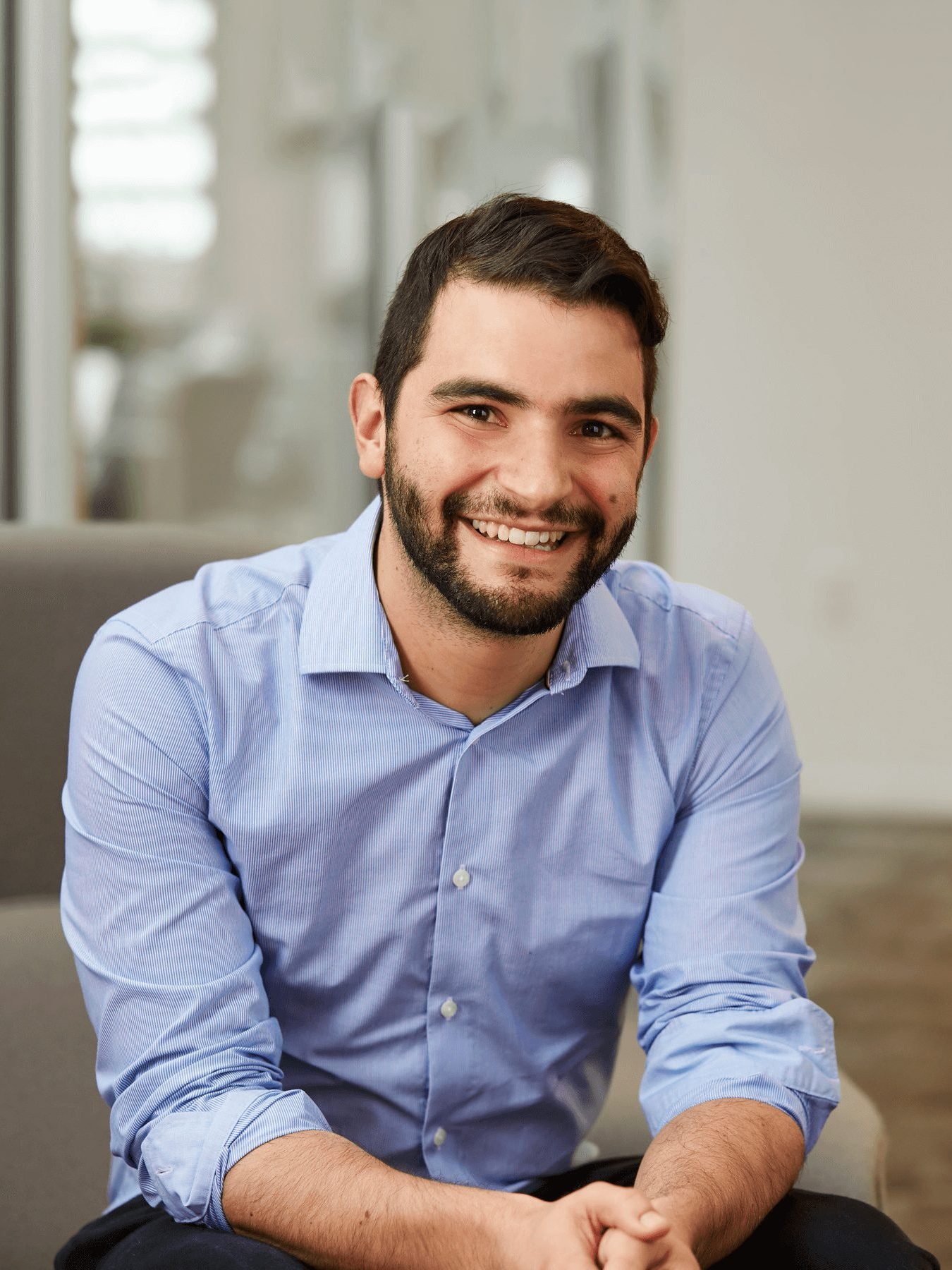 You began your architecture career in Colombia nearly 10 years ago. What spurred you to move to the United States?
After earning my BArch in 2014 and receiving my Colombian architectural license shortly thereafter, I managed to get a job with my thesis advisor—a prestigious architect in Latin America. I quickly realized working with a "starchitect" wasn't right for me. After many bathroom and parking lot details and multiple projects for the Colombian elite, I got frustrated with the architecture industry and started doing side projects in low-income neighborhoods in Bogotá, providing schools with small pavilions they could use for multiple purposes. Seeing the smile of kids who knew they'd have a safe place to play, study, and explore was the trigger I needed. I realized sustainable architecture was what I wanted to do for a living. That's why I decided to pursue a master's of environmental building design at the University of Pennsylvania.
As a sustainability specialist, you support the firm's efforts to design resilient, climate-focused projects. What ignited your passion for sustainable design?
In high school, I got involved with a nonprofit organization, TECHO, that provides transitional housing and social inclusion programs in low-income neighborhoods in Latin America. I worked with displaced communities from the Colombian conflict and witnessed how families were living under extreme poverty in deplorable conditions. It remains the most eye-opening experience of my life, and I saw architecture as a way in which I could provide disadvantaged communities with a better future.
Sometimes I think we underestimate the power we have to create spaces that can change people's lives. Yes, architecture should be beautiful, but it should also have a positive social and environmental impact. Good design is sustainable design, plain and simple!
You've worked on projects in several of the firm's practice areas. Which projects do you find most rewarding?
The projects that have a special place in my heart are those that have a positive impact in underprivileged communities. I'm fascinated by the concept of democratizing sustainability; there's no reason why only a certain few should have access to sustainable buildings. John Lewis Elementary School is a perfect example—a project set to become the first LEED Platinum, WELL-certified, and Net Zero Energy school in the world that serves a population of students from low-income Black and Hispanic families.
What inspired you to become a part of the Next Gen mentor program at the New Buildings Institute?
Mentoring and sharing my knowledge around sustainability with as many people as possible is a big priority for me. I also feel I have the responsibility of sharing my experience as a Latino immigrant who decided to leave everything behind to pursue his dream. Many people are going through similar career struggles and need that extra push to pursue something they are passionate about.
What do you wish you had known before becoming an architect?
I wish I would've known about the obsession some in the profession have with how their designs look. I've always had a conflict with prioritizing aesthetics over performance. We design spaces where people spend most of their lives, and it is important to provide comfortable, healthy atmospheres without compromising the resources of our planet. One of my favorite quotes is from American architect Buckminster Fuller, who said, "When I am working on a problem, I never think about beauty, but when I have finished, if the solution is not beautiful, I know it is wrong."
–EMILY BAMFORD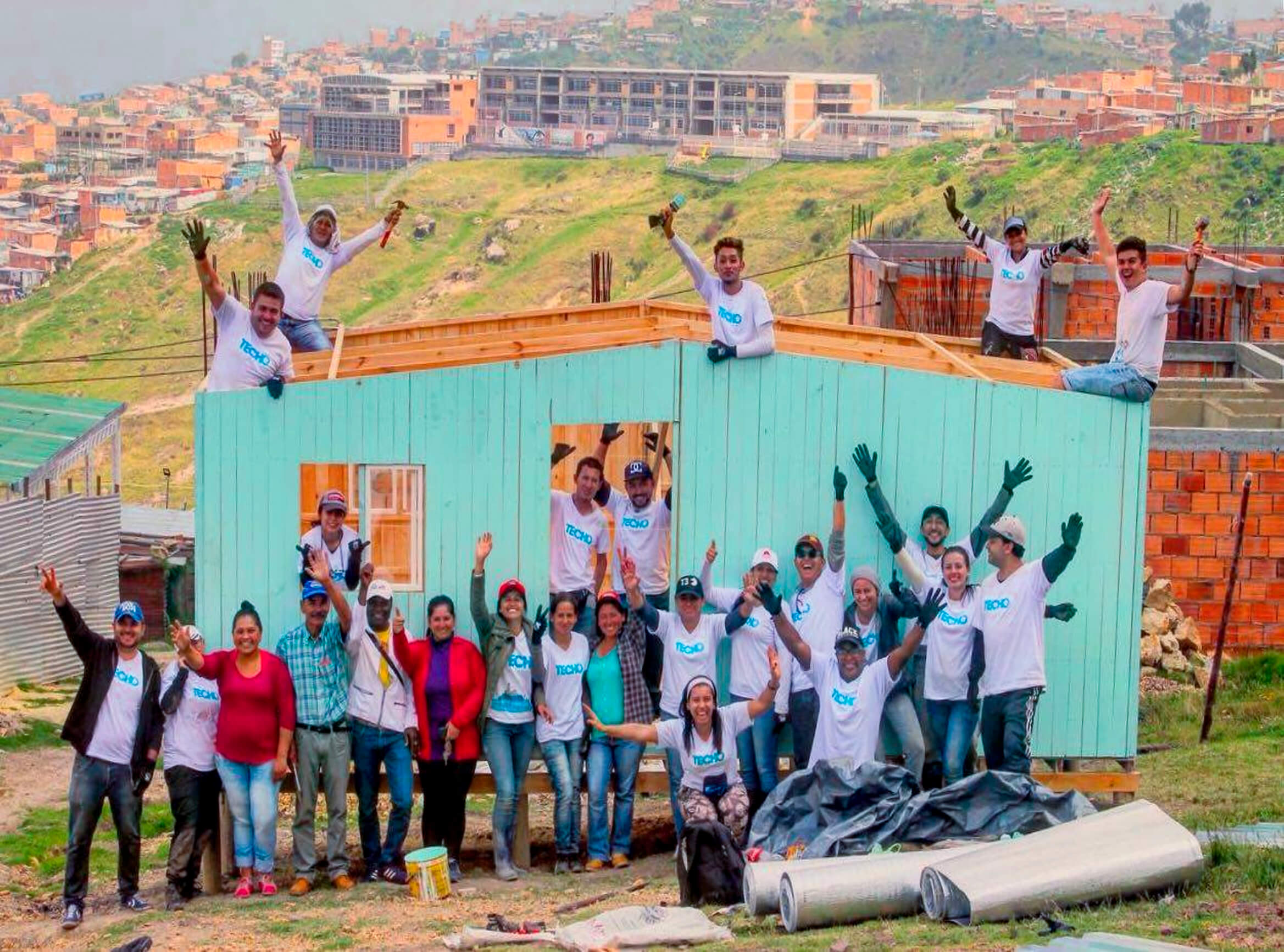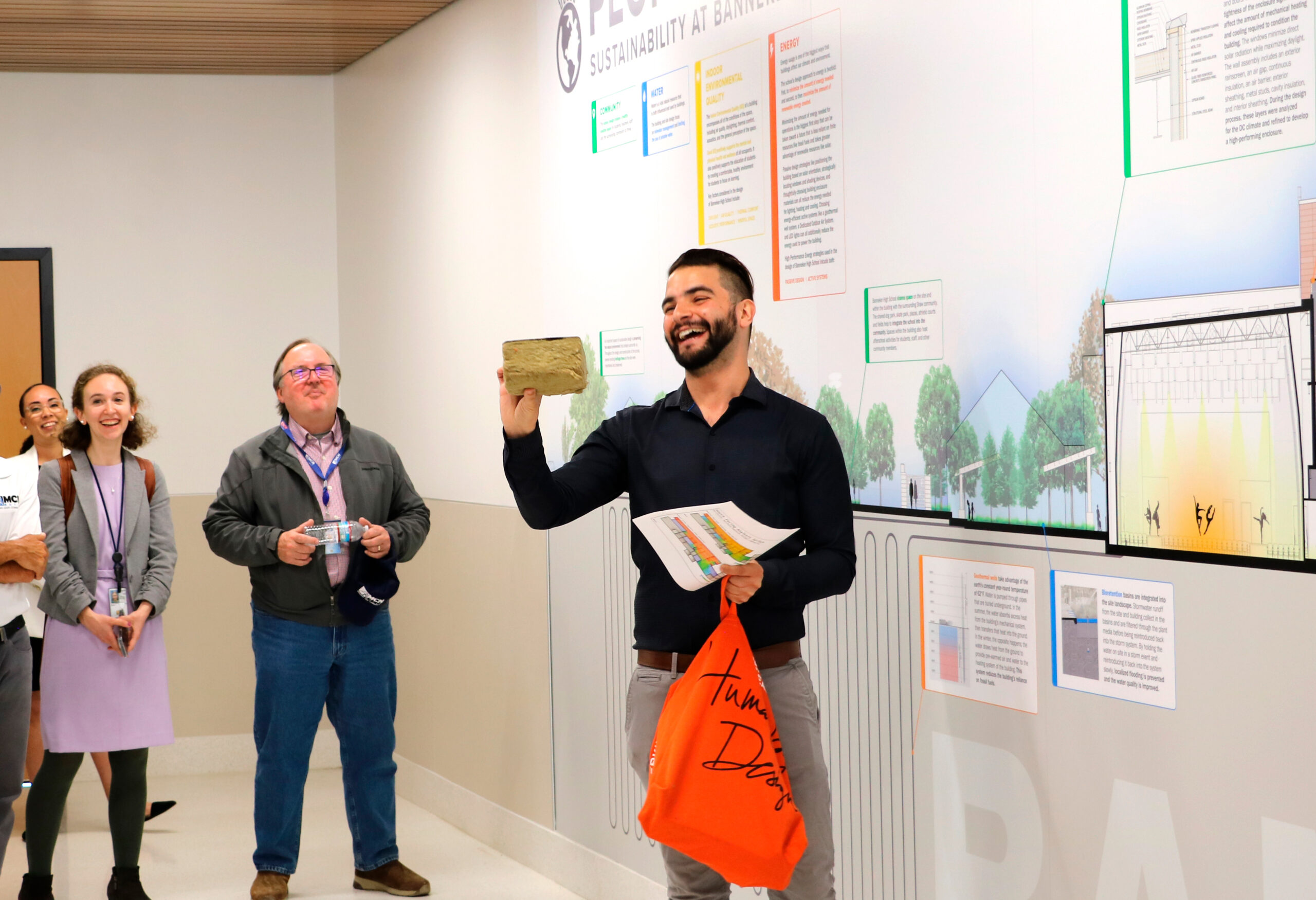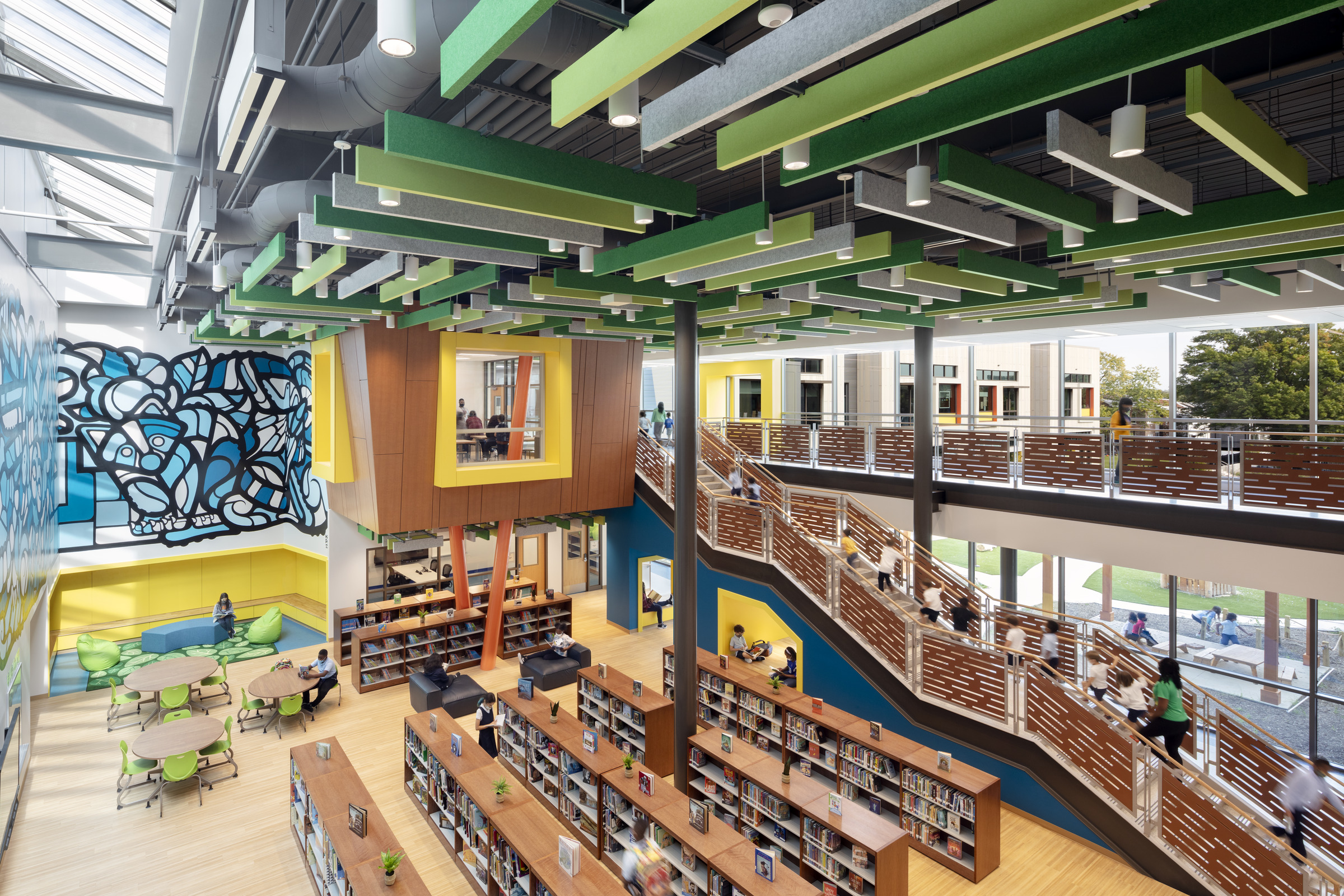 TAKE
5
Ceyda Metghalchi
New York City Studio
Ceyda Metghalchi has nearly two decades of experience in the planning, programming, and design of buildings and environments for education, science, and research and development projects. A member of The Society of Turkish American Architects, Engineers, and Scientists, known as MIM, she also mentors Turkish women who are interested in pursuing an architectural career.
You've been with the firm for 10 years. What is it about Perkins Eastman that encourages such longevity, and what have you learned during your time here?
Perkins Eastman has both a strong sense of a family unit and a reputation for investing in its employees. With time, I've learned that being organized is key. But staying organized as a busy working mom has its challenges. My way of staying on track is making "to-do" lists with a time frame associated with each item—my colleagues and family are well aware of this system.
In February, Turkey was struck by a devastating earthquake, and you quickly led efforts within the firm to donate aid materials. Why was this so important to you?
Growing up first-generation Turkish American and spending every summer in Turkey, I hold my country and culture close to my heart. When the earthquake hit, I was completely heartbroken for my people, as the scale of destruction and grief was unfathomable.
With the support of my Perkins Eastman family, I helped gather clothing donations and urgently needed supplies. I brought them to the Turkevi Center, which shipped them to the affected region. I also arranged monetary donations for the purchase of food, first aid, and tents. Currently, I'm working to set up direct lines to collect donations within the Turkish community in New York City by reaching out to Turkish businesses, such as shipping and medical supply companies.
You've worked on a variety of complex projects. What is the most fulfilling aspect of the design process?
I love interacting with researchers and university deans throughout the project cycle. Many scientists, for example, spend more time in their lab than they do at home, and they are so appreciative of their new spaces, which is extremely satisfying. From state-of-the-art science buildings to large-scale international projects, I enjoy solving the organizational aspects and coordination of the trades. Besides being a designer, I am also the building information modeling (BIM) manager and coordinator for most of my projects. For instance, I helped manage, plan, and organize seven models, which included a total of 17 buildings, for the Public Authority for Applied Education and Training's new Technology, Business, Healthcare, and Education Complex in Kuwait.
Have you always been interested in architecture, and what sparked your passion for it?
Since I was born! I grew up with architect parents, and, as a kid, I used to color their project elevations. As I grew older, my imagination and creativity grew too. Around age eight, I designed my Barbie Dream House using home design software—long before I knew about computer-aided design and BIM. I was able to design in 2D and create 3D walk-throughs that showcased my fabulous McMansions. The architectural magazines we had at home influenced my future designs too.
Outside of work, how do you spend your time?
I enjoy snowboarding, museum hopping, and exploring new cities with my two boys and husband. My five-year-old son has recently become interested in the New York City Subway map; on weekends, he chooses new stations for us to visit. When I have time to take off my mom and architect hats, which is rare, I find true joy playing the drums to the Beatles and Queen.
–EMILY BAMFORD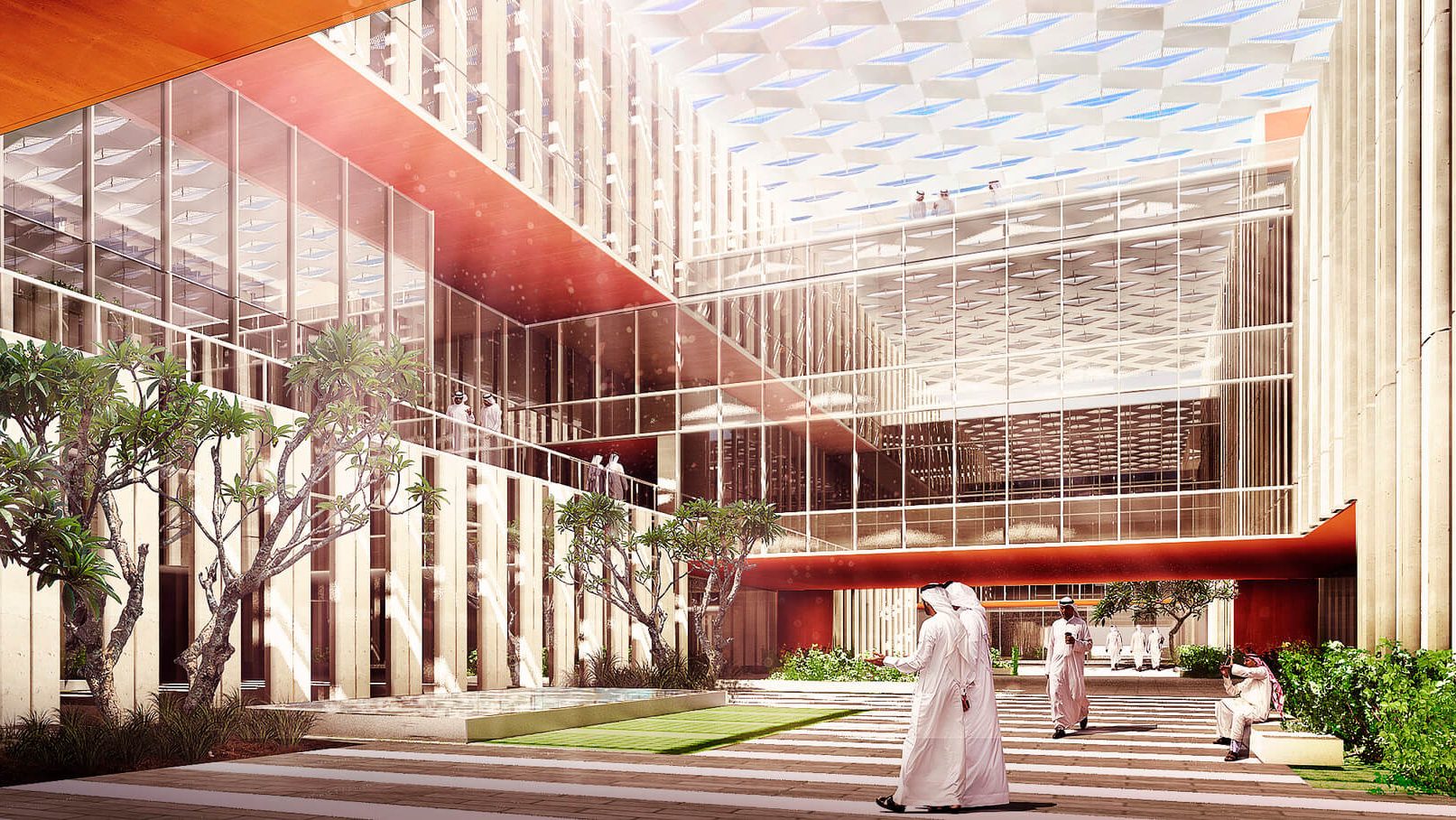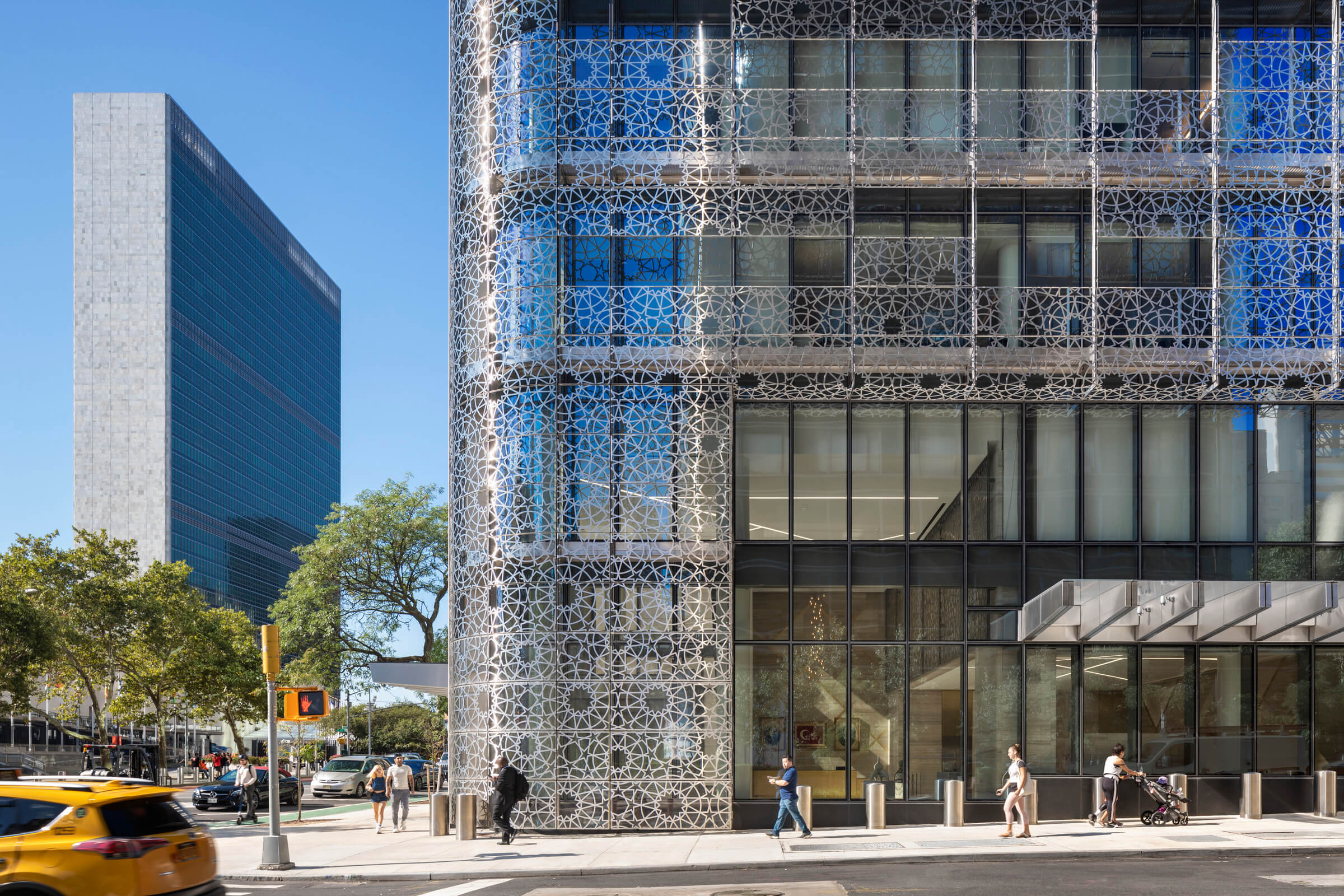 TAKE
5
Min Shu
Shanghai Studio
Min Shu, a council member of the China Society of Architecture's Institute of Healthcare Facilities and an active lecturer in China's healthcare community, has 27 years of experience in healthcare design, urban design, and mixed-use projects.
BY ALISA SHEV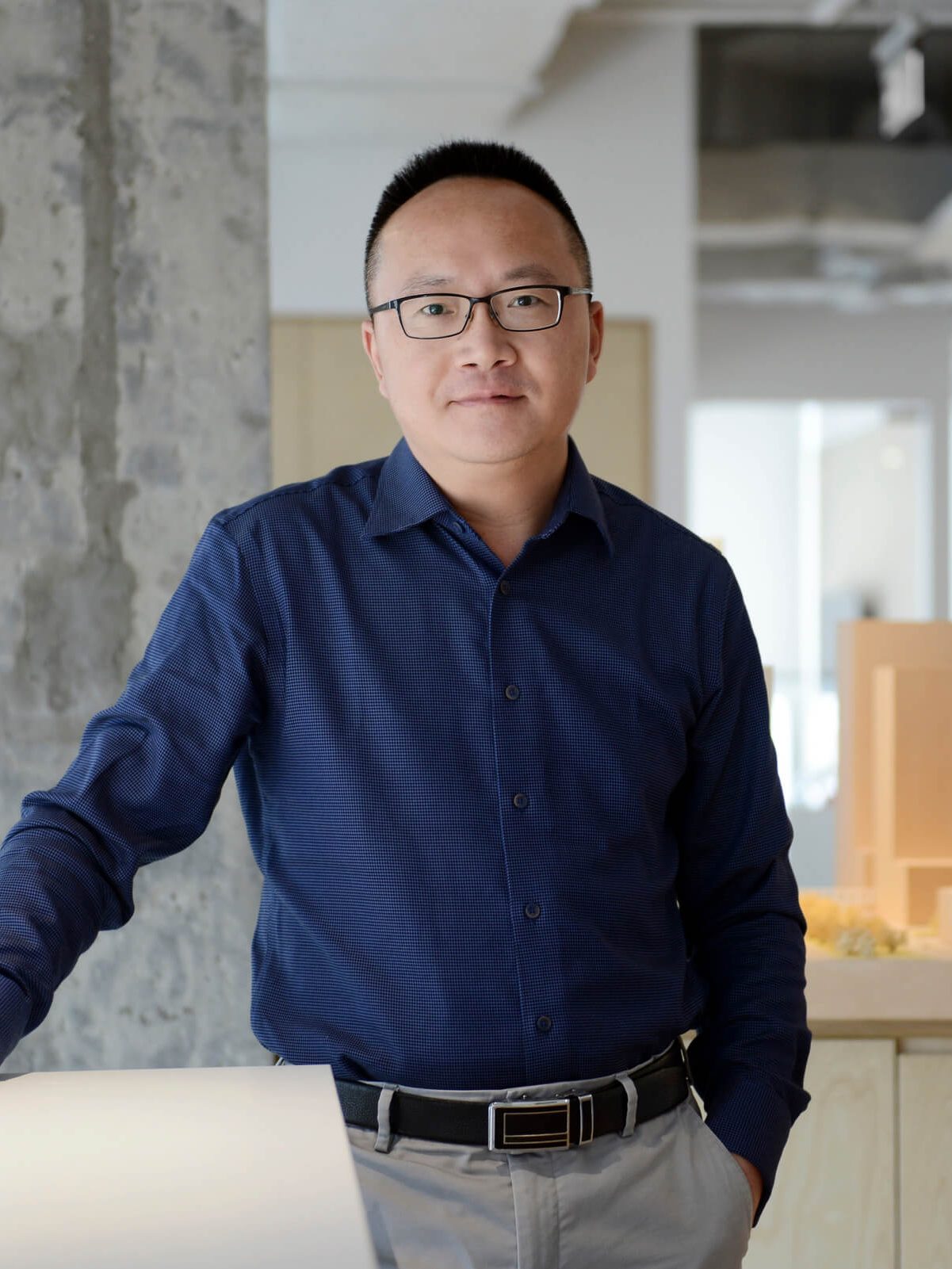 What inspired you to pursue a career in architecture, and what do you find most rewarding about the profession?
During my high school years, I was given a wall calendar by my parents. It depicted beautiful photographs of some of the world's most iconic buildings. I eagerly looked at these images every day, and they inspired me to pursue a career in architecture. The creative nature of the profession offers both challenges and enjoyment, and there is nothing quite like witnessing the lines and shapes on my drafting paper transformed into tangible structures. However, the most fulfilling aspect of my career is witnessing individuals appreciate the buildings we have designed for them.
You play a key role in Perkins Eastman's Healthcare practice in China. What are some of the unique challenges and opportunities in this market?
The healthcare design market in China has evolved significantly over the past 20 years. It has become increasingly competitive as firms from all over the world bring their own design styles and medical planning expertise to the country. While this globalized market presents challenges, it also provides an opportunity for firms to learn from one another. For example, European [architects] typically design hospital buildings with a relatively shallow depth, allowing most of the rooms to receive ample natural light and ventilation.
The scale of healthcare projects in China has grown remarkably, with new public hospitals often having more than 2,000 beds, which poses a challenge for medical planning. Additionally, meeting the aesthetic preferences of decision makers is often crucial for winning competitions in this market.
Could you provide insight into a project you're currently working on?
I am working on the Xi'an Zhongda International Hospital project, a high-end private hospital with 500 beds in Central China. The master plan is inspired by the Chinese seal, and it features nine courtyards, reflecting more than 3,000 years of the history and culture of Xi'an. The beautifully landscaped courtyards provide healing environments for patients and medical staff, and the outpatient, diagnostic and treatment, and inpatient areas are vertically stacked to create a highly efficient circulation system.
How are new technologies impacting hospital design?
The potential of advanced technologies such as AI, molecular medicine, and genomics is immense, as they have the power to revolutionize hospital design—creating smaller, more effective facilities. We can expect to see a transformation in the way care is delivered, making it more accurate and efficient. A good example is a proton therapy center with a building area that typically ranges from 30,000 to 60,000 sf. With the new compact equipment, building area can be reduced by as much as 40 percent.
How do you spend your time outside of work, and what types of activities bring you joy?
I love spending time with my family, especially exploring new places together. Traveling is a great way for us to create lifelong memories. We enjoy immersing ourselves in different cultures, trying new foods, and seeing all the amazing sights that the world has to offer.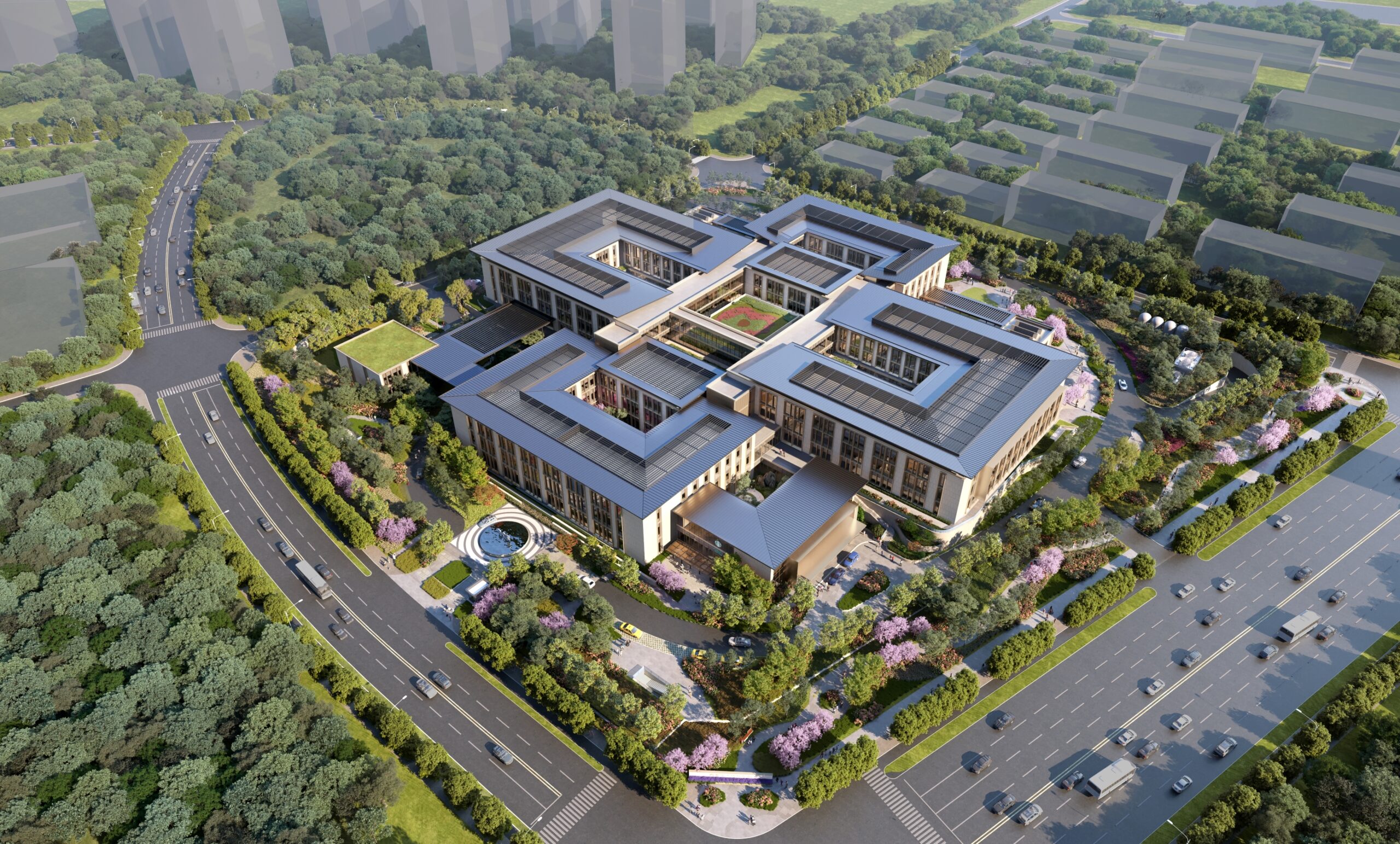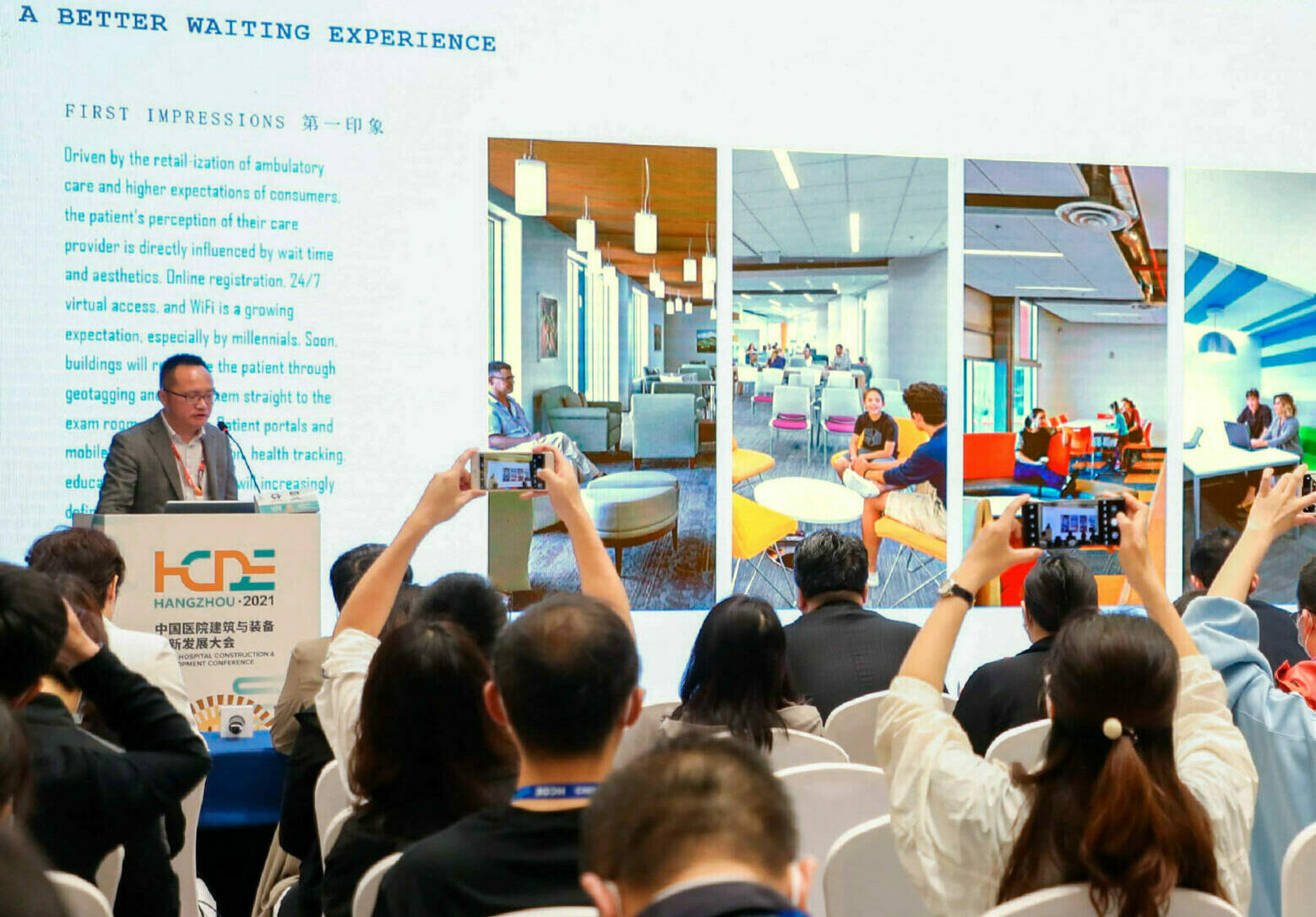 TAKE
5
JinHwa (Gina) Paradowicz
Chicago Studio
JinHwa (Gina) Paradowicz, an associate principal, focuses on senior living, hospitality, and multifamily residential design. She is a board member and past president of the AIA Chicago Foundation and a former scholarship committee chair of Chicago Women in Architecture.
BY JENNICA DEELY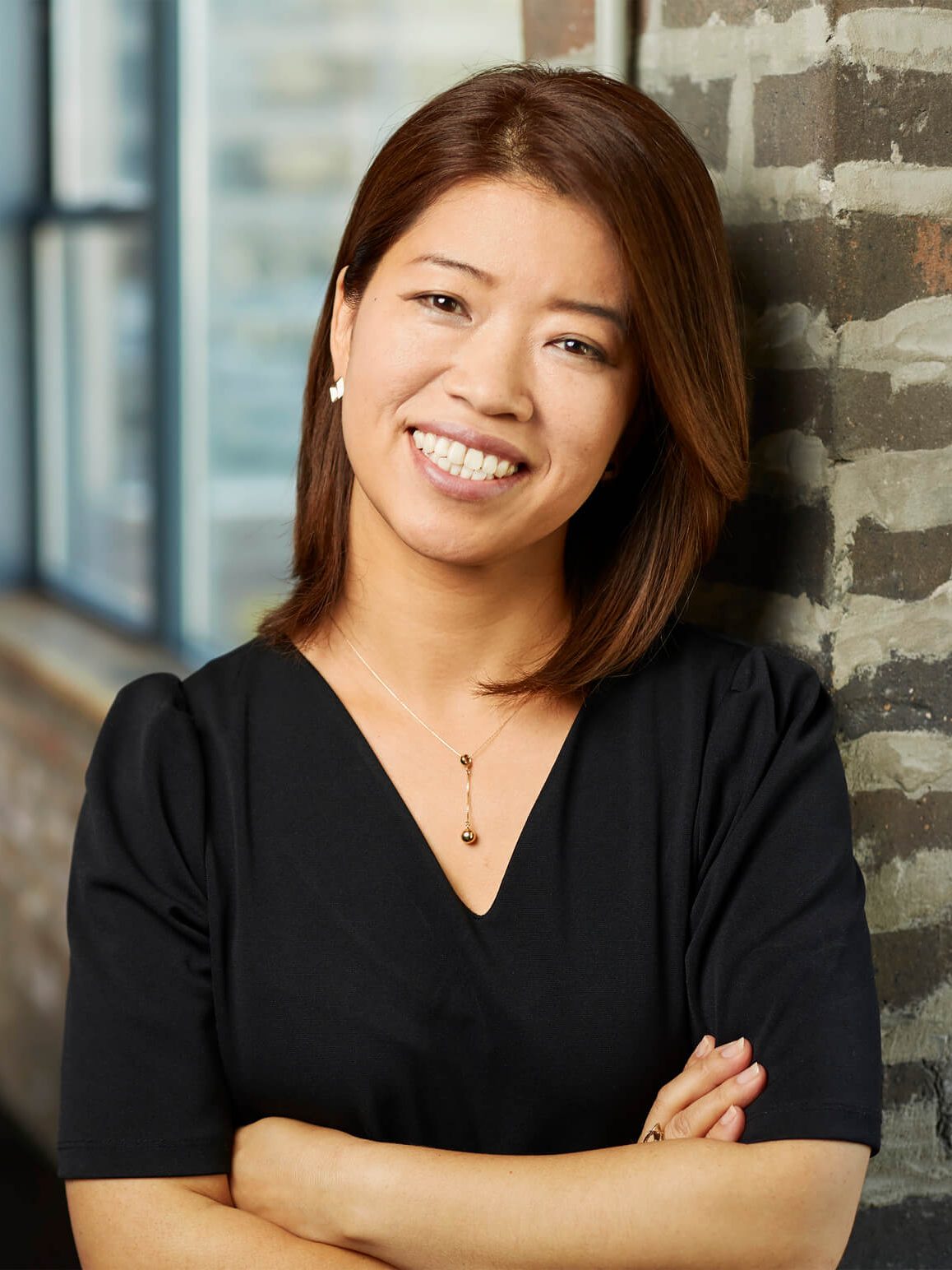 How does your fluency in Korean contribute to the firm's projects?
Recently, a Korean American gentleman contacted me at Perkins Eastman. He was in pursuit of an architect who could speak the language as well as understand the cultures of both Korea and the US. He wants to build his dream project—the Korean Cultural Center in Chicago. We have since completed the concept design and look forward to seeing this project take shape.
I also recently received a Request for Proposal for a master plan and concept design for an international school in Korea. My fluency in Korean helped win the project, as the client feels comfortable knowing there is a leader at Perkins Eastman who can communicate in their mother tongue. We are designing the campus in collaboration with the Chicago, Washington, DC, and Shanghai studios. Beyond speaking the language, it's rewarding to bring value to this project through my personal design approach. Being a Korean woman at Perkins Eastman means I can provide a unique perspective within the firm and on our projects. I believe architecture is a tool to communicate with our surroundings, culture, and people, and I know the importance of bringing diverse voices into the conversation.
What drew you to the architectural profession?
I have been interested in design for as long as I can remember—curious since childhood about how and why architects create buildings. I grew up living in different countries across Asia and Europe, so I've developed an appreciation for how architecture evokes emotion and represents people, culture, and home.
How did you gravitate toward senior living design?
After completing a convention center as a lead designer right after grad school, I wanted to work on projects with a more human scale that have a direct impact on people's everyday lives. I came to Perkins Eastman and was pleasantly surprised by the forward-thinking nature of the firm's Senior Living practice, which embraces enriched lifestyle choices and the dignity of aging adults.
As we live longer, I believe "senior" is becoming an outdated term. I am passionate about the design of intergenerational living, which is a more inclusive model. With all generations intertwined and supporting each other, this model creates a sense of real community, provides solutions to social isolation, and fights ageism. It's a deeply fulfilling experience to design spaces and places that enhance community well-being and improve quality of care.
What do you enjoy about being in Chicago—both at the Perkins Eastman studio and in the city in general?
The fact that I've been with the firm for more than 18 years speaks to how much I enjoy working with my friends at Perkins Eastman. We are lucky to work in a city that provides constant architectural inspiration. As a result, I am actively involved in Chicago's architectural community, including Chicago Women in Architecture and the AIA Chicago Foundation. I'm also a passionate supporter of diversity in design and helped roll out the AIA Chicago Foundation's Diversity Scholarship program. I also sit on the Lincoln Central Association's zoning committee.
After nearly two decades at Perkins Eastman, what is something most people don't know about you?
I moved from Korea to Myanmar when I was in high school, and I attended the International High School in Yangon, Myanmar, where there were only 40 students, including nine in my graduating class. Due to its size, I was involved in everything—the softball team, drama club, school choir, yearbook committee. And, most importantly, I initiated the high school's first-ever prom! N