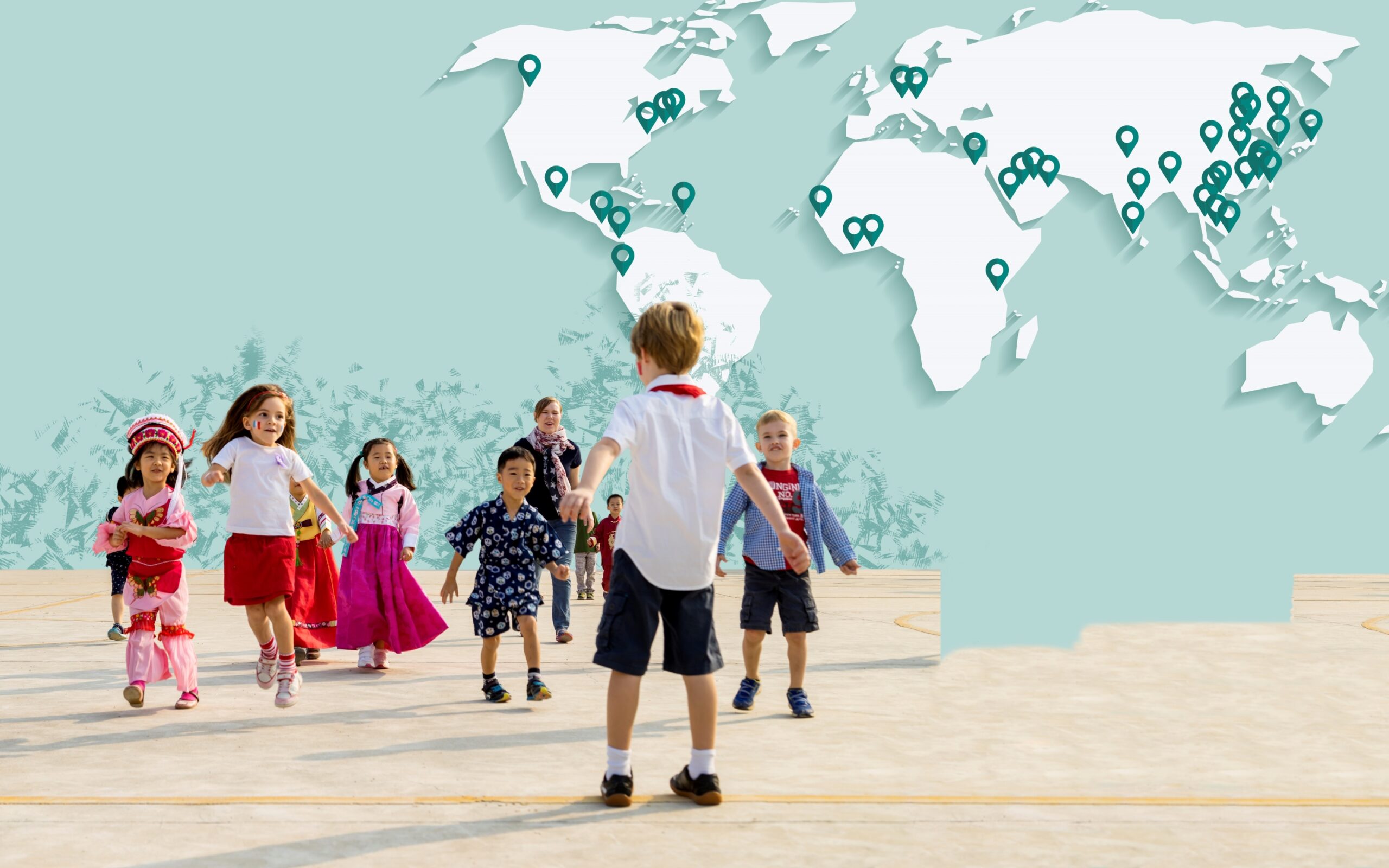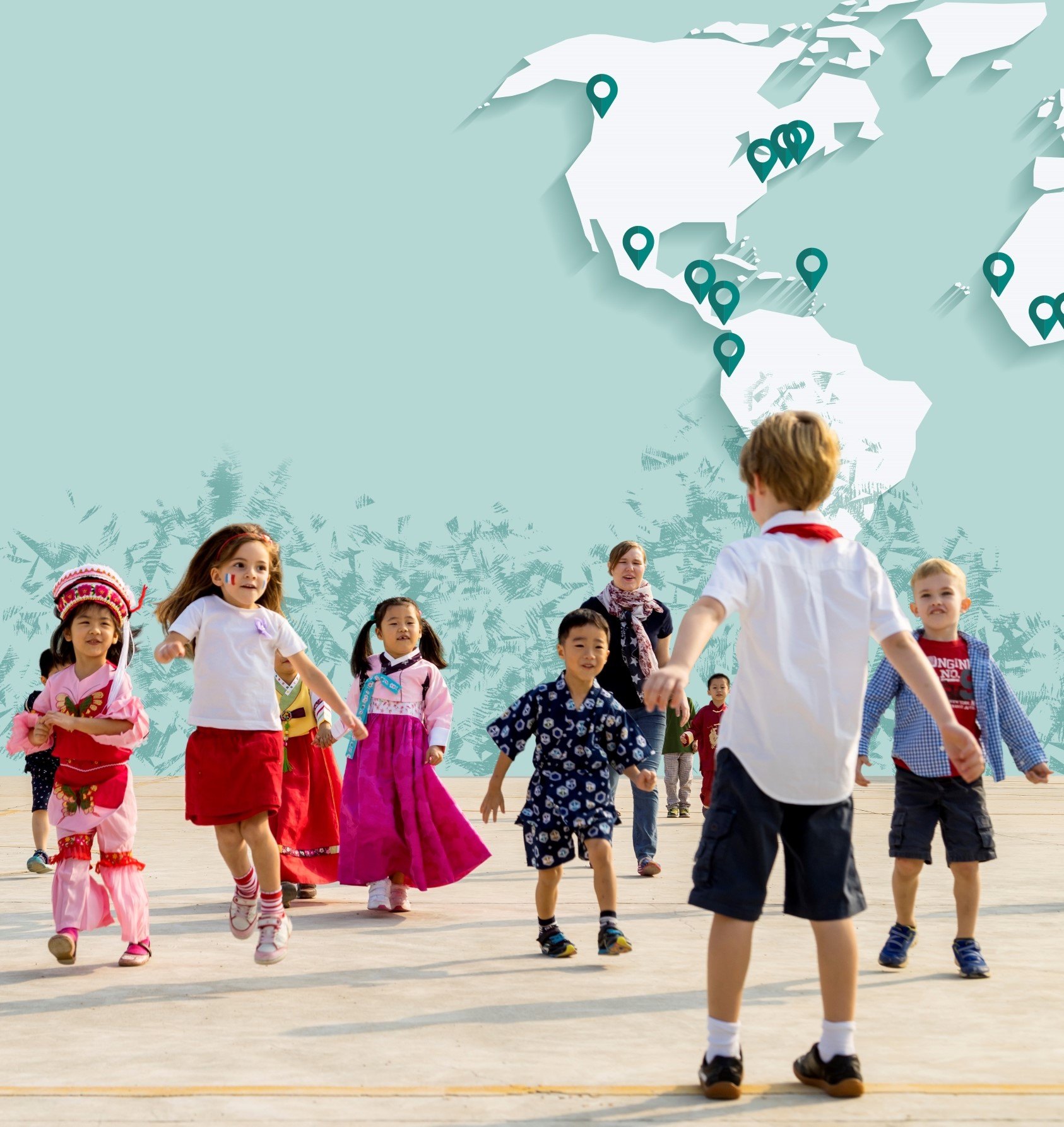 Photograph Copyright Tim Griffith/Courtesy Perkins Eastman
study
ABROAD
International schools are fundamental to Perkins Eastman's reach and impact, both at home and abroad.

BY JENNIFER SERGENT
design lab
Twenty minutes by high-speed rail from Shanghai, the ancient waterfront city of Suzhou is seeing a modern addition slowly rise on its north side, where an entirely new town, more than eight times the size of Manhattan, is being developed as a high-tech hub for computing, robotics, and artificial intelligence. While most of these offices, manufacturing facilities, and residential towers have yet to be built, the Whittle School & Studios Suzhou is a harbinger of what's to come, having just completed its inaugural academic year for the first wave of what's expected to be a total enrollment of 2,500 students in pre-K–12th grade. "This is a major milestone project," says Perkins Eastman Managing Principal Ron Vitale.
As managing principal of the Shanghai studio, Vitale helped Perkins Eastman lead a global project team of more than 140 designers and consultants from Shanghai, London, Hong Kong, and New York at the project's height, producing a campus of advanced academic facilities, a dormitory tower, and state-of-the-art theater, music, and sports complexes. The accommodations for the 119,000 sm (more than 1.28M sf) Whittle School are so grand, Vitale says, it "looks more like a community college campus than an elementary, middle, and high school."
Meanwhile, the new Ecopark Daesung International School in Hanoi is set to open its doors to 1,500 students in pre-K–12th grade this fall. Like Whittle, the school's design results from a collaboration of multiple practice areas and specialty studios within Perkins Eastman, including landscape architecture, interiors, and master planning in addition to the architecture. "These days, it's rare that we get a contract that includes everything, however, in this case we're controlling all the aspects of the building ourselves," Vitale says. Not only that: the firm's Large Scale Mixed-Use practice, under Principal Ming Wu, is contracted to design multiple towers in the surrounding Ecopark New Town that combine residential, office, retail/ food and beverage, and healthcare. This pattern of development in emerging markets has no real parallel in the United States, Wu says. In developing economies such as Vietnam, Thailand, China, and elsewhere in Asia, "there's a burgeoning middle class that's accumulating tremendous wealth. Parents make great sacrifices to ensure their kids excel in every way—but especially academically— and the development community knows that if it can include an international school in every new town, that's a desirable amenity and a value-add."
The breadth of expertise and collaboration the Whittle and Ecopark projects represent is a culmination of two decades of work since Vitale joined Perkins Eastman and brought the firm its first international school commission: the Concordia International School in Shanghai, a pre-K–12 campus whose high-school, elementary, and fine arts buildings won top AIA honor awards and led to Perkins Eastman being its architect of choice for additional campuses in Hanoi and Bangkok. Vitale and teams across multiple studios in the United States and abroad have proceeded to build a portfolio of 65 international schools in 26 countries—and their ranks are growing. The work has unleashed many design innovations along the way and generated multiple business opportunities both within and beyond the K–12 practice.
Up for Adventure
International schools are generally built to serve communities of expatriates who are stationed abroad to work for corporations, governments, and nongovernmental organizations of all kinds. The schools offer multilingual programs for a mix of local and foreign students. To leave home to live and work in a new land, Vitale believes, takes a certain amount of bravery—and the design of international schools reflects this inclination. "This is a really incredible niche sector in the firm—it has so much to offer," he says. "The people who take these opportunities abroad tend to be more adventurous, more progressive-minded. They want to work in an environment that's more experimental."
International school tuition is in line with America's top private schools, so clients can afford to push the boundaries. At Whittle, designers with the firm's Workplace practice planned the nonclassroom spaces, while hospitality-focused ForrestPerkins, a distinct studio of Perkins Eastman, handled the dormitory interiors. Architecturally, these schools feature sophisticated materials and elements such as glass curtain-wall systems and extensive brise-soleil screens. Programs often include enviable arts and theater installations, high-tech labs and maker spaces, competition pools, fitness centers, and sports fields—which also serve the greater community of student and faculty families.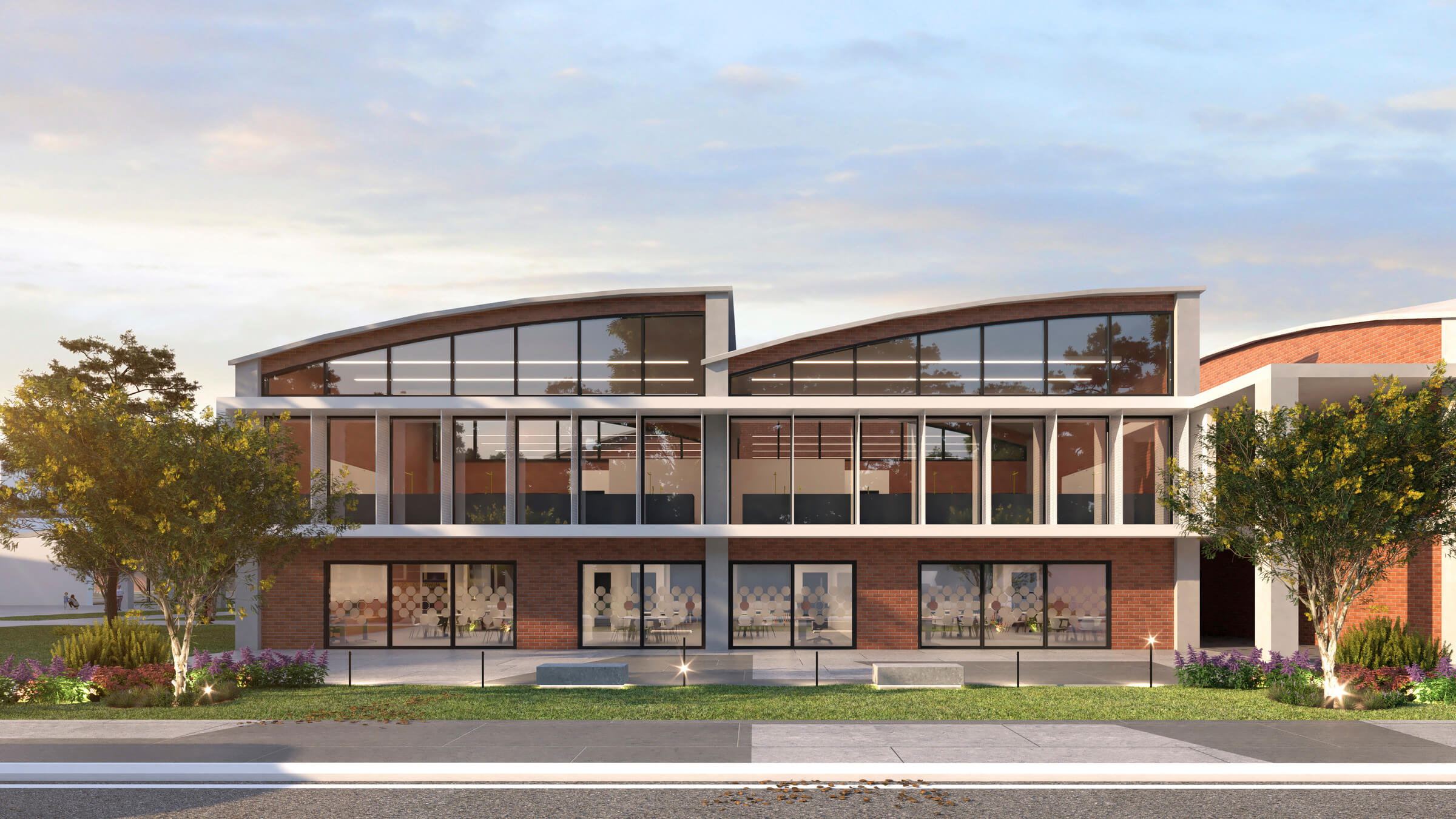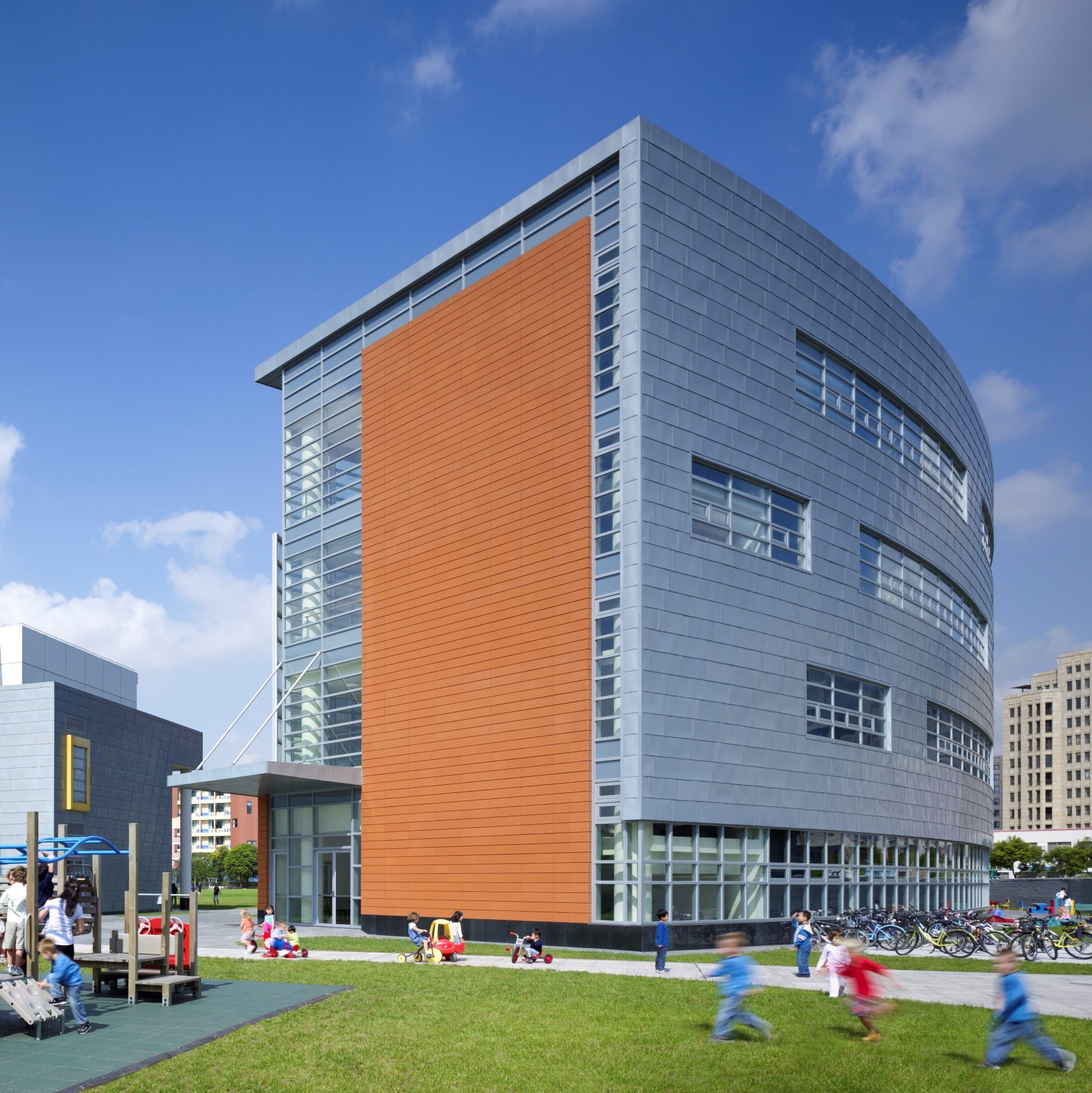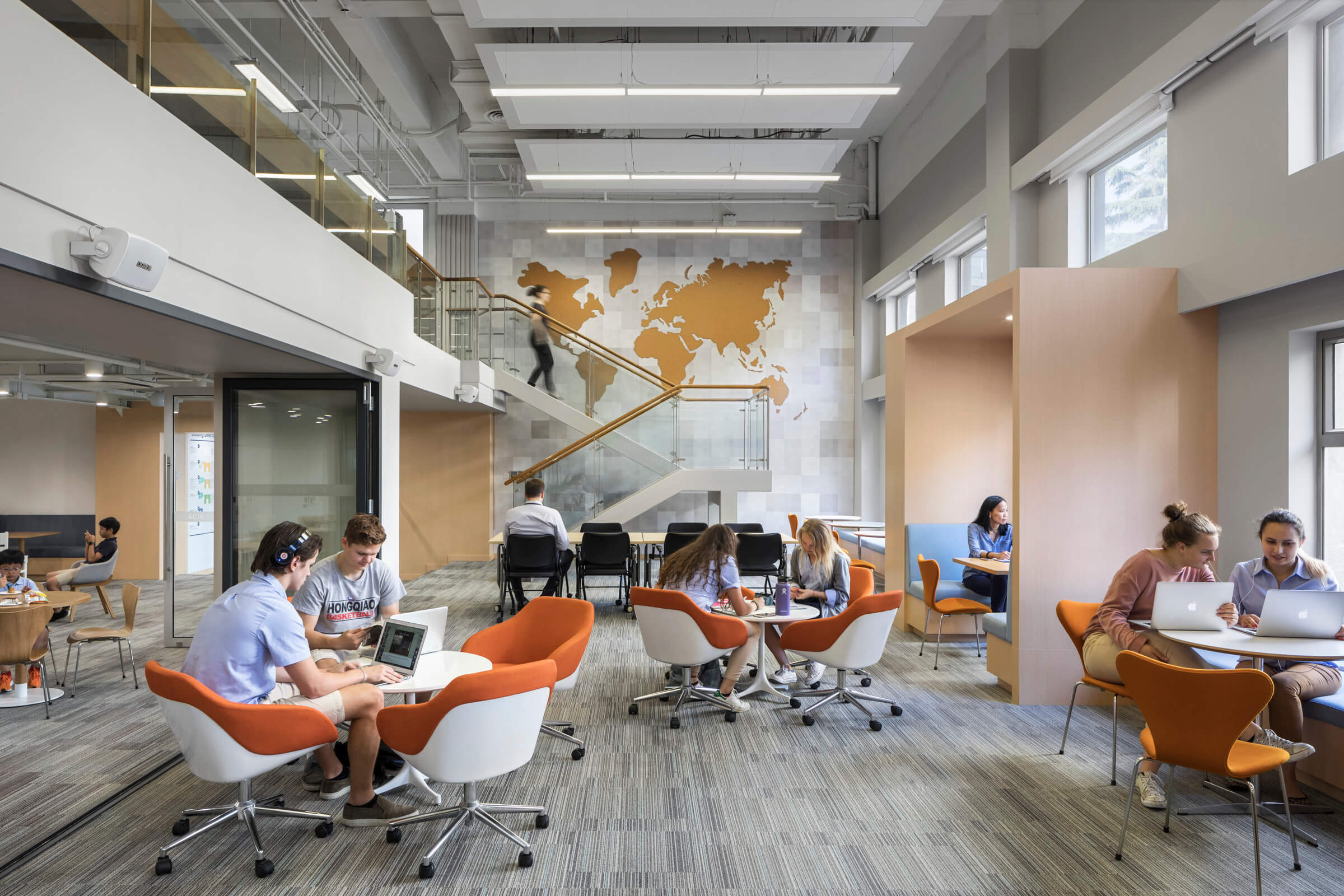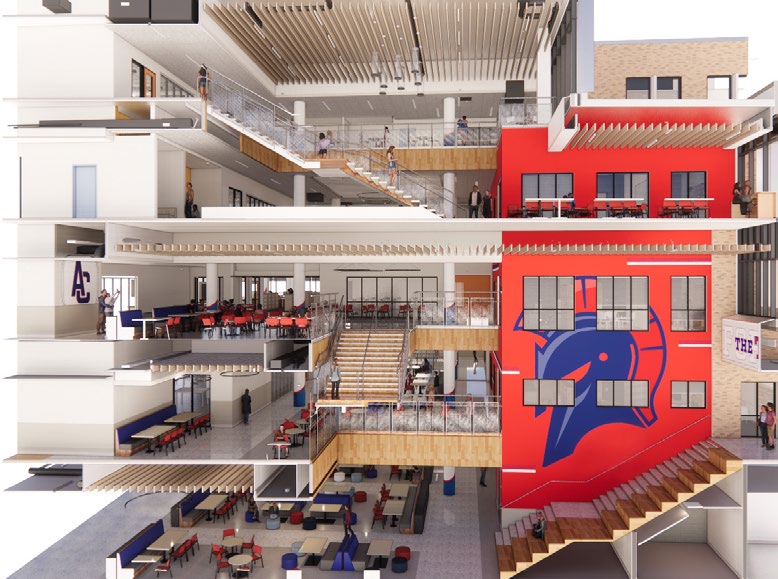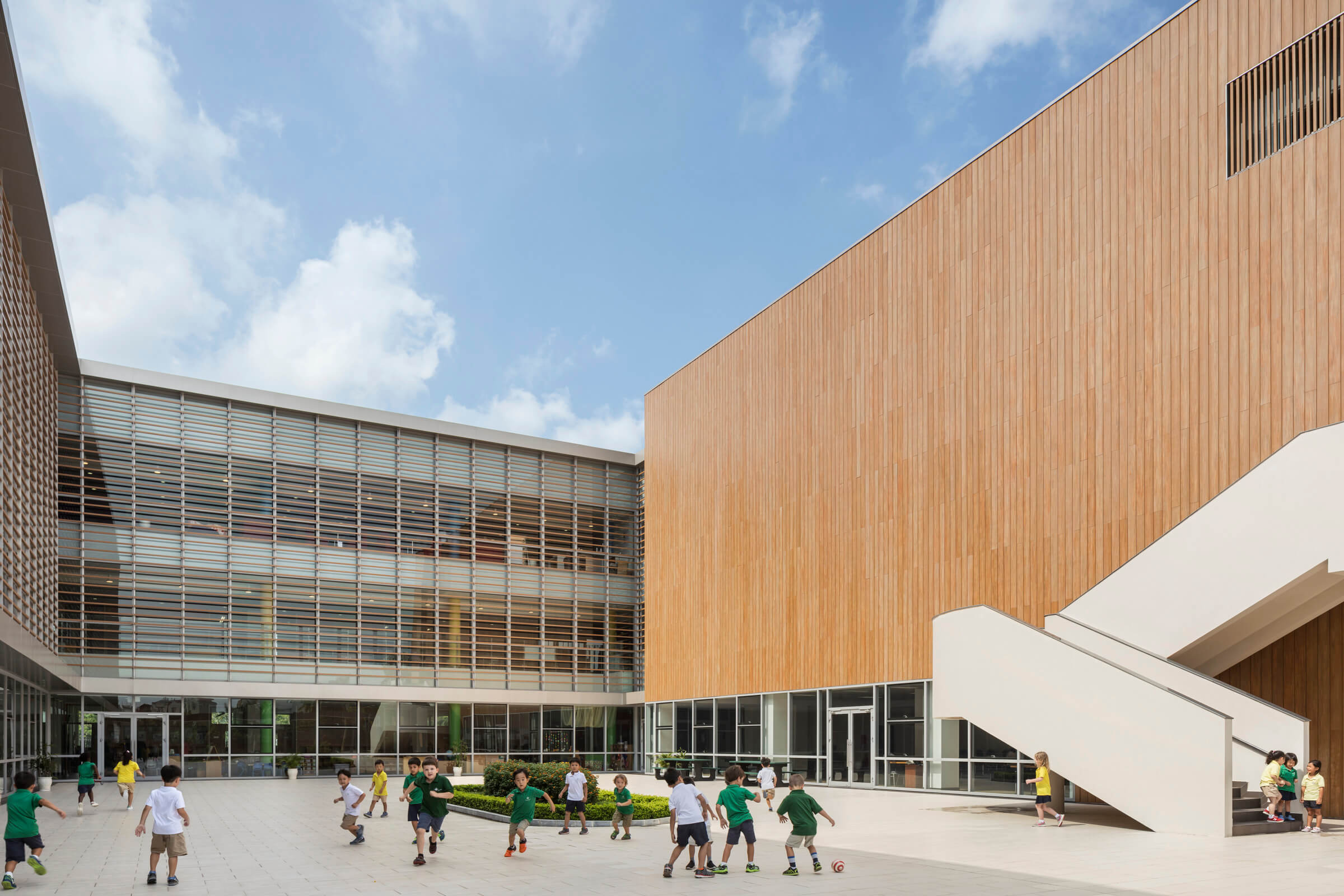 Referral Network
Working with international schools produces deep relationships that yield lasting bonds. "Because you're traveling so far, you're spending a lot of time—sometimes 24/7— with the people there," says Principal Mark McCarthy, who is based in the New York studio and handles projects in the Middle East. It's not unusual for him to share meals or even sleep at a client's home. "It's very intense. You get to know everyone so well. You become part of that culture for the time you're working there," he says. Those relationships lead to more business. After building the Ecopark school, the executives at Turner Construction referred Perkins Eastman to Fairmont, which then hired the firm to design its new hotel in Hanoi.
In South America, the firm's initial 2013 master plan for updates to the pre-K–12 Colegio Franklin Delano Roosevelt (FDR) in Lima, Peru, has led to further work there and elsewhere that continues to this day, Principal Omar Calderόn Santiago says. "That relationship really opened the doors to my practice, going around the world," he says. Because the international-school community is tight-knit, the work in Peru has led to commissions in Austria, Germany, and Africa. In many cases, existing schools occupy long-outdated buildings that can't accommodate modern learning, and clients "are in desperate need of rethinking their facilities. This creates fertile ground for a 'Let's try something new!' attitude. It's like a laboratory for exploring what a learning space could be, and I do a lot of importing back here to K-12 projects in the United States," Calderόn Santiago explains.
Common Ground
One of these imports comes from the Commons at Colegio FDR. Designed to bridge two sides of the campus, the building's three light-filled stories create a destination as much as a pass-through, making it a dual-purpose project that invoked new ways of thinking about the mingling of academic, gathering, recreational, and dining spaces. Whereas traditional school design calls for segregated cafeteria, library, and outdoor spaces, the Commons weaves them together—there's no distinction between a table meant for study and one where students can eat lunch. "That's an idea that we had, but it hadn't really gotten a chance to exist" before this project, Calderόn Santiago says. Now, the plans in development for the new Alexandria City High School outside Washington, DC, eschew a dedicated cafeteria; students will be able to grab food from a servery and spread out at open seating across the school's five levels. Likewise, at Benjamin Banneker Academic High School in downtown Washington, there's no dedicated library; at the center of the school, bookshelves are staggered across cascading terraces—a series of interconnected spaces and functions also known as the Commons.
Since the onset of COVID-19, K–12 Practice-Area Leader Sean O'Donnell says school plans have been pushing more learning opportunities outside—a feature that's fairly standard in Central and South America and the Caribbean, where Perkins Eastman is currently designing renovations and new-construction projects for international schools in Guatemala City, Panama City, and the US Virgin Islands.
"The outdoors is not just for recess or P.E. It's just as much a part of the educational landscape," O'Donnell says. The new John Lewis Elementary School in Washington, DC, has a campus that's bookended by an amphitheater on one side and a "living classroom" on the other. "We're seeing a lot more interest in using the outdoors across all our clients," O'Donnell says.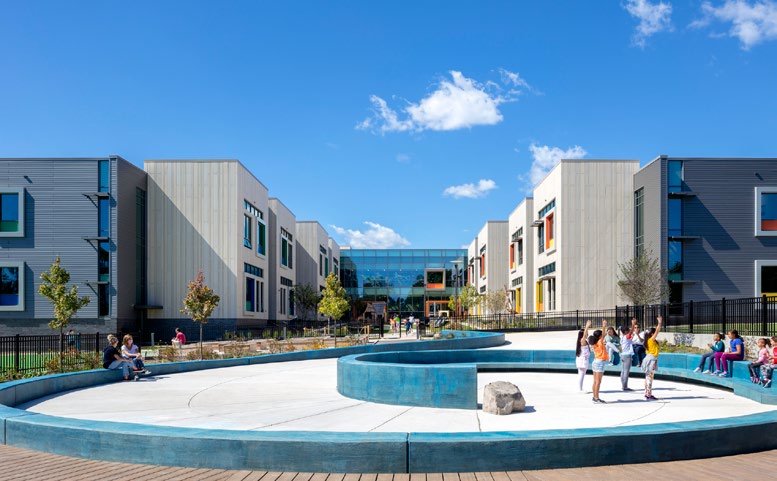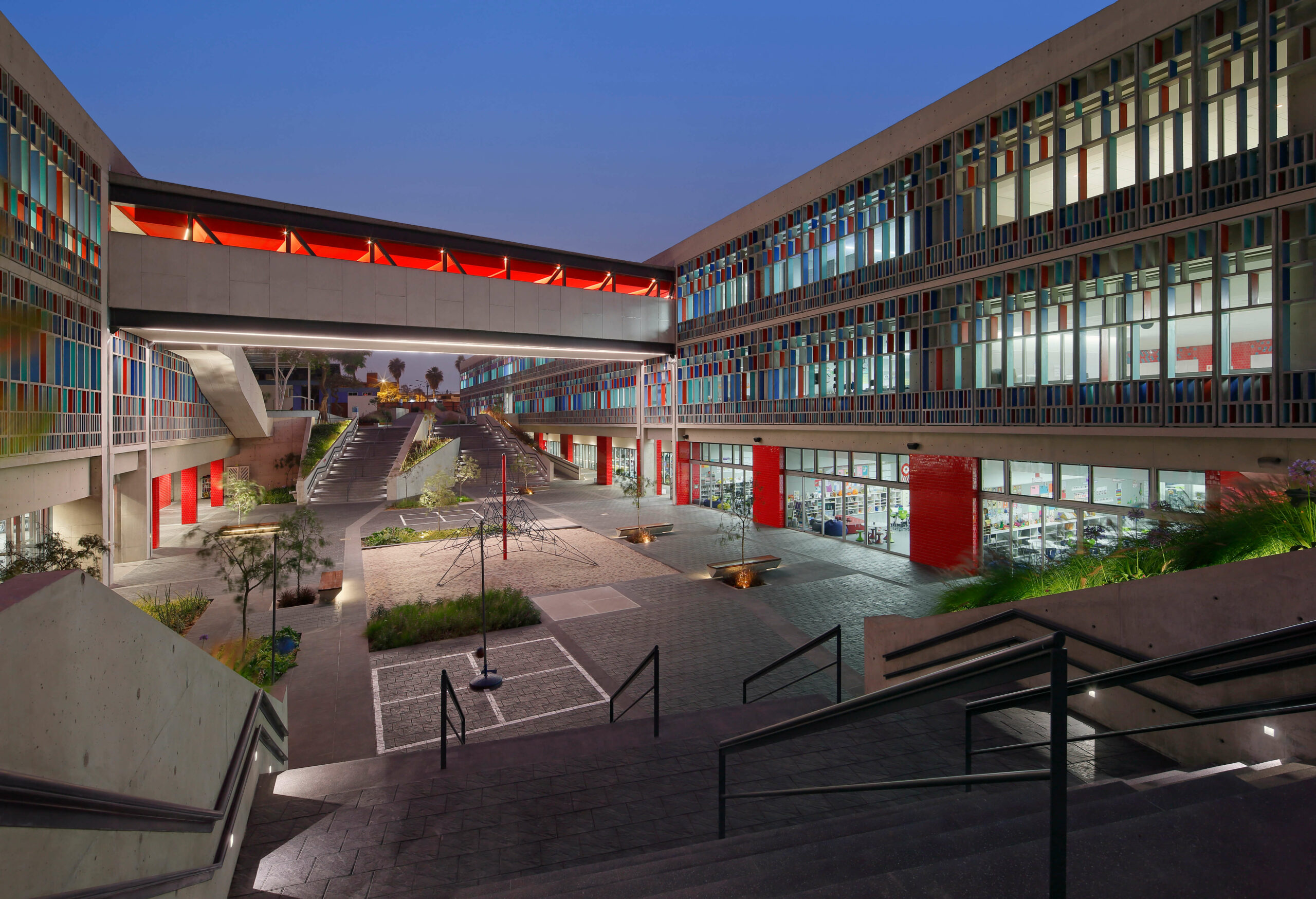 Passages with Purpose
K–12 designers are also rethinking the interstitial spaces inside a school, such as stairways and corridors that can account for up to 40 percent of its square footage. The centerpiece of the new STEAM-focused Creativity & Innovation Centre at the Bavarian International School near Munich, Germany, is a wide stair that invites pause and interaction—a modern take on the gracious stone steps that have come to define the school's original Rococo-style mansion. One can draw a straight line between that design and the wide, terraced stairs that anchor Banneker in DC and the newly opened Boston Arts Academy, Calderόn Santiago says. The elementary school wing of Colegio FDR features wide corridors outside the classrooms furnished with round tables, bean bags, and soft, serpentine bench seating that serve as learning extensions for individual study or team teaching. "We've been exploring this approach for years, but now it's really taking hold," O'Donnell says, pointing to similar spaces found in John Lewis Elementary School and Zervas Elementary School in Newtown, MA.
Class Leader
International schools mark a significant presence within Perkins Eastman's overall portfolio across 18 practice areas. The pioneering aspect of this work generates outsize benefits in the form of design innovation and new business for other markets. The reason, Ron Vitale says, is that "international schools get you in early to regions and cities where there's investment, where there's growth in the international community. Then comes healthcare, higher education, hotels, restaurants, and mixed-use. International schools lead the way." N