design lab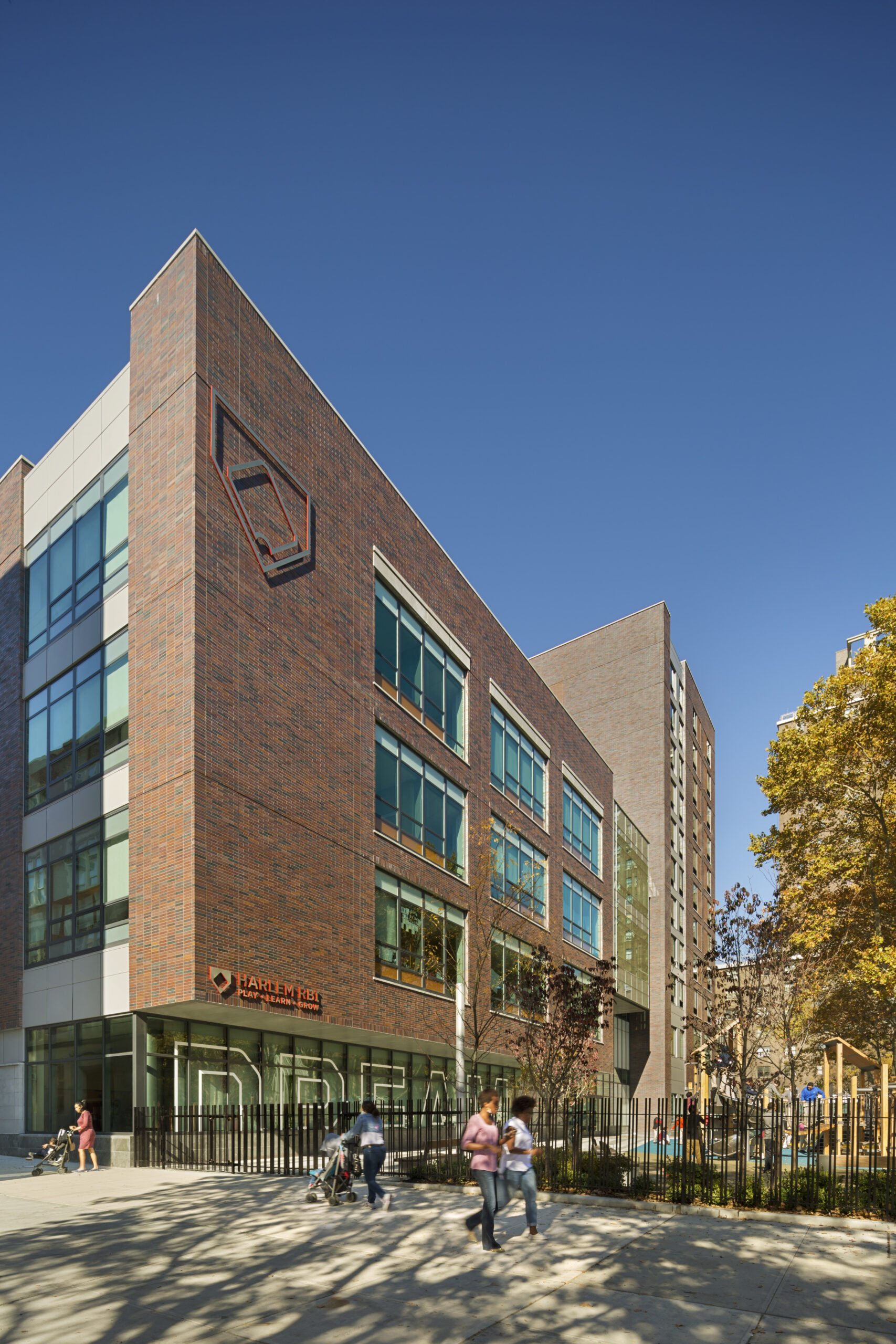 affordable housing
AS SOCIAL CATALYST
Community building, social outreach, and a sense of belonging characterize three transformative projects.
BY TRISH DONNALLY
To say the United States is facing an affordable housing crisis is a major understatement. With rents rising across the country, many Americans are living a nightmare. Some teachers in Northern California are living out of their cars, in hovels in the Santa Cruz Mountains, and with multiple roommates in one-bedroom apartments in Daly City, because they can't afford to pay market-rate rent. And that's just California. It gets worse.
"Eleven million people in this country are paying more than half of their income for rent, and these are low-income people," says Richard Burns, CEO of the NHP Foundation, a national not-for-profit provider of affordable housing. "Many of these people are one medical bill or one car breakdown away from being homeless," Burns adds.
Housing Is Fundamental
"Housing is absolutely essential to human flourishing. Without stable shelter, it all falls apart," Pulitzer Prize-winning sociologist Matthew Desmond told the Chicago Tribune on publication of his book Evicted.
Affordable housing is housing built for people who earn 80 percent or less of the area median income (AMI). Workforce housing is for people who earn between 80 and 120 percent of AMI, depending on the market.
With care and forethought, however, visionaries are creating civic-driven affordable and workforce housing that builds inclusive communities, fosters relationships among neighbors, and impacts residents in many positive ways. Perkins Eastman and its specialty studios have been designing such housing across the country for decades.
Yomo Toro Apartments in New York City, Cedar Crossing in Seattle, and Harrison Plaza Senior Tower in Philadelphia are among the examples conceived as more than just a roof overhead. Rather, they're designed to cultivate a true sense of community.
Among the most important contributions architects and designers can make to help alleviate the affordable housing crisis is to integrate sustainability and resiliency into their designs. "We need architects to focus on all-electric buildings and net-zero-energy buildings," Burns says. Architects, he believes, can help developers understand the various rebates available to projects with sustainable features, knowledge that could affect how a deal is structured. "Leverage green building practices to reduce the carbon footprint and produce bankable ROI that more than offsets the additional green costs," he adds. "If you lower your utility costs by making your building more energy efficient, you can generate more income," which makes affordable housing more attractive to developers.
Activating underutilized property such as land on school campuses, parking lots, and unused space owned by churches is critical too. Perkins Eastman is currently advising two school districts in California— Burbank and Sonoma—on long-range facility master plans and portfolio-wide strategies. "Given the high cost of living and the accelerated staff attrition, both school districts are trying to find alternative ways to incentivize teachers to come, and perhaps more importantly, to stay," says Patrick Davis, principal of Perkins Eastman and former chief operating officer of the District of Columbia Public Schools.
"It's better to retain high-quality staff rather than having to replace them every few years. [Efforts to do that are] happening all over the country. California's probably the furthest along," Davis notes, which speaks volumes about how much more progress needs to be made. Two California laws, the Teacher Housing Act of 2016 and Assembly Bill 2295, are expected to have significant ramifications in the Golden State. The latter legislation will go into effect in January 2024.
According to EdSource, "Assembly Bill 2295 is the latest legislation to make it more affordable for teachers to live in California. The Teacher Housing Act of 2016 paved the way for district-provided teacher housing by allowing school districts to [develop] affordable housing specifically for district employees and their families. Previous state law required that homes or apartments be open to anyone who meets the low-income requirement if [their developer] used state and federal low-income housing funds or tax credits."
"Housing is absolutely essential to human flourishing. Without stable shelter, it all falls apart."

—MATTHEW DESMOND
Pulitzer Prize-winning sociologist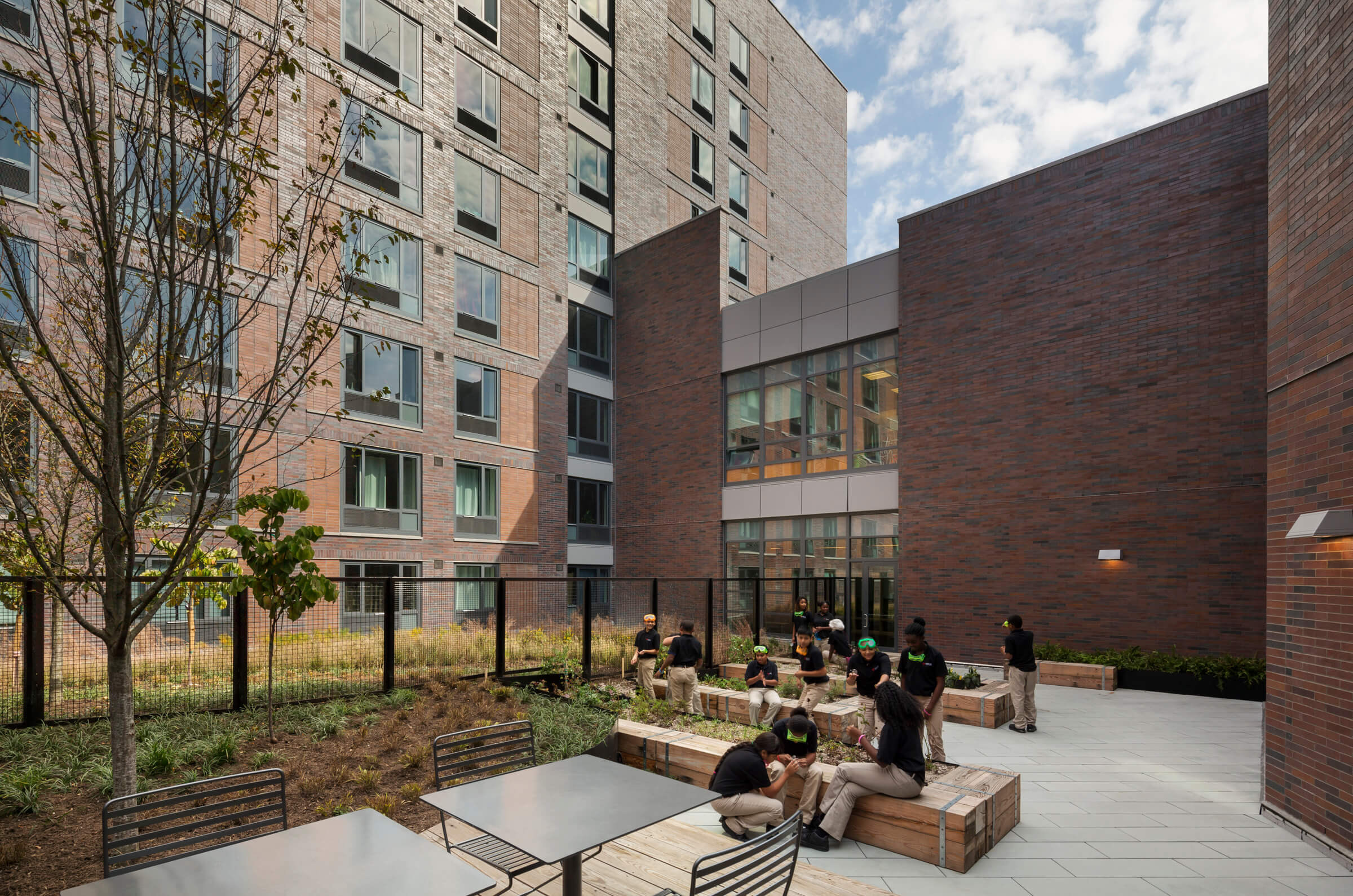 Top of the Class in Harlem
Long before either law was passed in California, Perkins Eastman designed the DREAM Charter School and Yomo Toro Apartments, aka the East Harlem Center for Living and Learning, developed by the Jonathan Rose Companies and Harlem RBI, a nonprofit educational organization with deep roots in the community. The goal was to build a charter school and affordable housing and to restore adjacent park space, which together would foster a sense of community. The method was to activate an underutilized site in East Harlem, a parking lot that belonged to the New York City Housing Authority. The result—a LEED Gold, 143,000 sf, mixed-use complex that opened in 2015—includes a 60,000 sf home for the DREAM Charter School and an 83,000 sf building for the Yomo Toro Apartments. The 88-unit, multifamily affordable housing tower offers studios and one-, two-, and three-bedroom units to people who earn between 40 and 60 percent of AMI. Offices for Harlem RBI are on the first and second floors of the 11-story residential tower. The K–8 school and tower, which are in the same building with separate entries, have far exceeded expectations.
In a January 2016 New York Times story, "How to Build Affordable Housing in New York City," Michael Kimmelman wrote, "Serving 486 neighborhood students, DREAM Charter School is the first new public school building in East Harlem in 47 years. . . . The school is light-filled, airy, transparent, with big windows opening onto the Washington Houses and rows of trees. Developers also paid for a new 20,000 sf public park to replace a decrepit concrete one that had been on Second Avenue in what's effectively the school's front yard."
"It has been extremely satisfying to see how the work we did co-exists in a way that elevates all the parts. At the opening, it was fantastic to actually be able to see families not only get a place to live, but [also] a place to send their kids to school," says Perkins Eastman Principal Mark McCarthy, the lead designer for DREAM Charter School who was also involved in the Yomo Toro Apartments. Since then, DREAM students have consistently outperformed their statewide, citywide, and district peers in English language arts and math.
The mixed-use development has lifted the entire neighborhood. As Kimmelman wrote, "In the case of the East Harlem Center, change can bring more than new housing. Neighborhoods need schools and parks, not just apartments, after all. They depend on good planning. That's what earns public trust."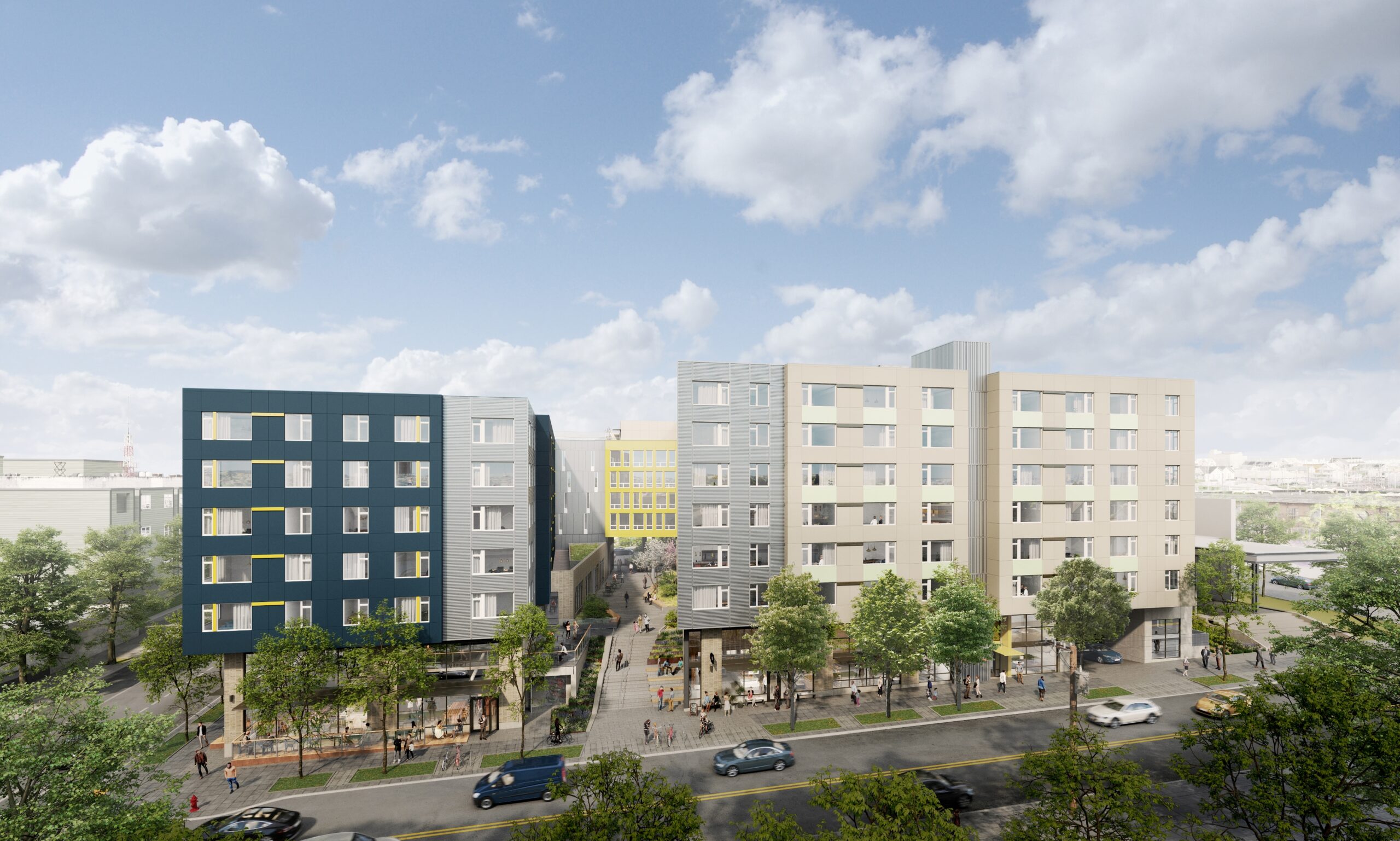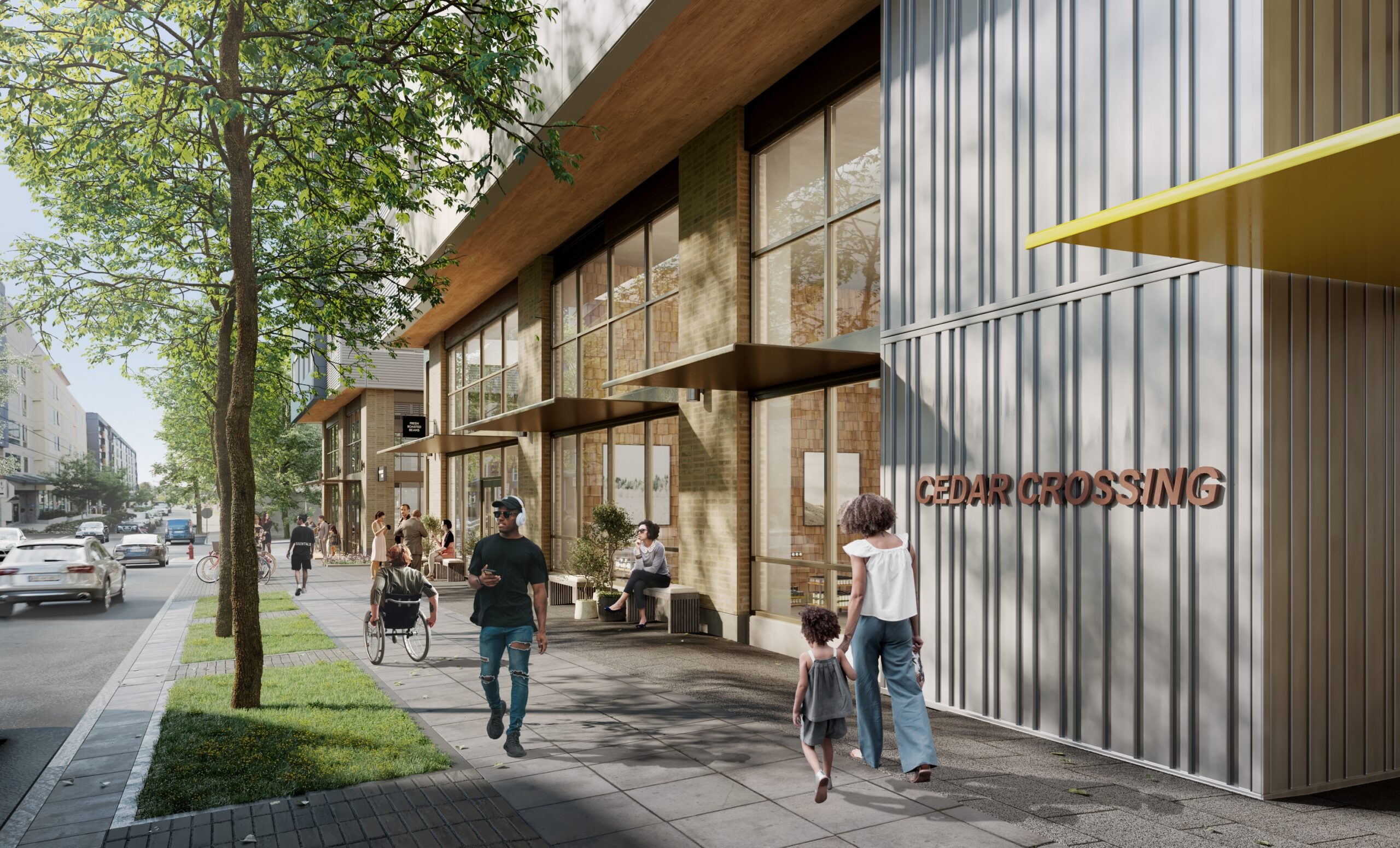 Community-Oriented Transit in Seattle
Cedar Crossing, a vibrant transit-oriented development (TOD) located steps away from Roosevelt Link Light Rail Station in Seattle, is a transformative project that combines low-cost public transportation with affordable housing. Designed by VIA—A Perkins Eastman Studio in collaboration with Bellwether Housing and Mercy Housing, two affordable housing developers and owners, Cedar Crossing focuses on families and individuals who earn less than 60 percent of AMI. The fact that Sound Transit, the Central Puget Sound Regional Transit Authority, offered the property at a discounted price contributed greatly to making this dream project a reality. Susan Boyd, CEO of Bellwether Housing, describes it as "Seattle's commitment to an inclusive and just community." With 254 apartments, including 91 two- and three-bedroom units, Cedar Crossing, which opened last summer, is one of Seattle's largest 100 percent affordable housing projects.
Following dozens of community workshops held during the TOD's planning stages, Sound Transit made a pivotal decision, at the stakeholders' request, to move Roosevelt Link Light Rail Station, originally planned for a site beneath a nearby freeway, to a central location in the Roosevelt neighborhood, literally next door to Cedar Crossing. With this move, two of the project's main goals were in sight: walkability and public transit accessibility. A community play area, a daycare, and early learning center that serves 68 students with a bicultural curriculum became part of the community too. Seattle Children's Hospital and Mary's Place, serving families with children who have experienced homelessness and have significant medical needs, also help make Cedar Crossing a safe place to live.
The Roosevelt Neighborhood Association and other local stakeholders wanted the site to be traversable and intimately engaged with the community, so a through-block crossing and grand outdoor staircase were designed to connect Cedar Crossing with the surrounding neighborhood. The design activates the perimeter and the interior of the block with retail, community spaces, and a plaza that has proven to be an inviting community draw. Sustainable elements are woven throughout the overall design, including a rooftop solar array, Energy Star appliances, healthy interior finishes, a high-performance envelope, bike storage for every household, and two electric vehicle charging stations. These features, among others, helped Cedar Crossing meet the Washington State Evergreen Sustainable Development Standards. This thoughtfully planned complex provides affordable housing for more than 500 people.
"The community was so happy to get this completed, they threw an open house, inviting all the new residents, which I thought was a wonderful, gracious gesture on their part," says VIA Principal Jim Bodoia, the principal in charge and lead designer of Cedar Crossing.
A Homecoming in Philadelphia
When the Philadelphia Housing Authority (PHA) wanted to transform Harrison Plaza Tower, a 15-story, multifamily high-rise, into 100 percent affordable housing for seniors, it turned to BLTa—A Perkins Eastman Studio to preserve and renovate the architecture and interiors. This meant gutting the tower, making the 116 units (104 one-bedroom and 12 two-bedroom) accessible, and refreshing the exterior dramatically. Milton Lau, lead architect for Harrison Plaza Senior Tower, led the team in giving the building its fresh look: multicolored metal cladding on the central bay of all four sides of the exterior, repointed brickwork, new windows and insulation, and a new patio that connects to the ground-level community room.
Harrison Plaza now favors residents 55 and older who are at or below 60 percent of AMI for North Philadelphia. The renovated building features a health-screening room, where doctors and other medical professionals visit periodically and provide basic healthcare to residents, especially those who are mobility challenged. Easy access to mass transportation and City Hall, where many residents seek services, are additional benefits.
Kelvin A. Jeremiah, president and CEO of PHA, is thrilled with the results: "This newly renovated building allows Philly seniors to age well and with dignity. PHA preserved a 67-year-old landmark and, in doing so, transformed an aging tower of public housing in urgent need of costly repairs." To make this transformation possible, Jeremiah adds, "Low-Income Housing Tax Credits were . . . critical to address preservation, development, and redevelopment goals."
Kyle Kernozek, BLTa's project manager for Harrison Plaza who worked on the project since its inception in 2019, notes, "I was struck by the amazing amount of pride the everyday contractor took to build things correctly. From the questions we got, they wanted the best for the end user. . . . Everyone took a lot of care, more so than any of the developer market-rate housing I've seen." When the team was going through its punch list earlier this year and an issue would be identified on a lower floor, Kernozek says, by the time they reached the higher floors, the problem had already been corrected.
Evelyn Lebron moved into Harrison Plaza in 2011 and was relocated in 2020 for the duration of the renovation. Over the final months before the reopening, she asked staff to take pictures so she could get a sneak peek, but they said they wanted her to be surprised. When she walked in for the reopening, she said, "I wanted to cry, . . . but they were happy tears." Lebron appreciates the rails in the hallways, the grab bars in the bathrooms, and other life-safety features. The security cameras—in the elevator, the mailroom, and the lobby—really caught her eye too.
"We live in a world that is full of anxieties," Lebron says. "The fact that PHA is making it easier for senior citizens that, in itself, is reason for hope. I hope they continue to build housing like this." She adds, "I'm going to be A-OK."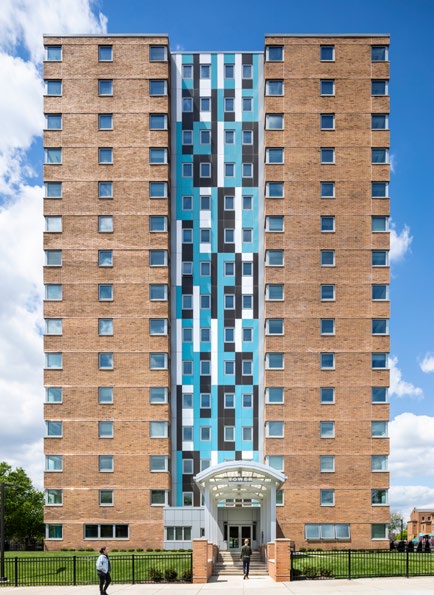 Harrison Plaza Senior Tower (top left and below), renovated and preserved by BLTa—A Perkins Eastman Studio, integrates sustainable and life-safety features. Evelyn Lebron (top right), a resident of Harrison Plaza since 2011, wanted to cry when she returned and saw the tower after it had been renovated. "But they were happy tears," she says.
Photographs Andrew Rugge/
Copyright Perkins Eastman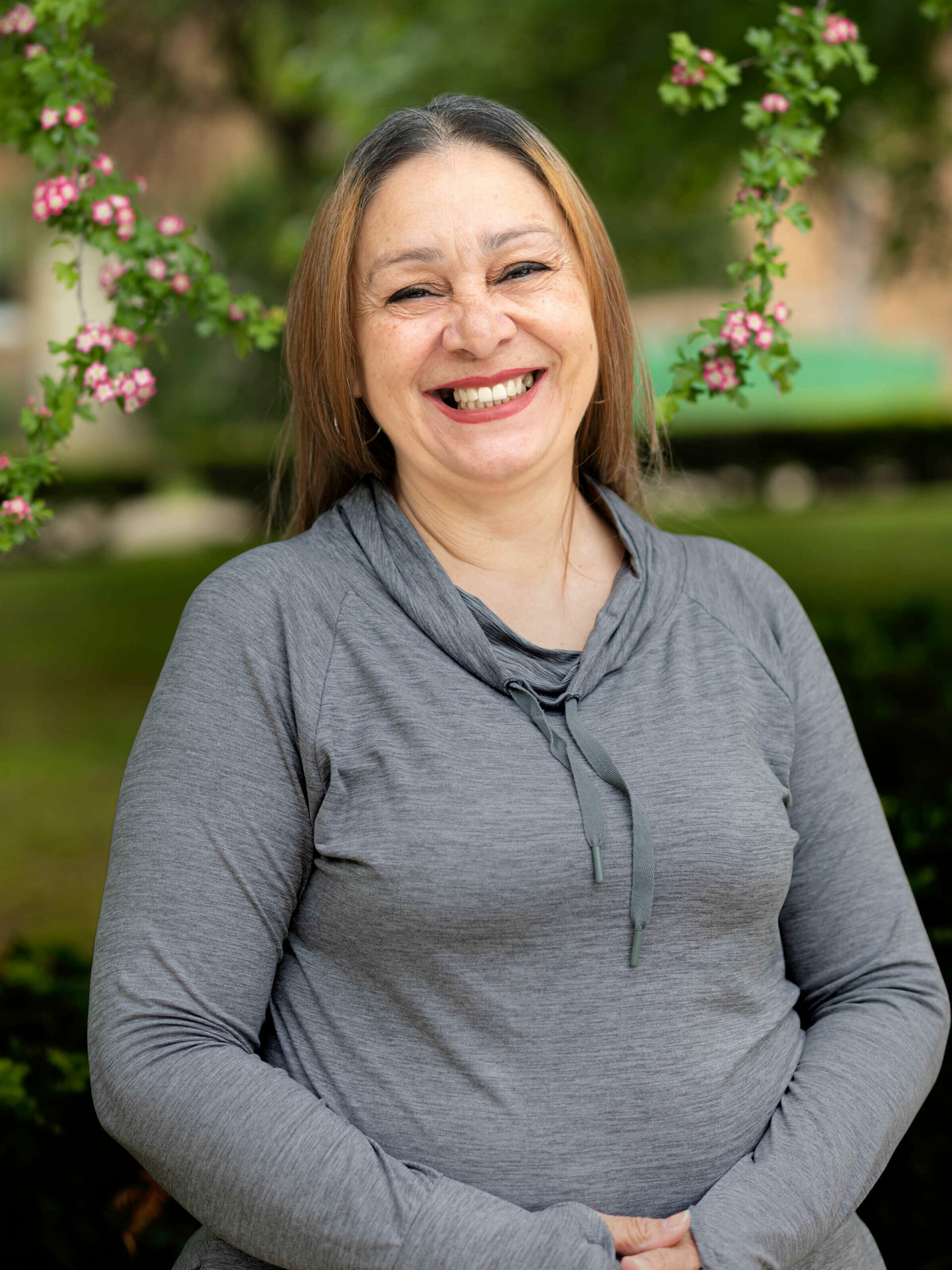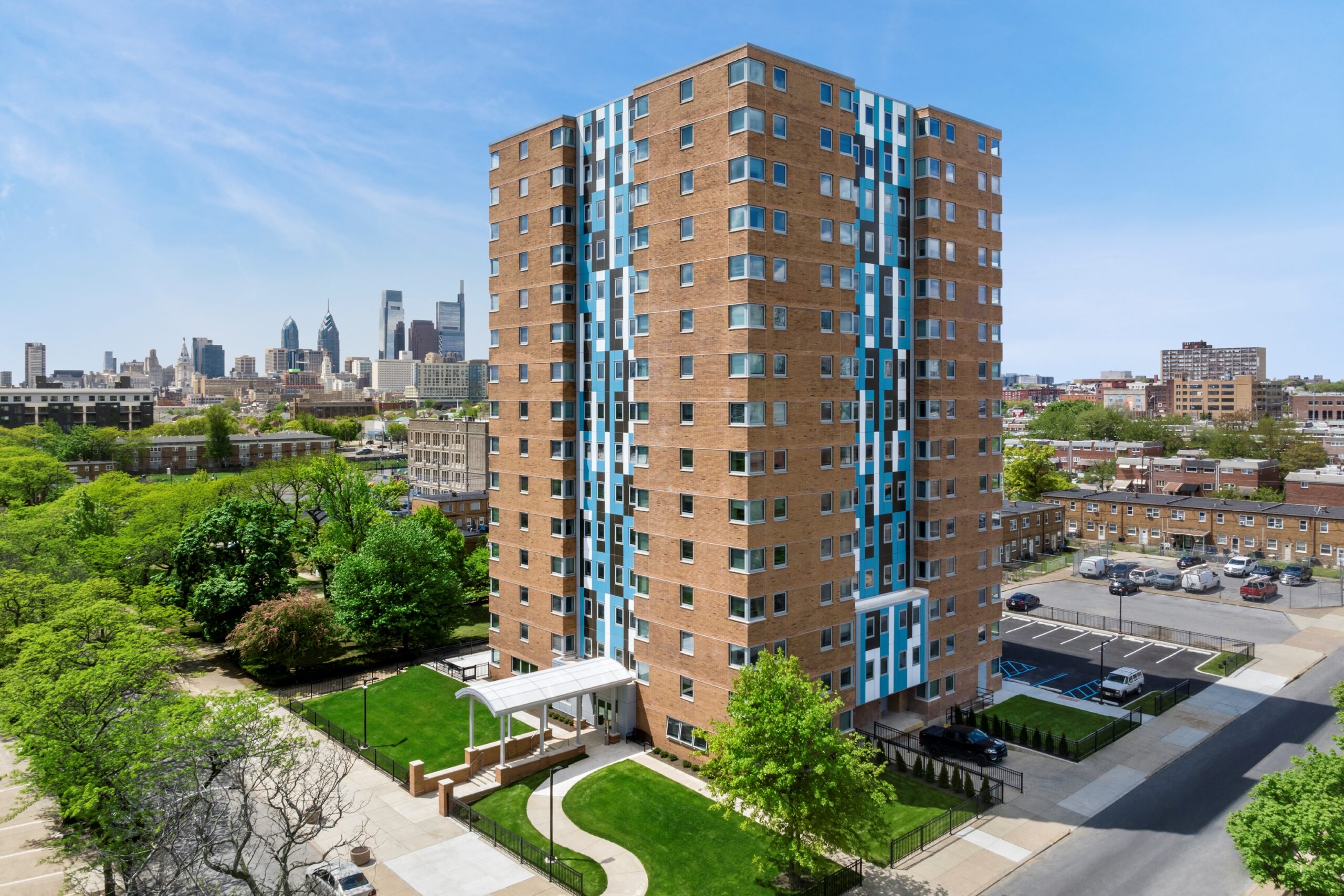 FOSTERING A
talent village
IN

Tulsa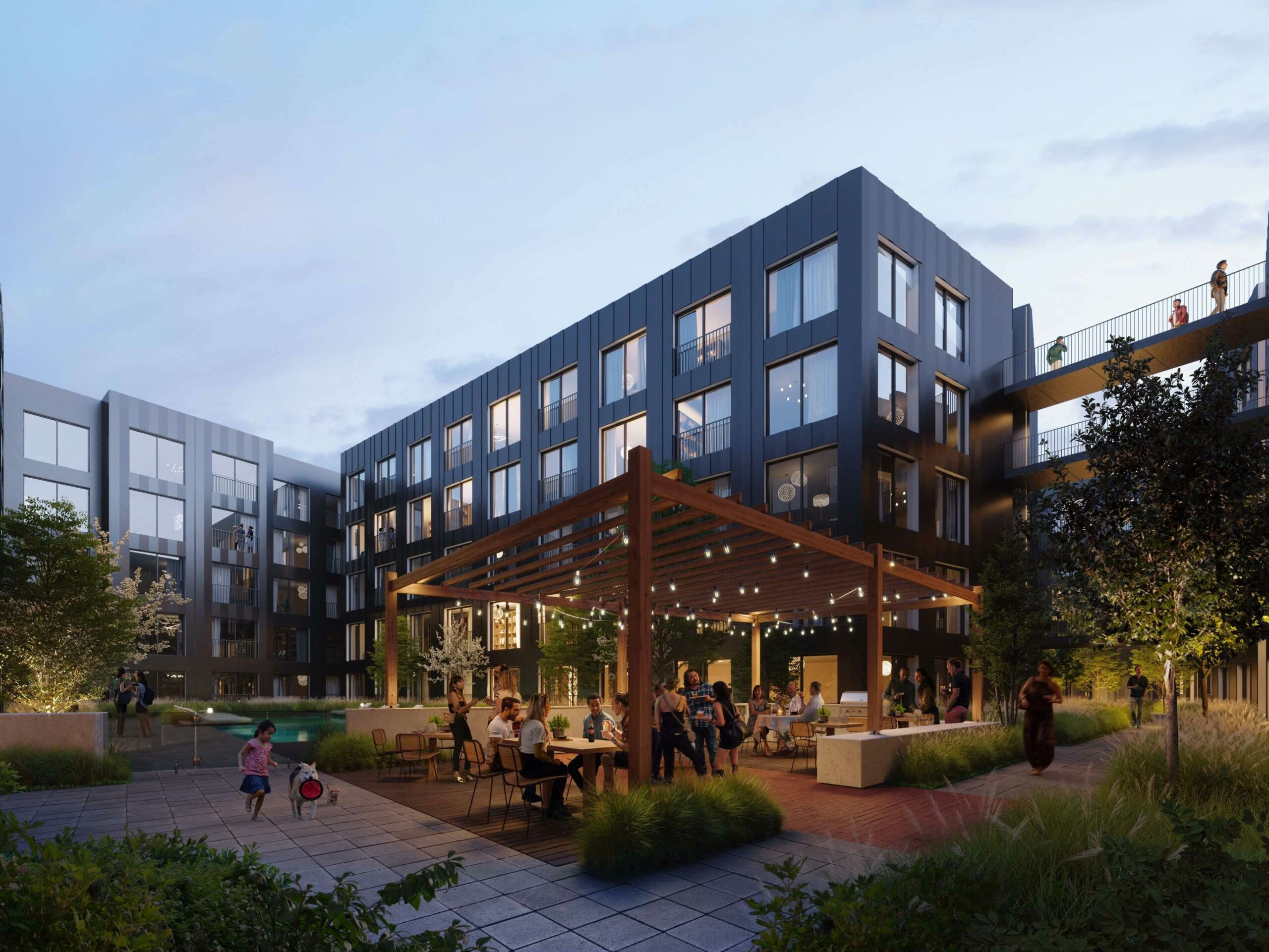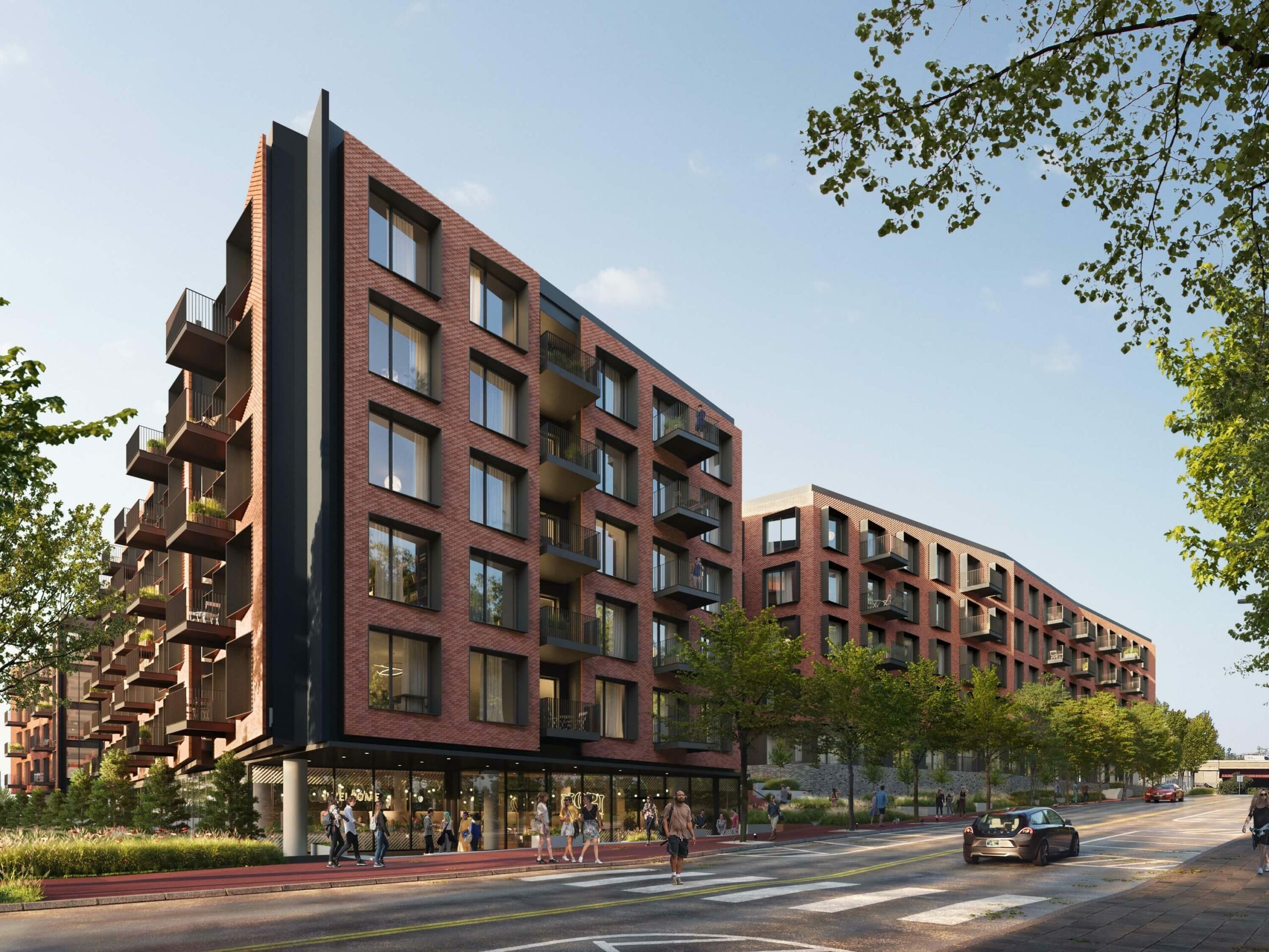 The George Kaiser Family Foundation (GKFF) is taking an innovative and holistic approach to housing as a social catalyst with a unique program called "Tulsa Remote." GKFF is encouraging out-of-state remote workers to relocate to Tulsa, OK, by offering $10,000 grants, if they stay for one year. Each recipient receives the funds in installments—part to help with relocation expenses, part for a monthly stipend, and the remainder after completing the first year. Looking for fully employed individuals with the flexibility to work from anywhere, Tulsa Remote also provides a 36-month membership at a local coworking space, help in identifying housing, and support with community-building opportunities. Since the program began in November 2018, more than 2,200 people have been accepted into Tulsa Remote and moved to the city, where the median home price is $157,200, or 43 percent below the national average.
This ambitious program is growing into a more permanent fixture in the city. Perkins Eastman is currently collaborating with GKFF on Western Supply, conceived as a "talent village" in the northwest corner of the Tulsa Arts District on a former industrial site. The project, due to be completed in June 2025, will feature 318 residential units including studio, one-, two-, and three-bedroom floor plans. Three-quarters of the residents in the building will be "Tulsa Remoters."
"The remaining quarter will actively participate in the nonprofit programs and organizations supported by GKFF with an intention to link new residents to individuals who are rooted in and passionate about the Tulsa community," says Michael Friebele, senior associate of Perkins Eastman and the project's design lead. Pairing newcomers with residents already passionate about Tulsa will help the transition go smoothly and present opportunities for critical social ties to form.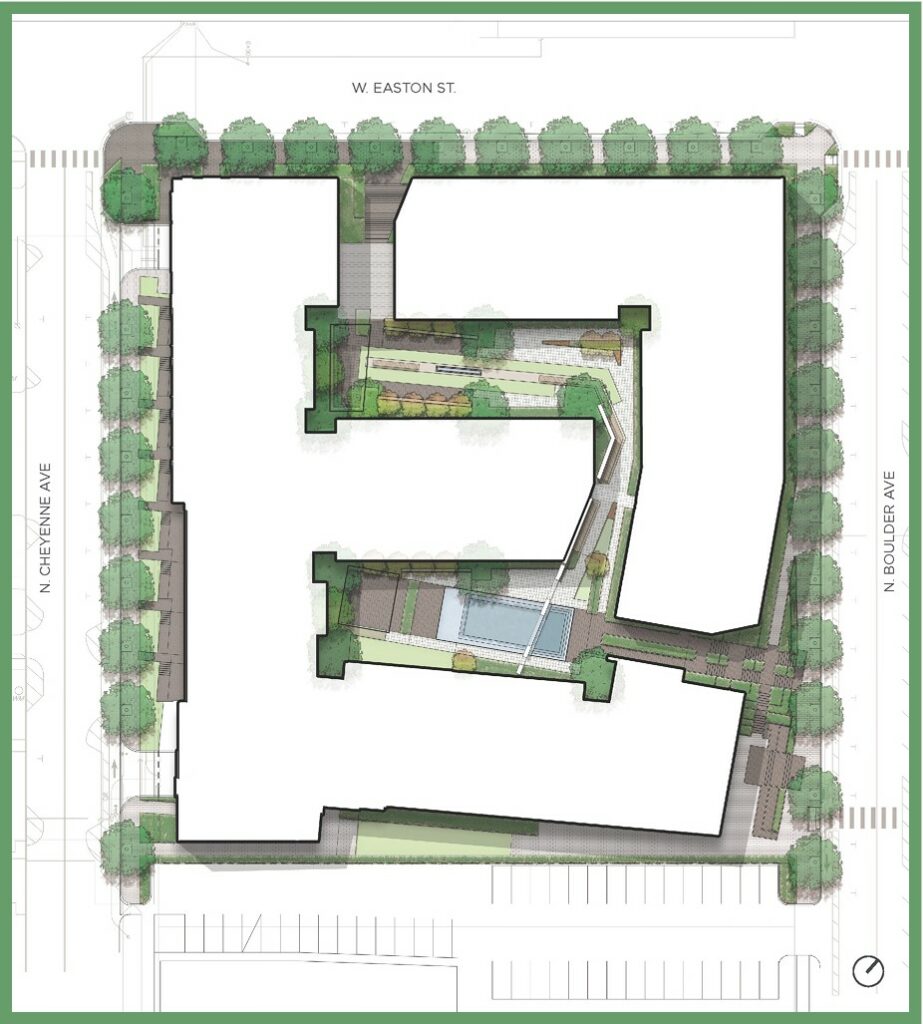 The architecture is designed to capture this energy and foster creative passion. "For housing, the project is [intentionally] porous. We want this building to connect meaningfully to its place and contribute to a new corner of the Tulsa Arts District. The living units themselves capture this connection as well as embrace the remote working environment through flexible spaces and access to daylight and view," Friebele says.
All units will feature work-from-home amenities. The lobby will include a small local grocery store and social spaces that are intended to create an active bridge between the culture of the Arts District and the community within Western Supply. Residents will be encouraged to hold free art exhibitions, poetry slams, and other gatherings in the lobby as well as throughout social spaces that permeate the project. An important distinction between Western Supply and the Tulsa multifamily housing market is the project's minimal amenity spaces as a means to promote interaction with Tulsa Remote's most important amenity, the city.
The program has already reaped benefits for Tulsa.
"The ambition is not simply to gain in numbers through the program but rather welcome individuals to the city who are interested in making a difference in their community," Friebele says. "For every $1 spent on incentive, there is a $13 return on investment in the Tulsa economy. More importantly, almost 500 members have purchased homes in the area, proving that Tulsa Remote's mission creates a true staying power in the region," he adds.
"It is hard to fully understand the impact of GKFF's contributions until you immerse yourself into their process. We were deeply moved by how they think holistically of their city and consider the vitality, growth, and, above all, the people of Tulsa," says Cristi Landrum, the Perkins Eastman principal in charge of Western Supply. "We have been working on Western Supply now for three years, with design options shaped by the challenges of the economy and the Remote program's growing influence, resulting in a place that will be a welcoming front door to Tulsa and its vibrant community. This has definitely been a career-enriching experience for our whole team." N
–TRISH DONNALLY