PROJECT SCRAPBOOK:

collection

14
studio stories
From initial concept through completion, a mixed-use development harmonizes old and new in a historic district of Washington, DC.

BY EMILY BAMFORD
A collaboration between Perkins Eastman DC and Perkins Eastman, Collection 14 is an award-winning mixed-use development along the 14th Street corridor in the U Street Historic District of Washington, DC. The seven-story complex, which runs the length of a city block, was originally conceived as two separate residential projects on the same block. However, the design team's site analysis generated a more ambitious idea: purchase the remaining properties on the block, including historic structures, and greatly expand the program. And that's what the client did.
Through the combined expertise of the firm's Large Scale Mixed-Use, Residential, and Interiors practices, Collection 14 marries residential development (market-rate and affordable units) with retail, office space, and a much-needed event space for the community. Its design and material palette blend historic and contemporary architecture as they celebrate the spirit and fabric of the neighborhood. Throughout the five-year process, the design team worked to comply with the city's guidelines for new construction and reuse of existing structures in a historic district. Soon after its opening in 2022, Collection 14 earned LEED Gold certification and a Charter Award from the Congress for the New Urbanism (CNU).
Collection 14, 1400 W Street NW, Washington, DC
Program: 233 rental apartments (213 market-rate and 20 affordable units); 5,000 sf office space; 25,000 sf retail; 33,664 sf parking; 2,000 sf community space
Size: 235,000 sf
Site: 0.85 acres
Completion: 2022
Client: Madison Investments
Project Team: Matthew Bell, principal in charge; Tim Bertschinger, senior project designer and project manager; Fawzia Ahmedali, project architect; Jeannine Muller, Austin Raimond, Matthew Miller, architectural designers; Kathleen Claire, Kristin Navarrete, interior designers; Tanya Eagle, Ryan Dirks, LEED coordinators; Michael Federici, specifications writer
Consultants: Ehlert Bryan (structural); Interface Engineering (MEP); GEI Consultants (geotechnical); VIKA Capitol (civil and landscape); EHT Traceries (historic preservation); ARUP (code and accessibility); Seal Engineering (waterproofing); Setty & Associates, Ltd. (lighting)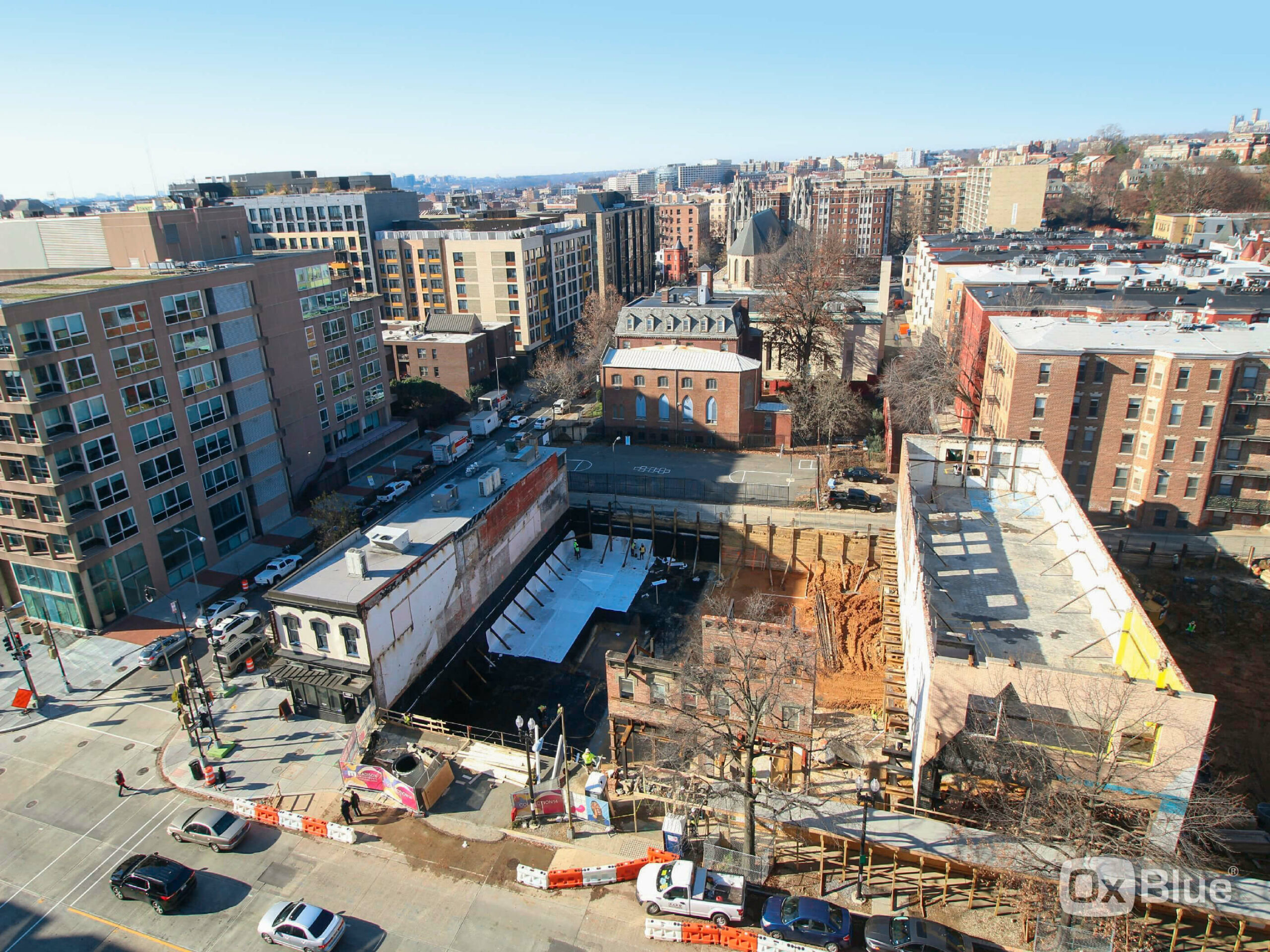 1From the project's start in 2017, a mutual and deep connection to Washington, DC, aligned the client and project team as they navigated a multiyear public approvals process, including some 20 meetings with the community, to address the needs of neighborhood residents.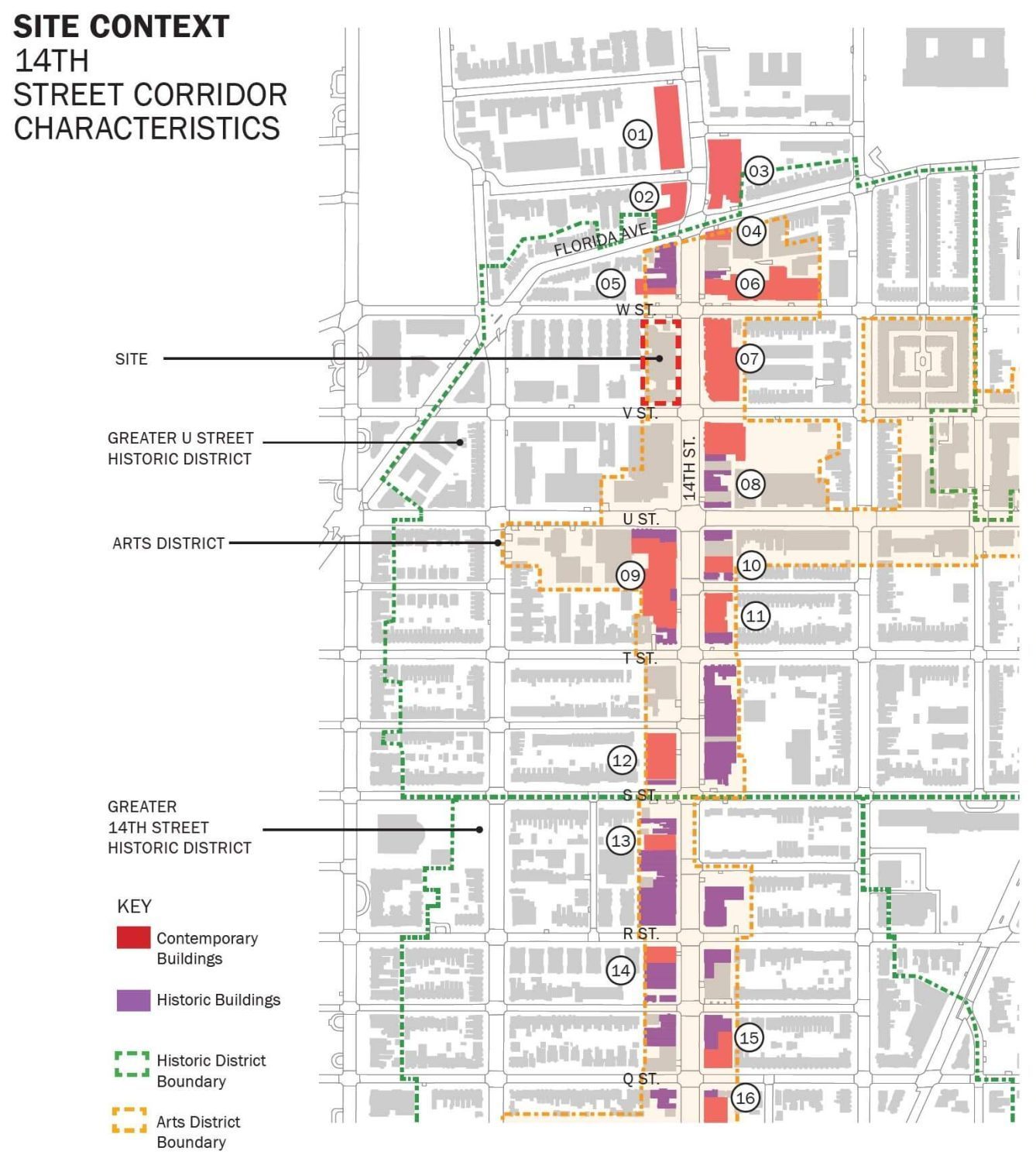 2The site is located in the city's U Street Corridor neighborhood within the original boundaries of the L'Enfant Plan, not far from the White House. It's one of the densest, most walkable, and vibrant neighborhoods in the city. Associate Principal Tim Bertschinger says the team was mindful of environmental and economic issues and equitable outcomes for those who had previously benefited from the services a local nonprofit had provided on the site. (Martha's Table sold its building to the developer and constructed a new headquarters elsewhere).
As Bertschinger explains, the project includes a variety of spaces to support new retailers, provides employment opportunities similar to those previously on the site, and delivers a community event space.
The building's wellness benefits include an energy-efficient ventilation system that provides constant fresh air; access to daylight and views; acoustic performance; and proximity to cultural and commercial resources and bus and metro lines.
3"Initially, the client came to us with a project idea that [involved] two small buildings, an apartment and a separate condo, on noncontiguous parcels on the block," Bertschinger says. Based on the design team's analysis of the site and assessment of city zoning regulations, the developer purchased additional properties on the block and created covenants to fashion a "through lot," which allowed for additional height and floors and increased density. "We helped them work through the value and process to assemble the whole property into a far more significant project."
INTERMEDIATE STUDY
BRIDGE OVER GARAGE BLDG
(1 BUILDING)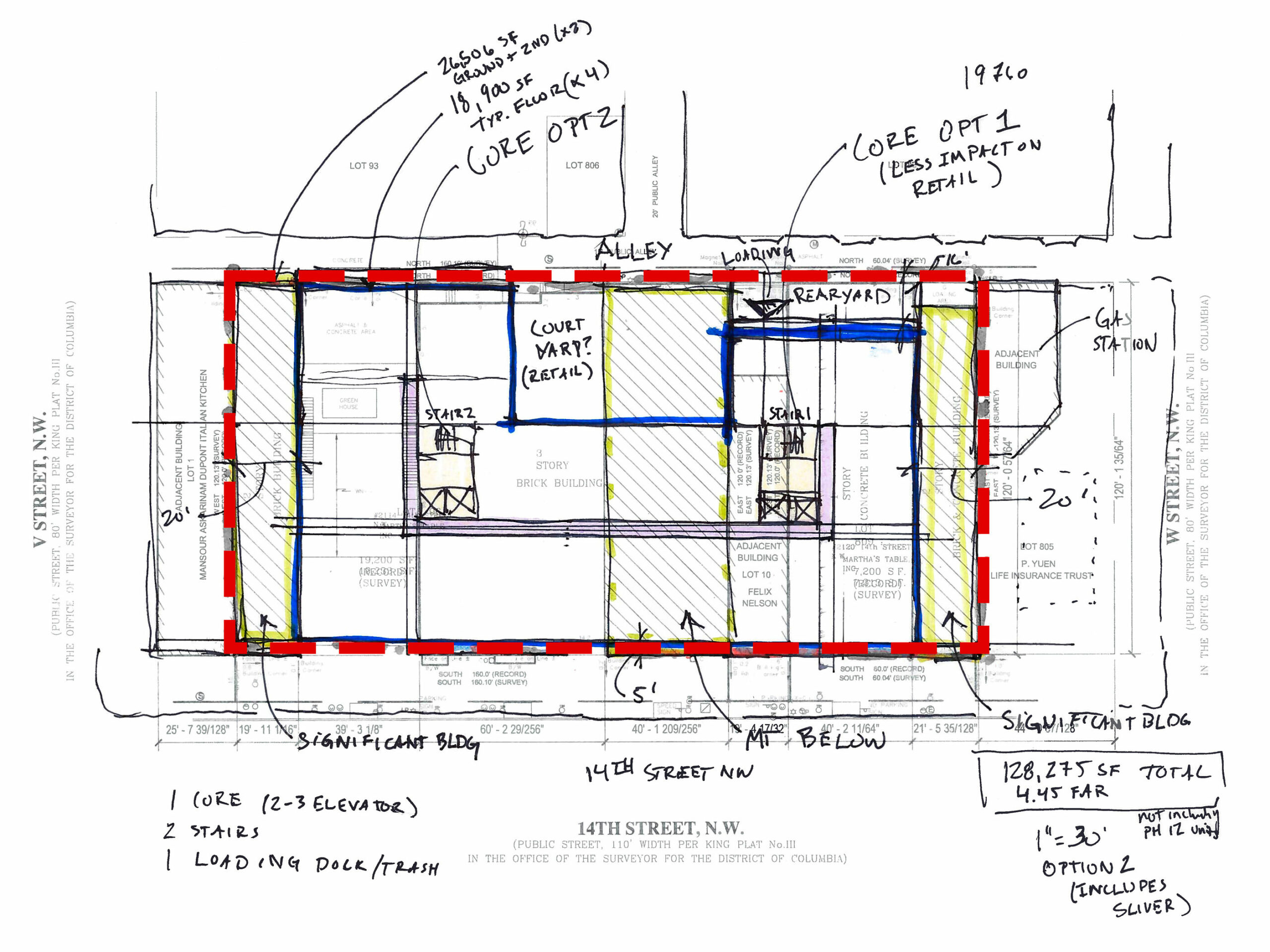 ORIGINAL FEASIBILITY
STUDY BUILD AROUND
(2 BUILDINGS)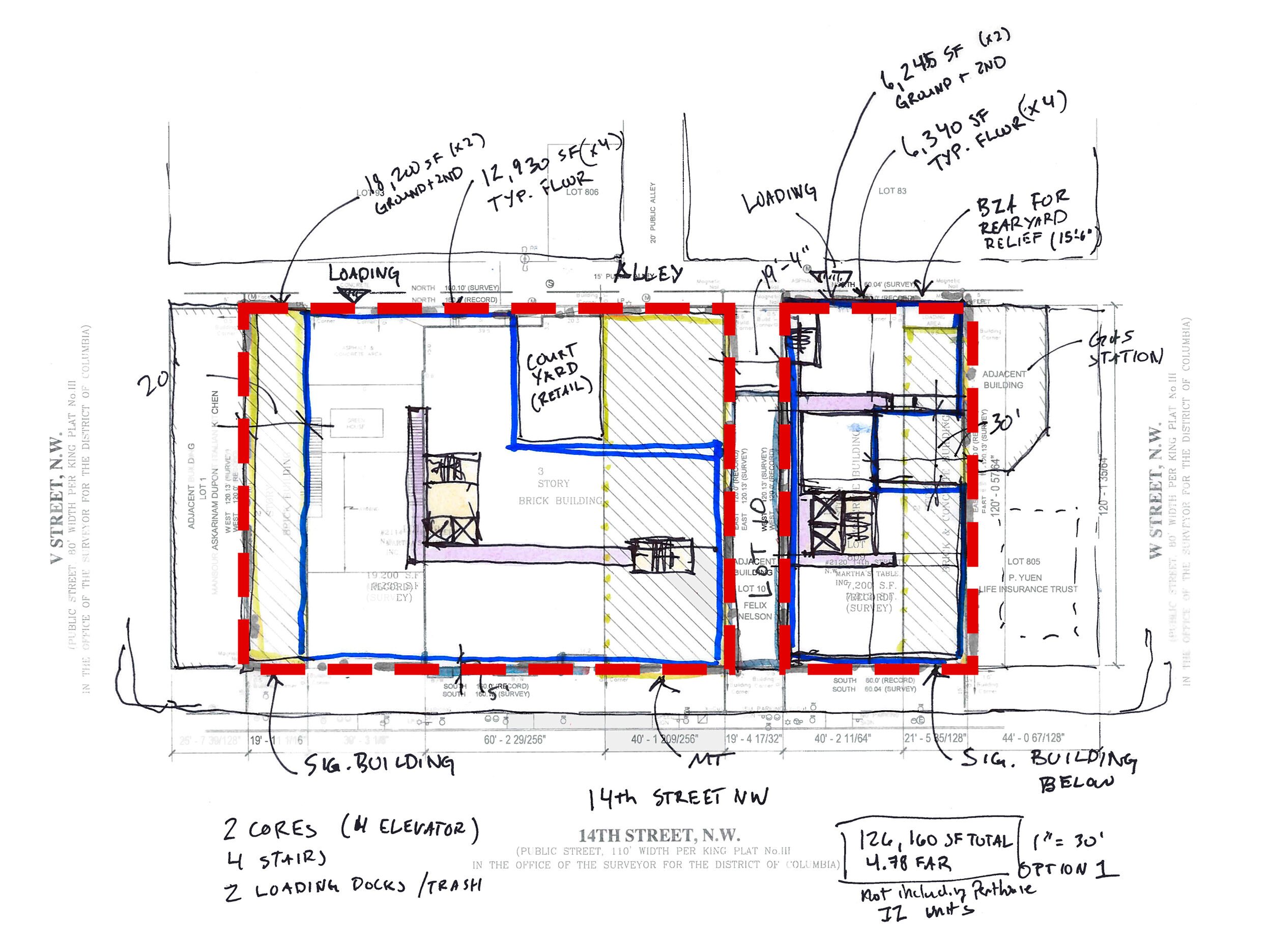 FINAL STUDY
PROPOSED ACQUISITION TO RAISE
BUILDING HEIGHT MEASURING POINT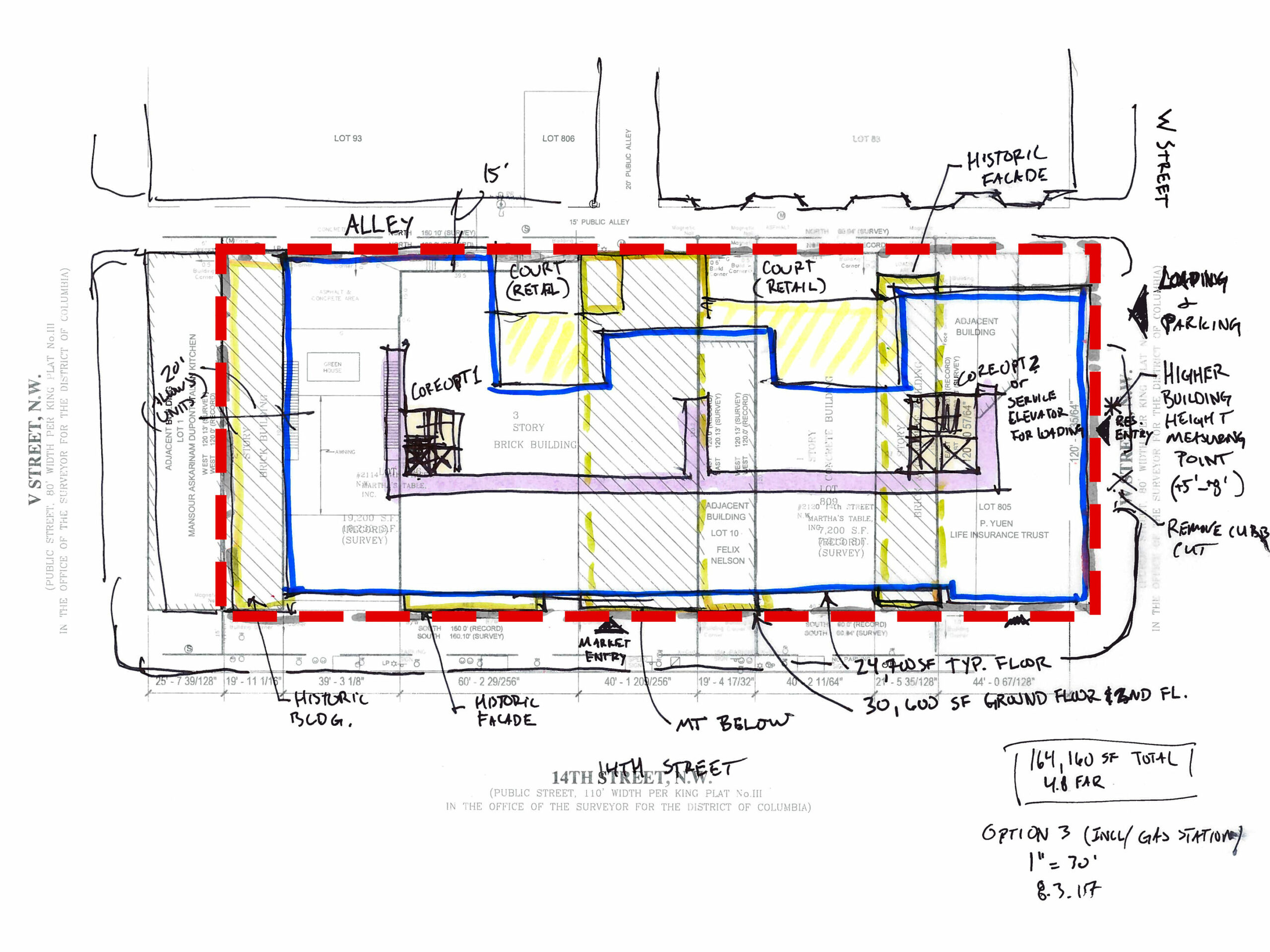 20′ Platting Module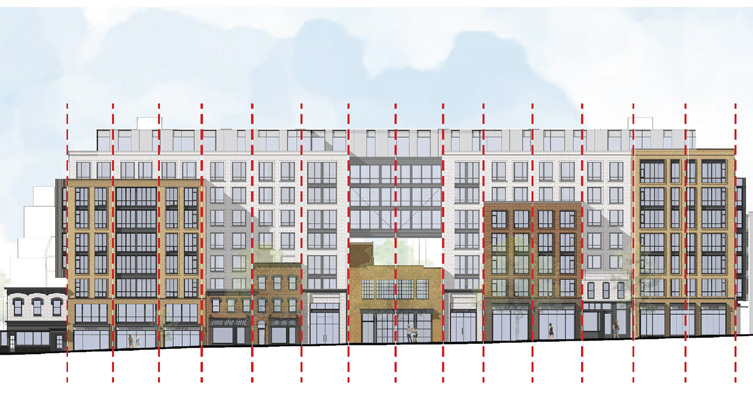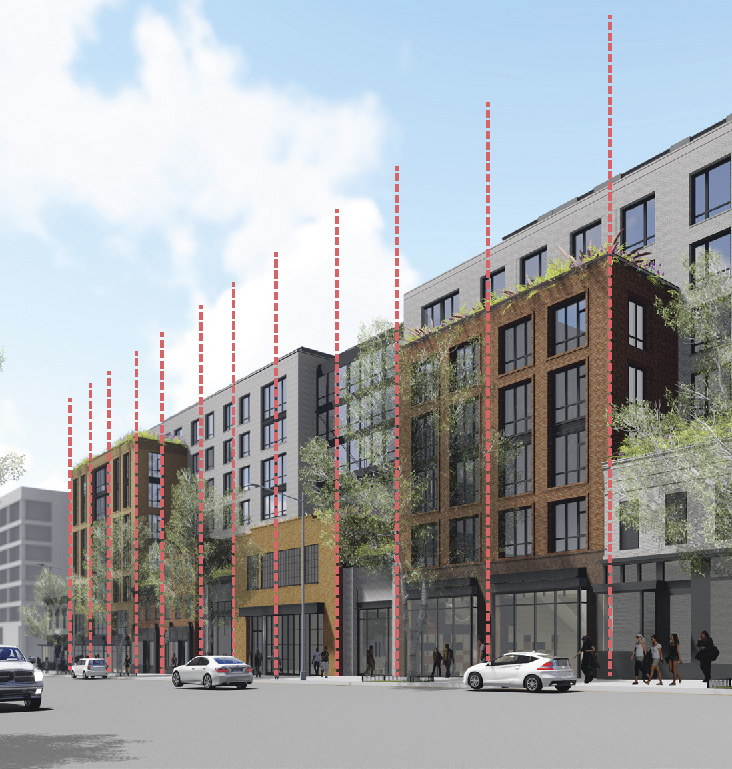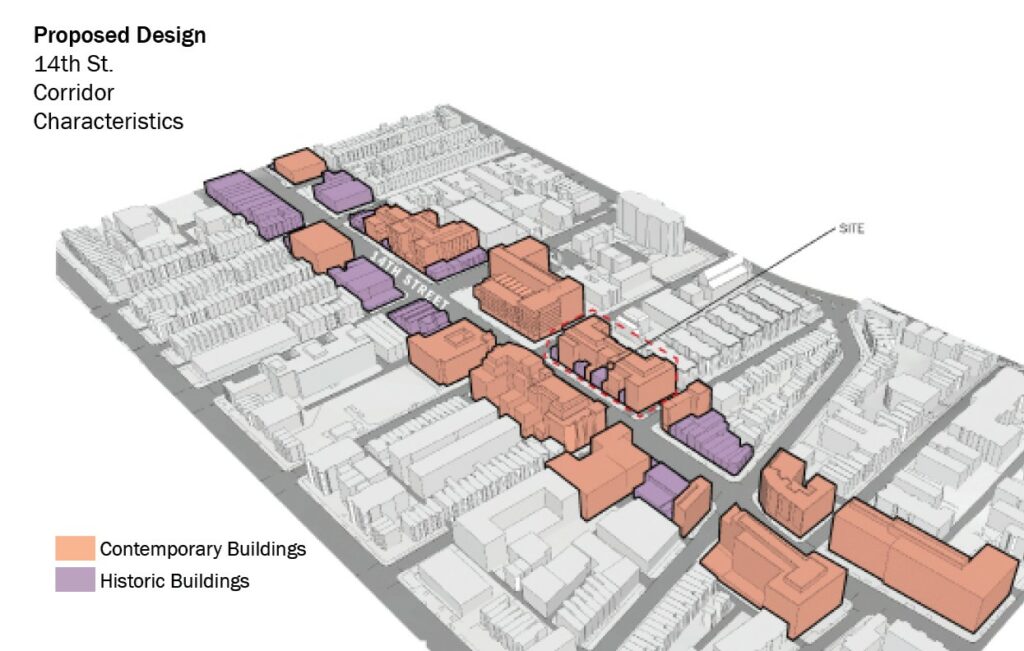 4Collection 14 embodies the placemaking ethos of the firm's Large Scale Mixed-Use practice. The team mapped the history of development along 14th Street to understand the chronology, typology, and architectural characteristics of each building on the street. Some elements—including height, proportion, profile, and material—translated in obvious ways; others, such as the 20-foot module of the historic platting that informed building compositions, are more subtle.



5The site is bracketed by seven-story buildings at either end, with new and historic structures woven together between them. At the south end, the team carved out a mezzanine level for office space, thanks to a significant grade change across the site. A long horizontal volume, set back from the street, forms a "bridge" above a former auto repair garage, creating an indoor-outdoor rooftop event space below. "Collection 14 skillfully modulates the height, mass, cadence, and articulation of its façades to relate to the retained historic buildings on the site and to the surrounding U Street Historic District," says Steve Callcott, deputy preservation officer of the DC Office of Planning. "It is an excellent illustration of how a larger building can be successfully and compatibly introduced into a context of smaller structures."
With the help of preservation specialists, EHT Traceries, the team uncovered elevation drawings (circa early 1900s) for two of the historic buildings retained on the site and used them to recreate the original storefront designs, which had been heavily modified in the 1980s.
6Due to the massing strategy, there is no typical apartment floor plan. "By modularizing kitchen and bathroom designs, we were able to achieve the primary benefits of a repeating floor plan—stacked mechanical, electrical, and plumbing—without having to keep the same floor plate every floor," says Bertschinger. The building offers studios, one-bedrooms, one-bedrooms plus a den, two-bedrooms, and penthouses.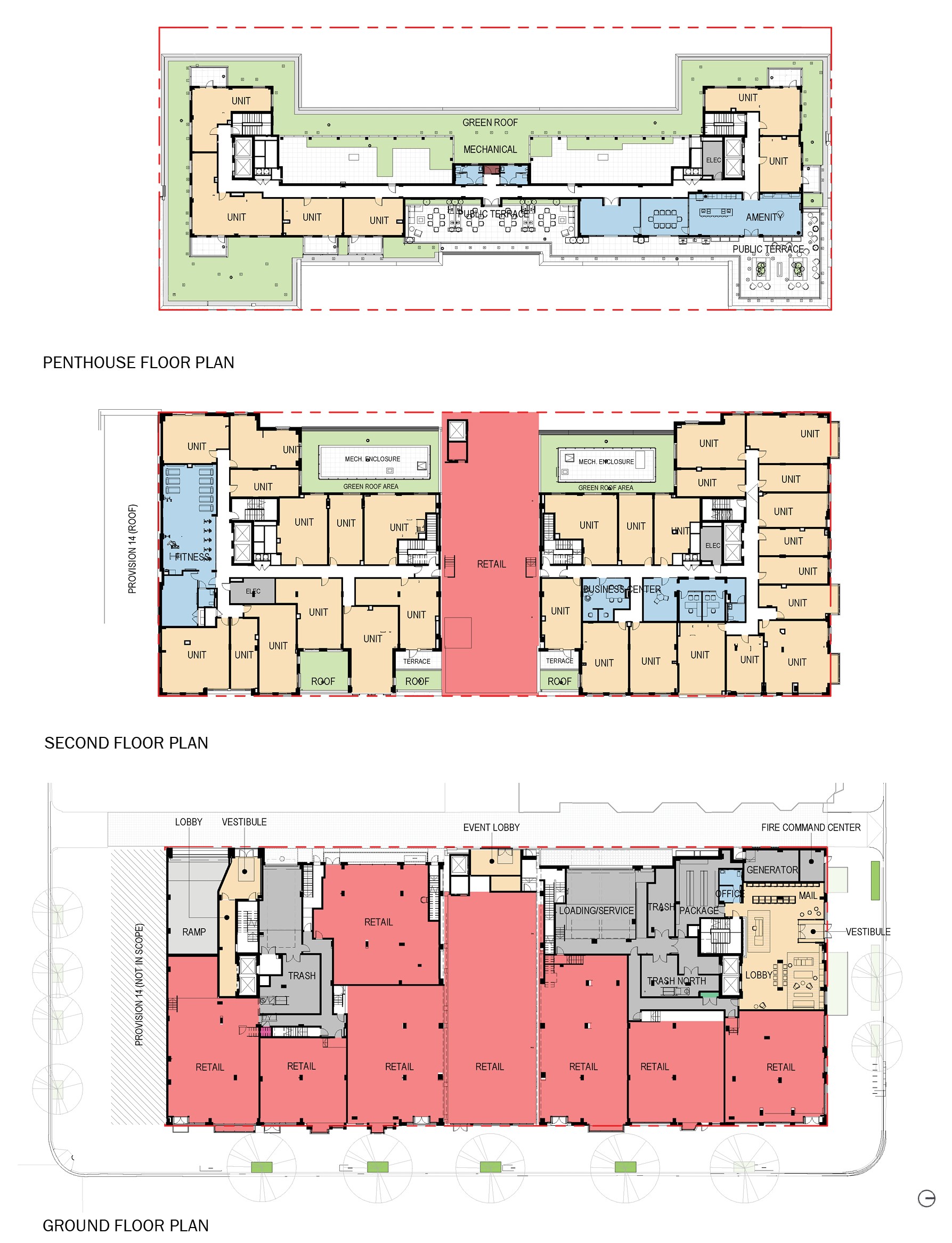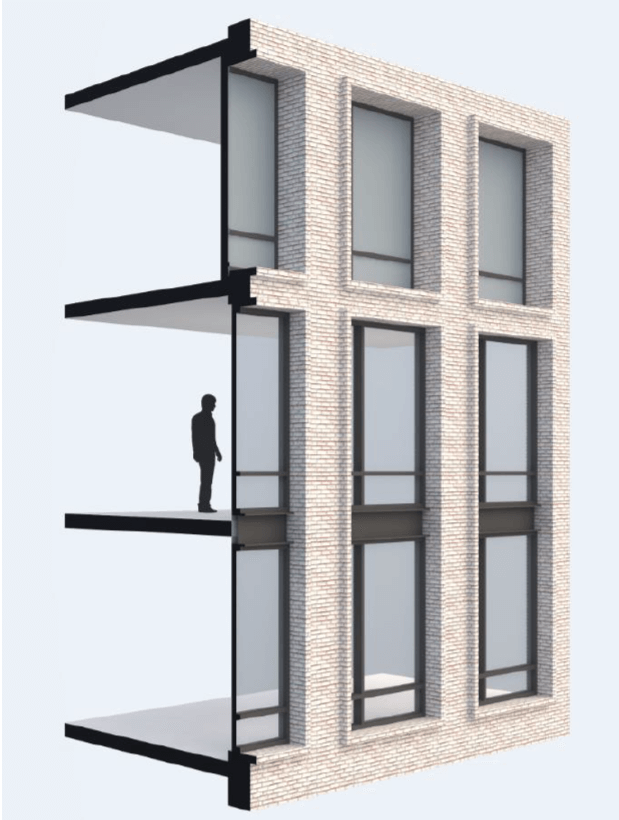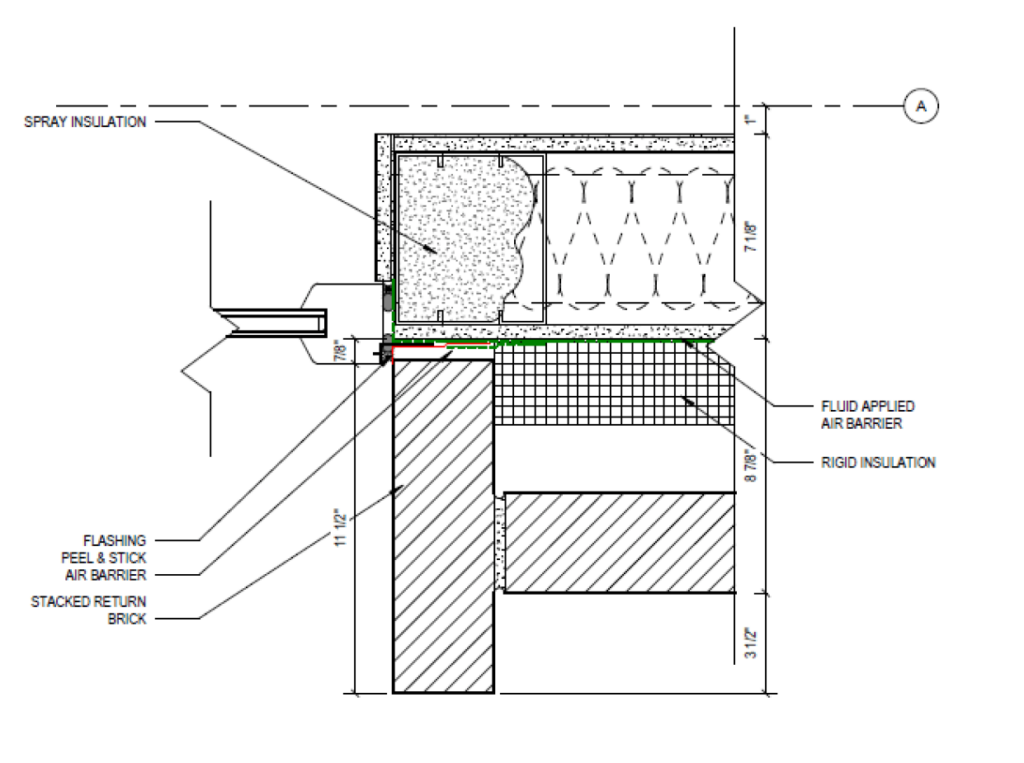 7The project's high-performance envelope, which features a vapor-permeable air-barrier system with three-plus inches of exterior insulation, is primarily masonry, but it includes areas of pressure-equalized rainscreen cladding. Norman bricks create deep return frames at openings, adding dimension while hearkening to traditional load-bearing masonry walls. A variable refrigerant volume and dedicated outdoor air system with 100 percent mechanical ventilation provides constant fresh air to the residents. Operable windows bring ample daylight and natural ventilation to the apartments.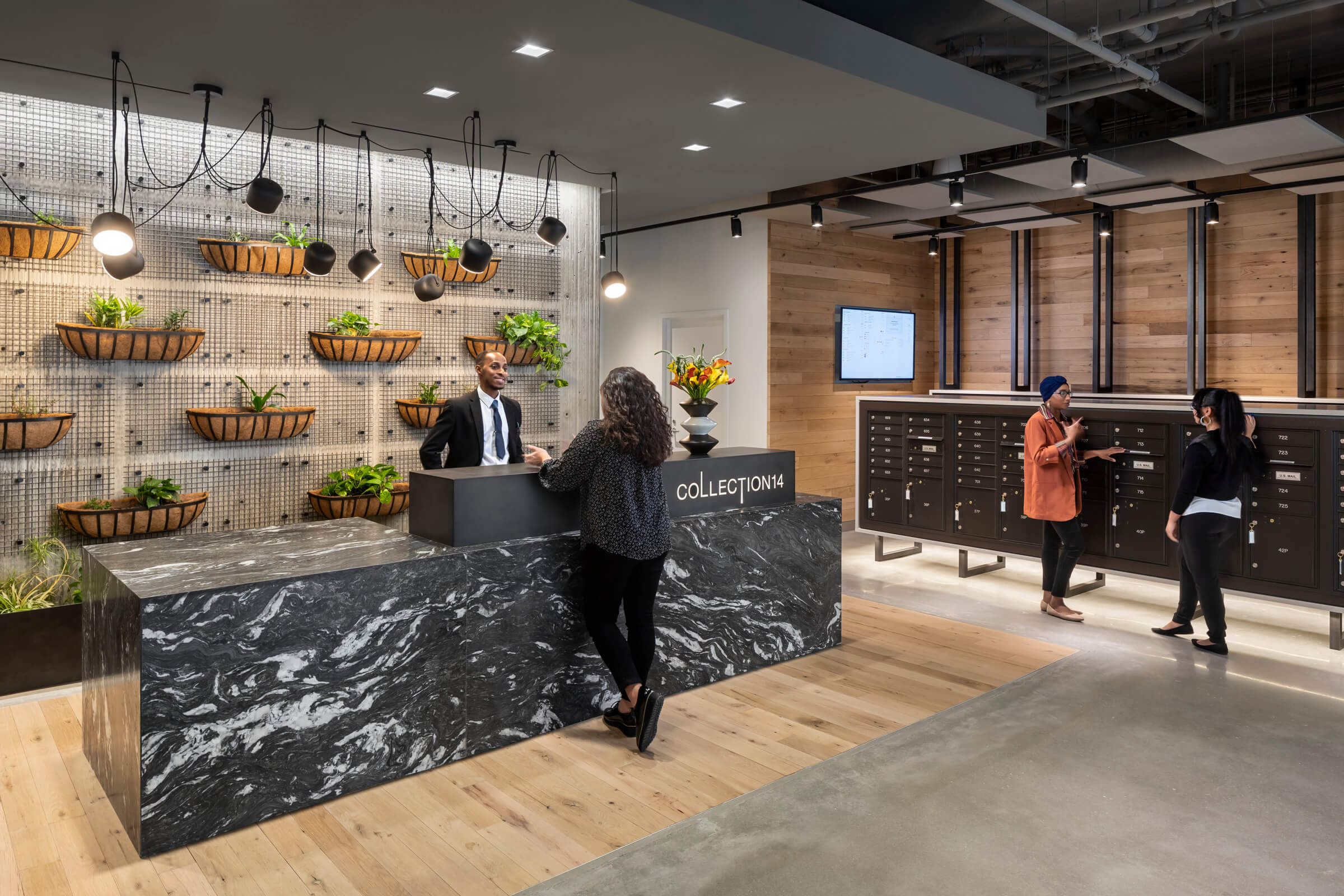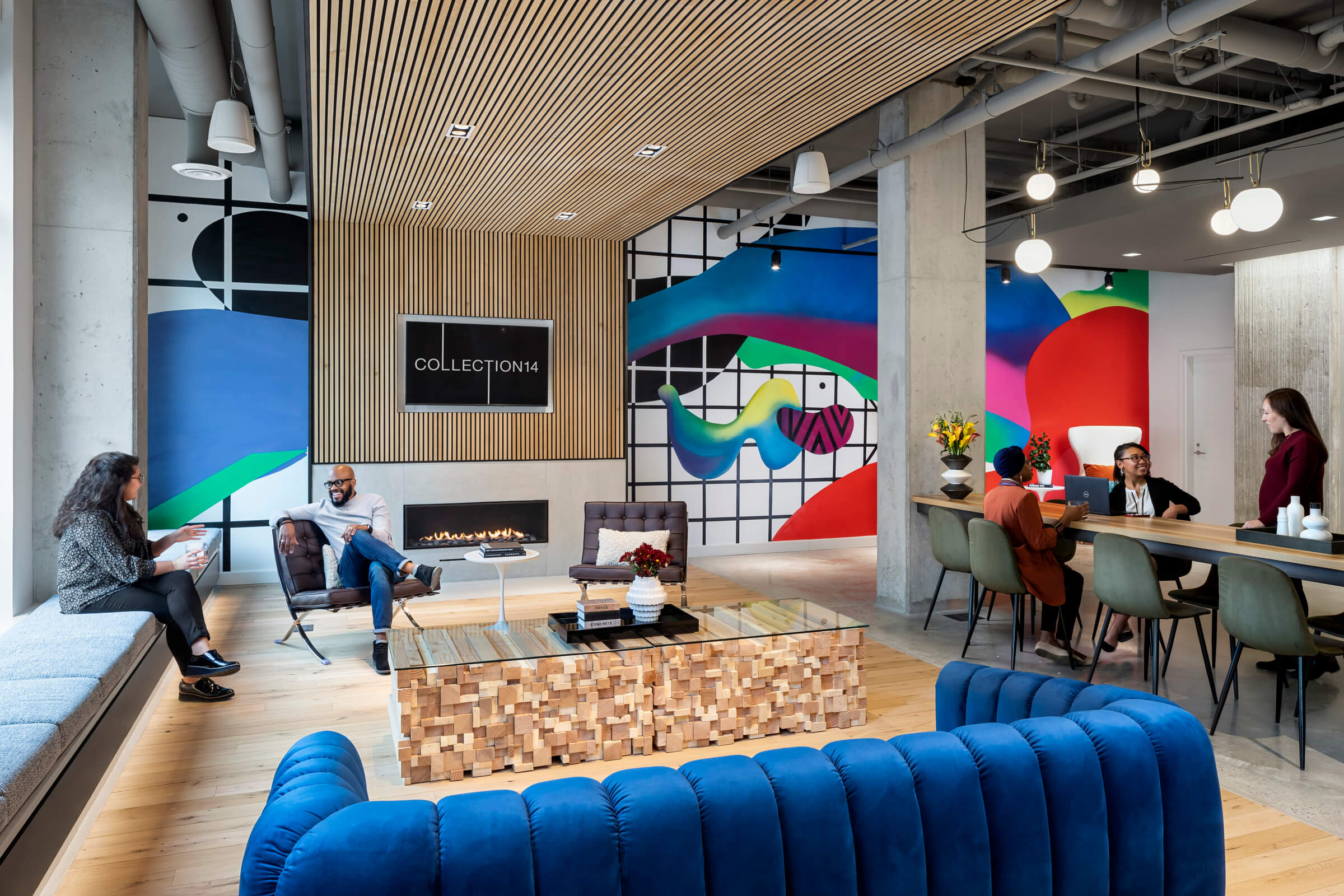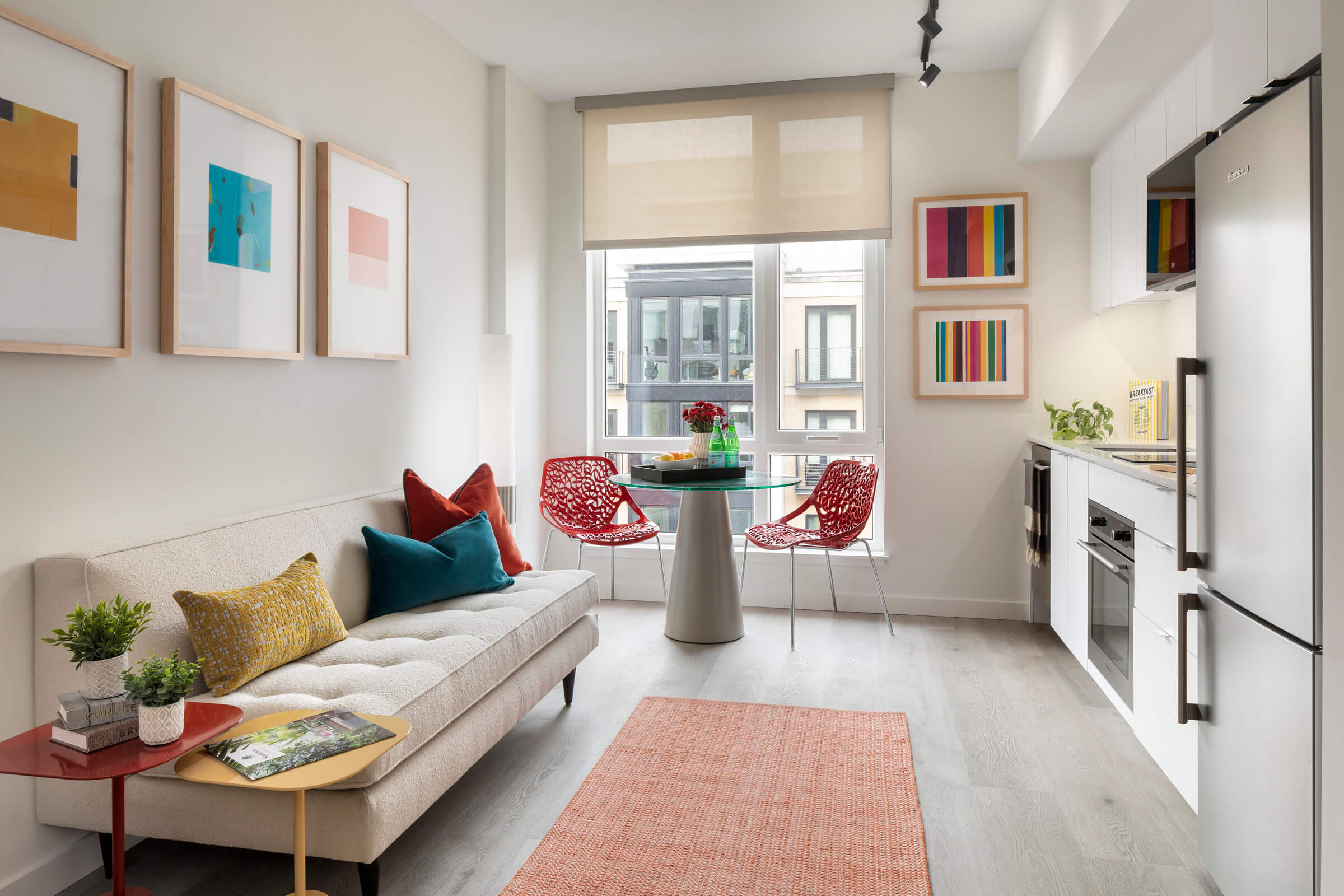 8Biophilic elements are found throughout the complex, including green roofs, rooftop trees and planters, and a green living wall in the residential lobby. The residential aspect of Collection 14 is no small feat with 233 apartments, including 20 designated as affordable units. Apartment sizes are small—the average unit is 630 gsf—to maximize unit yield in a very desirable, high-cost area, and to create more apartments with a lower overall rent.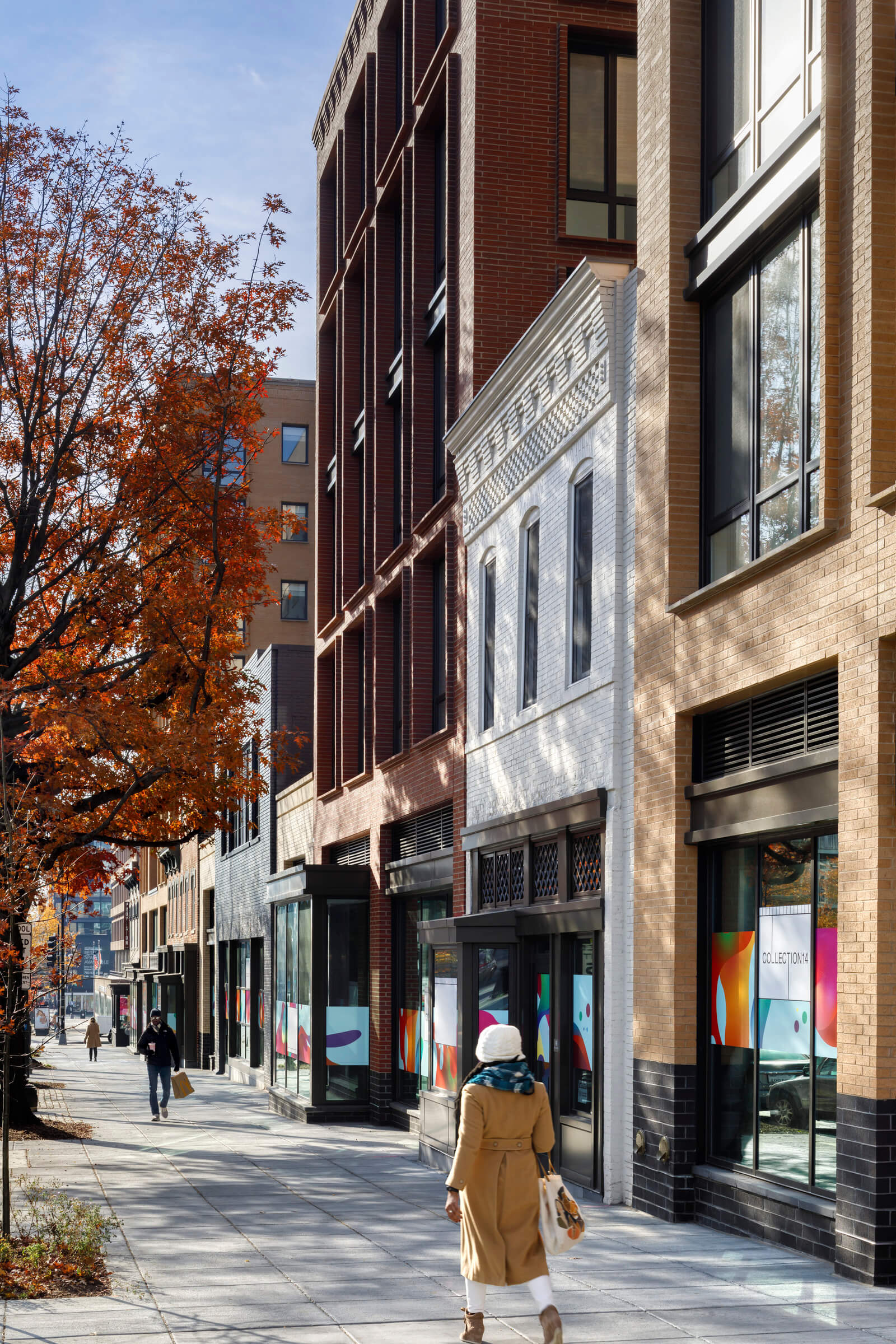 9 Since Collection 14 opened in 2022, it has become home to national and local retailers, and a café has set up shop in the lobby of the apartment building. Residents have moved into the apartments, the event space has hosted many gatherings, and affection for the project is palpable. "The design elegantly incorporates the historic façades and works with renewed ground floor retail spaces of various sizes, offering much to the neighborhood," says Cheryl Cort, policy director at the Coalition for Smarter Growth. "The new apartments bring more life, vibrancy, and residents to urban living along 14th Street." N