authentic
by
DESIGN
Creating immersive travel experiences gives guests a genuine taste of local culture.
BY ALISA SHEV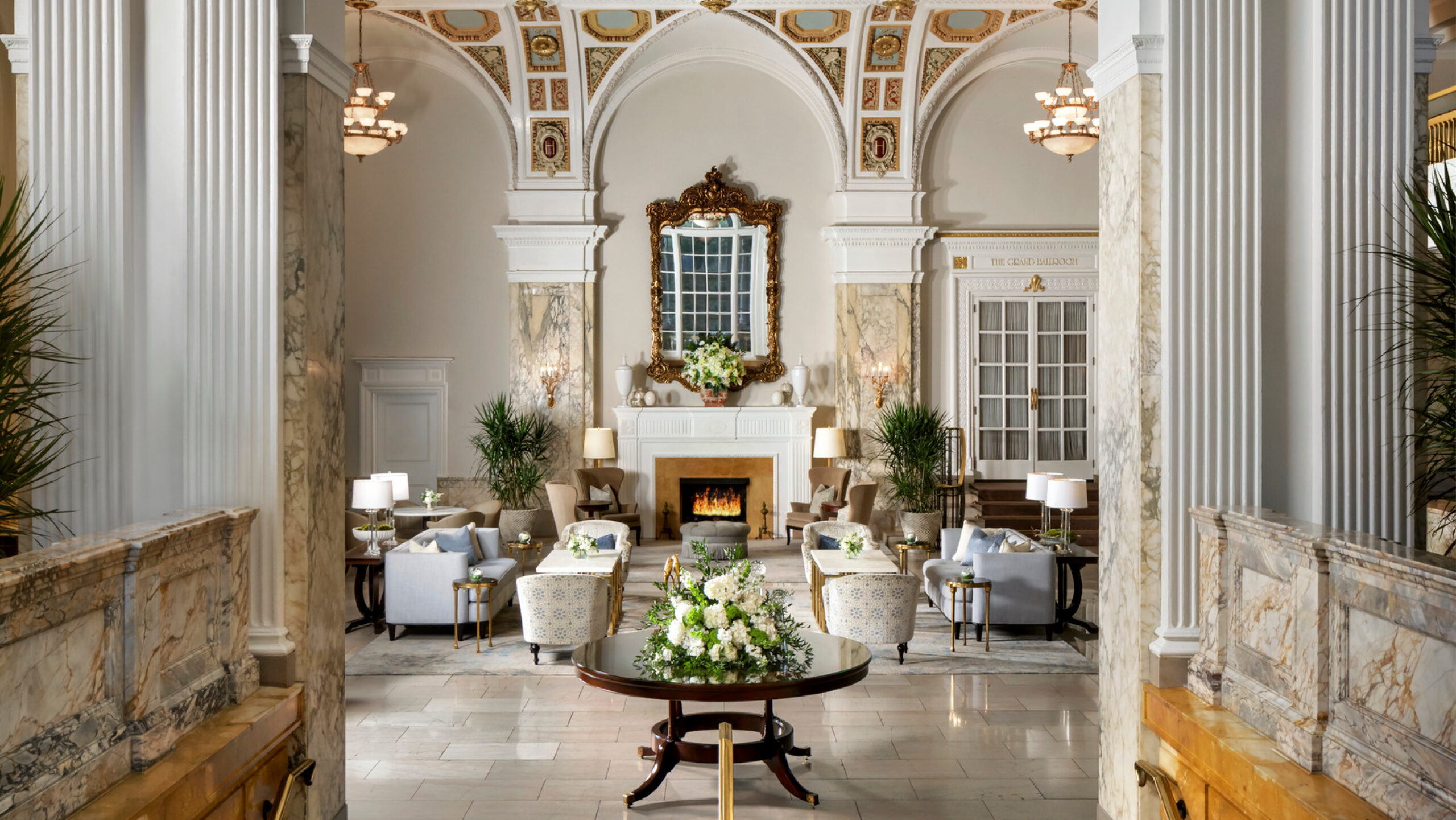 design lab
The travel industry evolves with the interests of its clientele. Today's travelers seek authentic experiences grounded in the lived reality of the places they visit. The standardized design and services that once made large chain hotels so popular are seen as barriers to the immersive travel people crave now.
A recent survey conducted by Booking.com confirms this trend. More than 67 percent of respondents indicated a clear preference for accommodations that offer authentic expressions of local cultures and communities. Those results are reinforced by Marriott's 2022 Loyalty Program Report, which reveals that travelers are more likely to choose a hotel whose design and decor reflect the communities in which they are located than a generic option with no visible connection to its context.
Authentic reflections of regional culture, natural environment, and local history require more than a few wall hangings in a hotel lobby. They represent an act of interpretation—a stylization of local culture— that requires sustained attention to detail and nuance. "Authentic design is not about recreating a literal interpretation of a time or a place," says Sarah Fox, a principal at Perkins Eastman's Dallas studio, who has worked with leading hospitality brands. "Rather, it's like an orchestra whose members work in concert to create a symphony. It's an artist's interpretation, not a literal translation."
When architects and designers collaborate with local artisans to source a hotel's building materials and decorative elements, they can directly contribute to the preservation of local traditions and bring substantial economic benefits to local businesses and families. In areas where traditional cultures are especially threatened by globalization, a newly designed hotel can make a powerful statement of cultural resilience.
A truly authentic space, whether in a historic building or a newly constructed one, is both visually and emotionally engaging. It showcases humanity's shared history and inspires travelers to act mindfully as stewards of the world's collective past and future.
From the heart of Manhattan to the historic French Quarter of Hanoi, Perkins Eastman has created many immersive experiences for travelers who embrace the world in all its cultural and historic variety.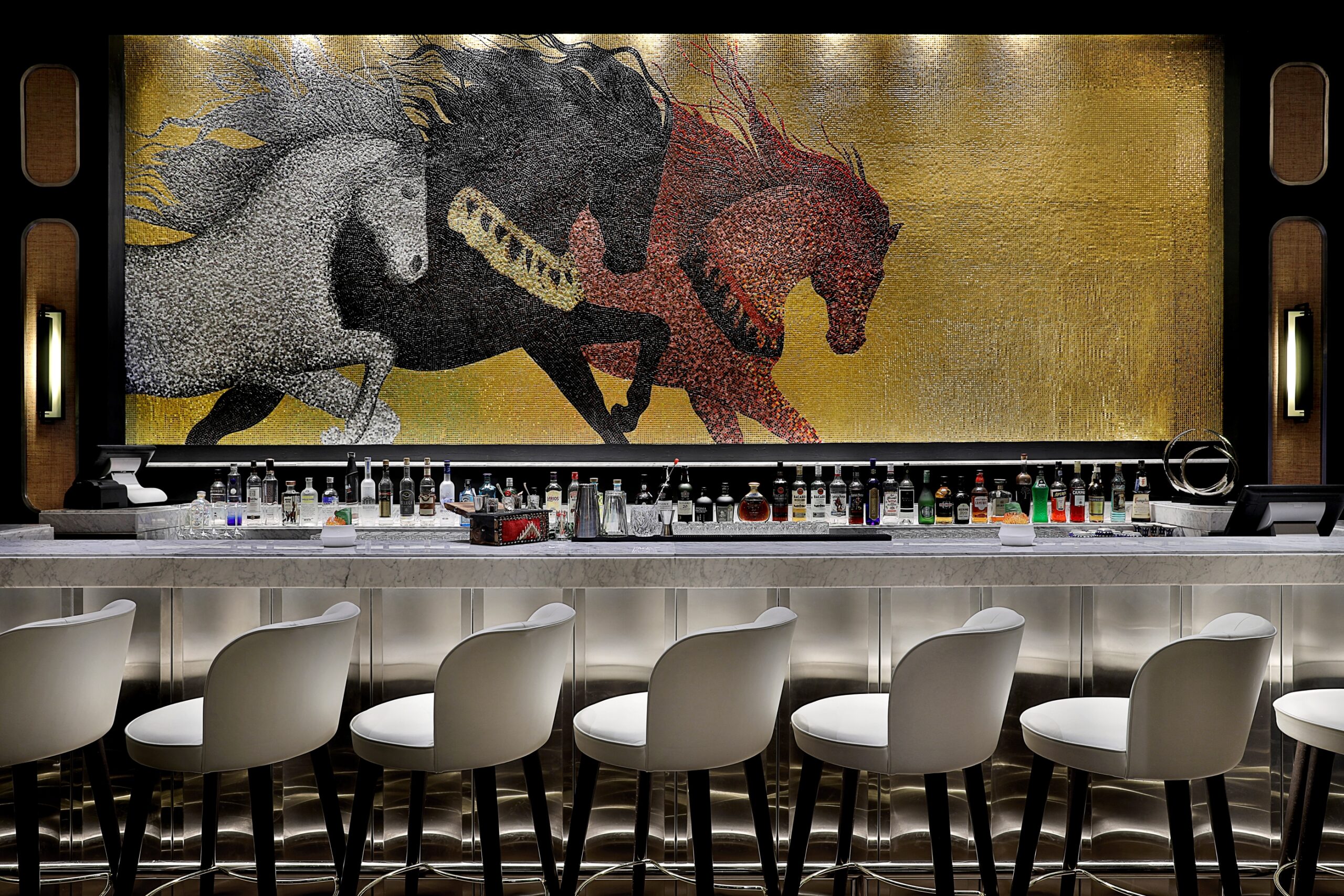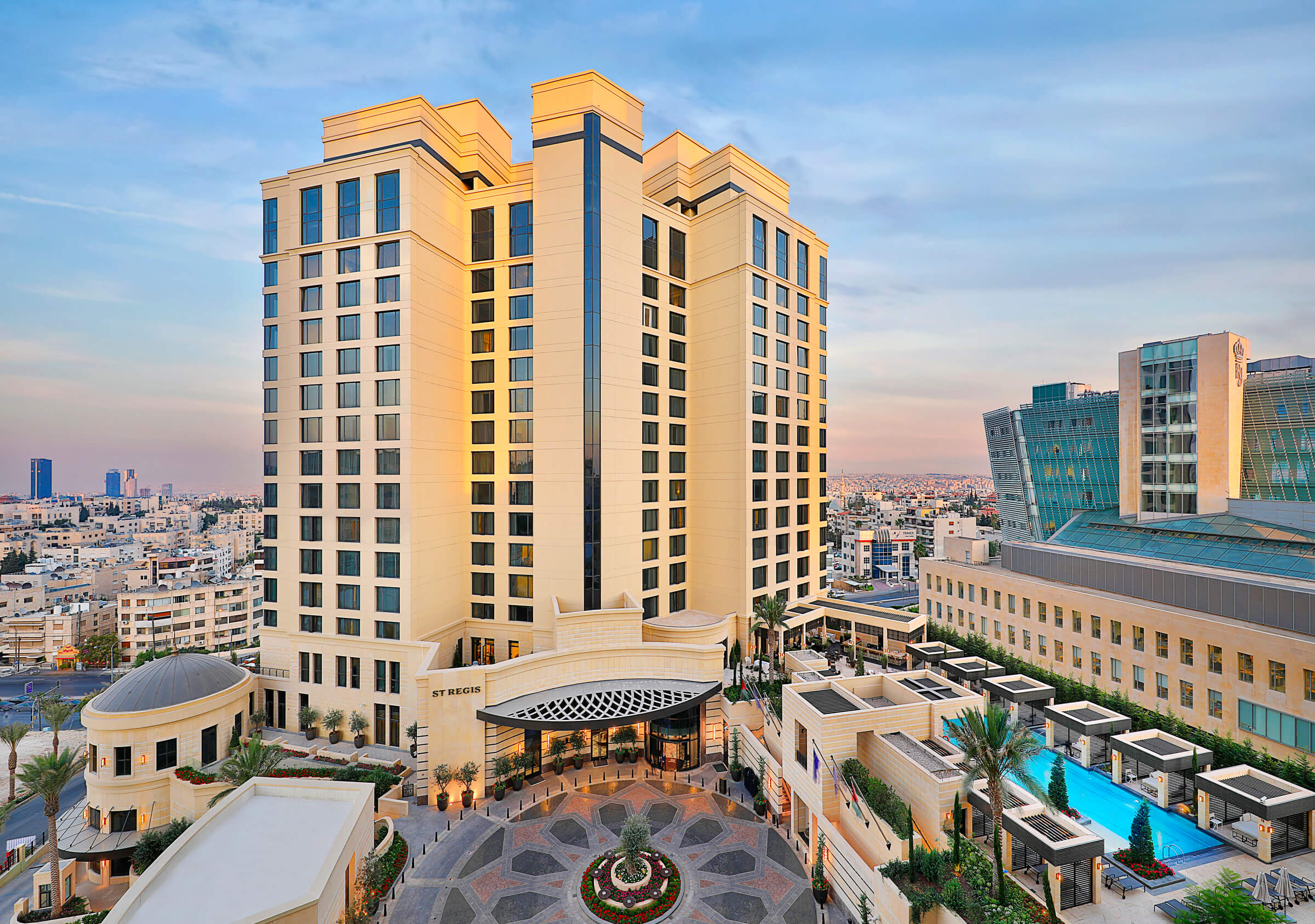 The Jewel of Amman
For thousands of years, houses in Jordan and the surrounding region have been built around courtyards that welcome guests into a distinctive social space before they enter a residence. The courtyard greeting new arrivals to The St. Regis Amman Hotel reflects that tradition. Perkins Eastman served as architect and planner and worked with interior designer HBA to create a modern hotel that resonates with the most ingratiating traditions of Jordanian hospitality.
Upon entering the hotel proper, guests are welcomed by an intimate check-in area that
opens to a grand lobby with a sweeping staircase, a bespoke element of St. Regis hotels, and columns referencing the Temple of Hercules, located just a few miles from the hotel. The 16-
story St. Regis Amman features 260 guest-rooms and suites. The outdoor pool and the Iridium
Spa offer guests opportunities to relax, and the hotel's signature restaurants and Amman's largest column-free ballroom are among its stately and sumptuous offerings.
Locally sourced materials and natural stones play a central role in the interior design, drawing inspiration from the crystal waters of the Red Sea and the sculptured stones of Petra.
The hotel embraces modern Amman with an extensive art collection featuring works of artists from Jordan and the Levant region. The highlight of this collection is a mural titled the Arabian Horses, displayed at the St. Regis Bar, honoring the history of Jordan's Hashemite Kingdom and the grandeur of legendary Arabian horses.
When it opened its doors in the summer of 2019, The St. Regis Amman embodied a degree of luxury not previously seen in Jordan's hospitality space. It did so without pomp or ostentation, but rather by understanding what luxury means and has meant in the community and the region that surrounds it. Luxury whispers, it doesn't shout.
Hanoi's Cultural Tapestry
Communities and cultures often integrate disparate influences and turn them into something completely new and distinctively local over time. That disparity sometimes reflects the jarring effects of recent history, giving architects an especially sensitive challenge when they seek to reflect the complexities of their buildings' surroundings. Hanoi's celebrated French Quarter is just such a place, and the Fairmont Hanoi Hotel, scheduled for completion in 2024, is an expression of what can result when architectural challenges are successfully met.
Since its founding in 1902, Fairmont Hotels has earned a reputation for distinctive landmark locations from The Savoy in London to the Fairmont San Francisco, where global history was made in 1945 when 50 countries came together to draft and sign the UN Charter establishing the United Nations. The Fairmont Hanoi honors the legacy of the brand and aims to be a destination for high-profile events in the city.
The design of the hotel embodies the cultural conversation between Hanoi's legacy as the capital of France's colonial empire of Indochina and Vietnam's resurgent indigenous heritage. This is achieved through the building's massing, detailing of Juliet balconies, and programmatic organization. The entrance façade is sculpted and structured to reference a traditional lacquer painting, creating an articulated street wall in response to the surrounding urban context. "We borrowed ideas and inspiration from the past and present of Vietnamese art, architecture, and landscape to create something tangible that people can relate to and experience during their stay," says Jeremy Whitener, associate principal at Perkins Eastman.
The hotel's inner courtyard blends architecture and landscape in a biophilic design, with overflowing planters adorning its balconies and creating a vertical tapestry of vegetation that evokes the historic Mu Cang Chai rice terraces northwest of Hanoi in Yên Bái province.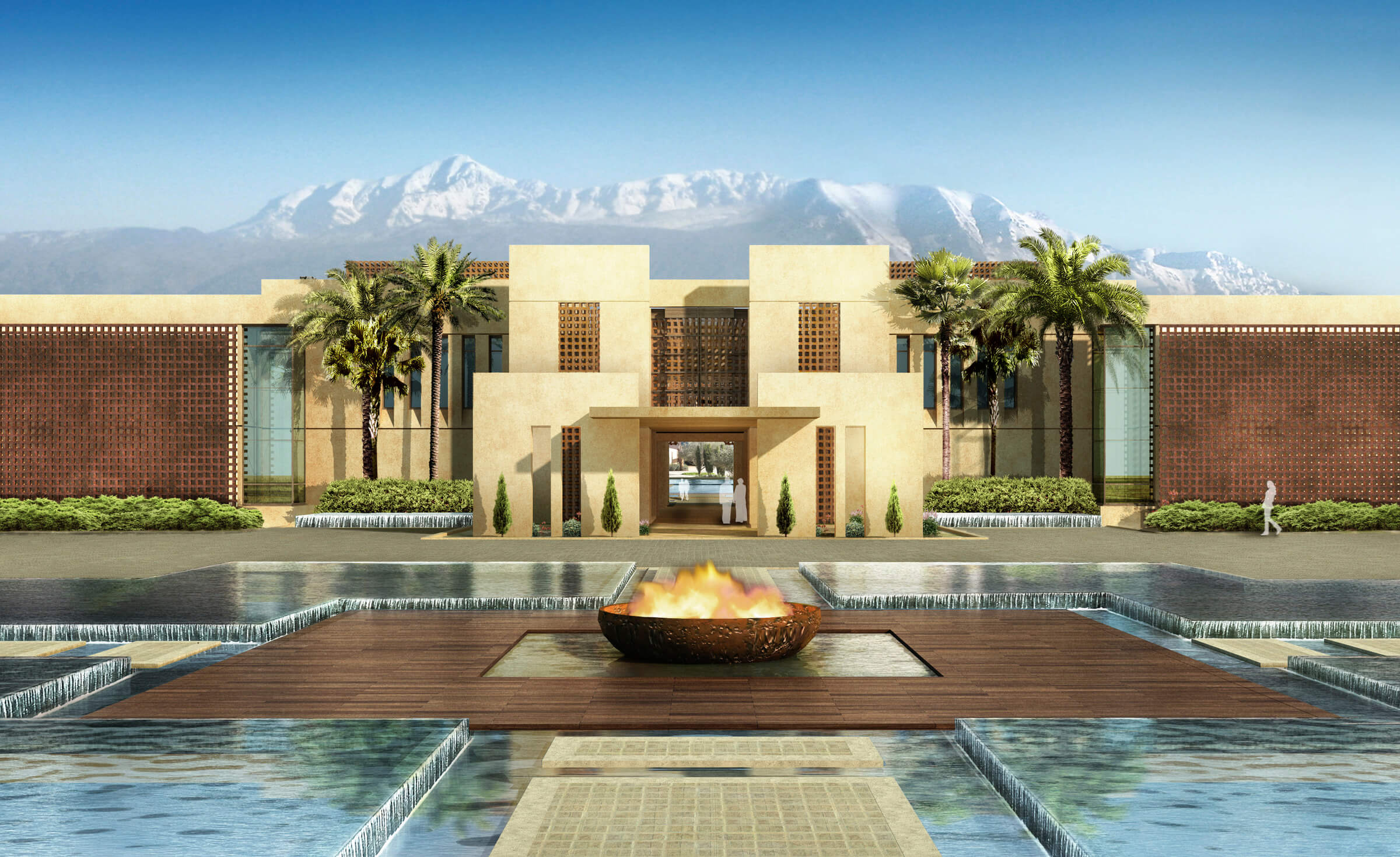 We Will Always Have Marrakech
Morocco has long been a source of inspiration for writers, artists, and filmmakers with its rich culture, alluring history, and stunning landscapes. The "Red City" of Marrakech is a place where the past and present converge in a vibrant fusion of culture and history. The Medina of Marrakech, founded in the 11th century, remains the soul of Morocco's fourth-largest city. It reflects a unique blend of traditional North African, Islamic, and Moorish styles, and it was the inspiration behind the design of Park Hyatt Marrakech. Located within the Al Maaden Golf Resort, the hotel, which is set to open this year, offers rooms and private villas overlooking the Atlas Mountains.
"We wanted to capture the sense of calm and comfort one feels when entering a Moroccan riad, which is a traditional residence of Marrakech. Most riads center around a courtyard with a soothing fountain, and as soon as you step inside the Park Hyatt, you leave the chaos and cacophony of Marrakech behind and enter an exclusive retreat," says Shawn Basler, co-CEO and executive director of Perkins Eastman, who led the team for the design of the Park Hyatt Marrakech.
Beautiful fountains gracing the hotel premises offer more than just aesthetic appeal. Their cultural significance in Islamic design is profound, representing purity and rejuvenation and contributing to a calm and serene ambiance. Traditional mashrabiya screens featuring geometric motifs characteristic of Moroccan art provide privacy and shade while encouraging air circulation throughout the hotel's central building and its private villas—age-old engineering wisdom that's just as relevant today as it was a thousand years ago.
This blend of craftsmanship and traditional insights informs the hotel's design, creating a balance of openness, privacy, and indoor and outdoor space, which immerses visitors in an enduringly authentic cultural experience.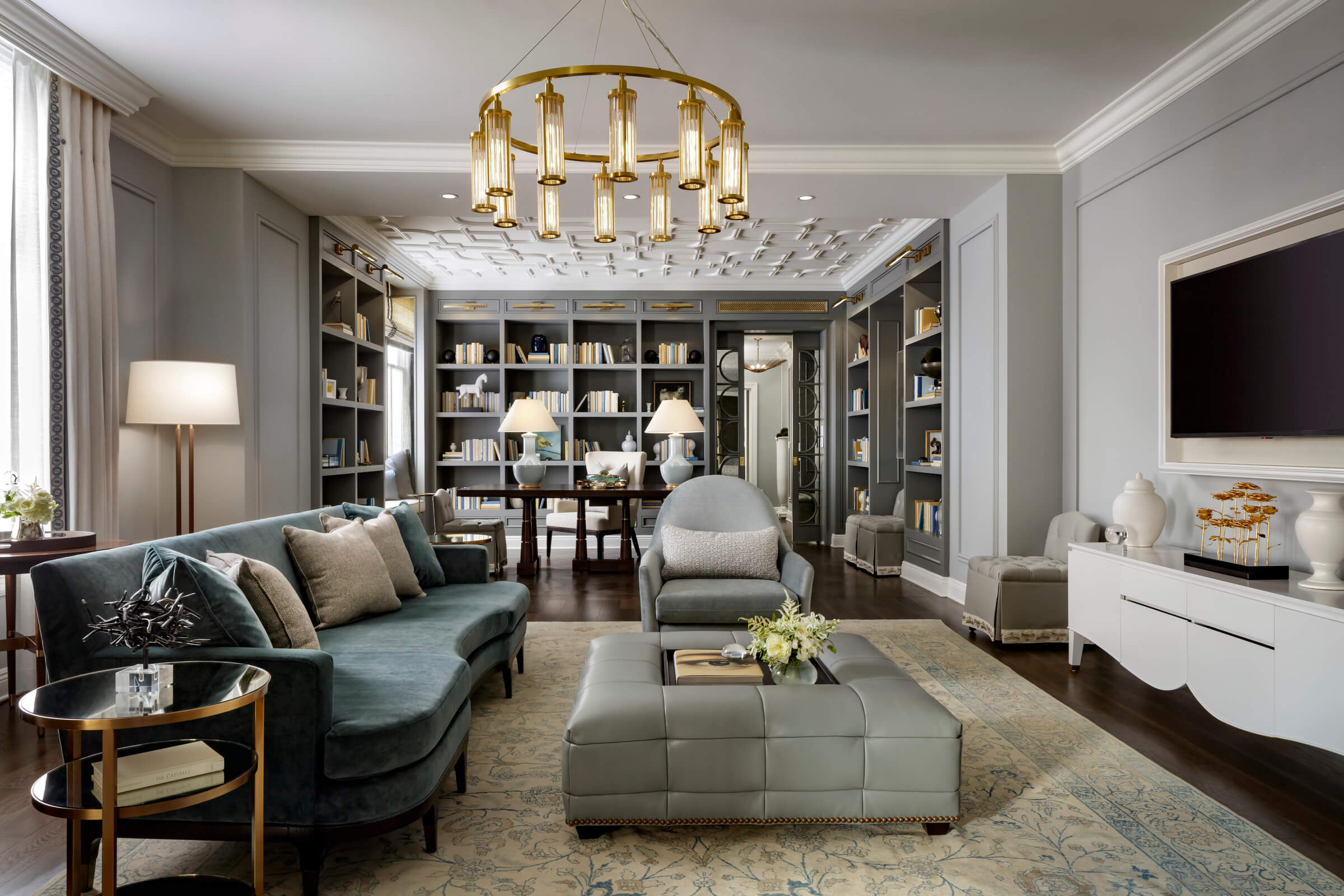 Extending a Historic Legacy
Some buildings are notable for their architectural significance and influence; others for the events that occurred within them. The Hermitage Hotel in Nashville, TN, is remarkable on both counts. Designed in the Beaux-Arts style and opened in 1910, it is the only remaining example of this style of architecture in a commercial building in the state. The hotel is listed on the National Register of Historic Places, and it is a member of Historic Hotels of America, a program of the National Trust for Historic Preservation.
The Hermitage Hotel was the headquarters for both sides of the fight over the 19th Amendment to the US Constitution, which extended voting rights to women. Tennessee was the deciding state in the amendment's ratification in 1920, making the Hermitage a key site of the women's right-to-vote movement. One hundred years later, the hotel was designated a National Historic Landmark.
When ForrestPerkins, a distinct design studio of Perkins Eastman, undertook a major restoration of the building in 2002, it was charged with repositioning the hotel as a five-star luxury destination while renewing its vital legacy for generations to come. Working from historic photographs, ForrestPerkins faithfully returned The Hermitage to its bygone glory. Two decades later, the firm was once again invited to imbue The Hermitage Hotel with modern sensibilities and bring its full spirit to life.
"Restoring or renovating an important historic hotel involves respecting the original building design while insuring the hotel's relevance to modern guests," says Deborah Forrest, founder and principal of ForrestPerkins. "Our focus was to pay homage to a significant historical Tennessee landmark, enhance guest comfort, facilitate functionality for the hotel staff, and create a compelling venue for important life events in the community."
As part of its latest renovation, the historic interior has been refreshed to better showcase the lobby's stained-glass skylight, its Tennessee marble floors and columns, and the Circassian walnut paneling and ornate plaster ceiling of the ballroom. A lighter paint scheme highlights the Hermitage's distinctive architectural elements. The Hermitage Suite, which overlooks the Tennessee State Capitol, was reimagined as a luxurious penthouse with a dining room, an elaborate coffered ceiling, and an elegant bathroom with a freestanding soaking tub set against an antiqued mirror.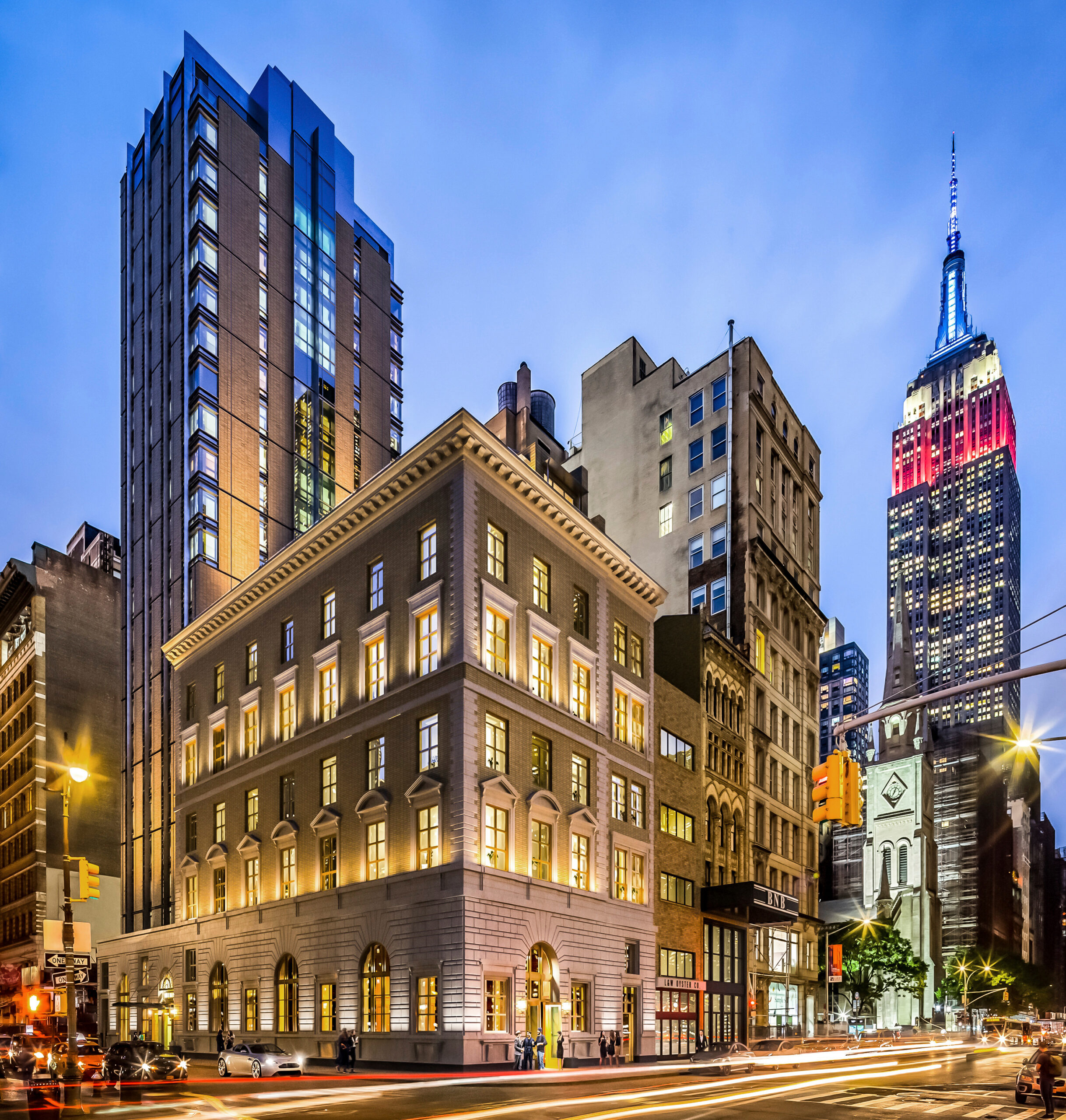 A Destination unto Itself
A city's older buildings stand as witnesses to the history of their surroundings. The relatively brief architectural history of the United States and the often headlong pace at which cities such as Chicago and New York have ushered in new waves of construction can make extant historical buildings all the more precious. The Madison Square North Historic District of New York City will soon become home to The Fifth Avenue Hotel, located on the corner of 28th Street and Fifth Avenue. The building is just steps away from Tin Pan Alley, known as the birthplace of the modern music industry, and historic Madison Square Park, which hosts cultural and educational events and installations. It has undergone restoration and remodeling to honor its past and celebrate its future.
The original five-story building, designed by McKim, Mead & White, was built in 1907 for the Second National Bank. Six years later, the firm designed a two-story addition on the building's north side, and a second addition was constructed behind the building in 1928.
McKim, Mead & White also proposed a "tall loft building" adjacent to the site in 1913. This proposal was forgotten until the current team of architects discovered a reference to it in a 1911 New York Times article. Perkins Eastman and PBDW Architects collaborated on a complete reimagining of the original interior that resulted in its melding with a new 24-story tower set mid-block. The original buff-colored brick and limestone building, which has a terra-cotta cornice, was meticulously restored and its woodframed windows were precisely replicated.
When it opens this fall, the hotel will offer 129 guestrooms in the new tower and 24 in the "Old Mansion," as the client has deemed the original building in an ode to a Gilded Age residence that once occupied the site and neighborhood. "Our goal for the design of the hotel was to preserve the charm and history of the historic property and neighborhood, with a modern intervention to reflect the current traveler," Basler says. "Each detail tells a story of the hotel in a modern day narrative."
The Fifth Avenue Hotel's public spaces will include a mirror-clad lobby, a two-story Edwardian-style library, and a dining experience created by the critically acclaimed chef Andrew Carmellini. The hotel's design and historic location will inspire guests to explore the treasures of Gotham at their own pace as true flaneurs.
Immersive by Design
Traveling is no longer simply about reaching a new destination. For many travelers, it's about the personal growth that comes from the journey. Today's travelers want to be fully immersed in their destination's culture, history, and way of life. "Authenticity has changed the heart and soul of hospitality and it continues to evolve," says Colletta Conner, managing principal at ForrestPerkins, who has led projects with major hotel brands in the US and abroad. "As designers and architects, we constantly strive to build a story and create an identity for each hospitality project." N